Algeria has increased its oil output but urged fellow OPEC countries and other crude producers not to heed calls by US President Donald Trump to place more oil on the market to drive down prices.
THE average hotel occupancy rate in the first quarter of 2018 for Bulawayo hotels rose by 44%, up 15 percentage points from the levels recorded in the same period last year, industry officials have said.
Angola plans a new system for selling rough diamonds as part of President João Lourenço's efforts to increase investment, production and government revenue, a draft decree shows.
The Ethiopian Prime Minister Abiy Ahmed and Eritrean President Isaia Afwerki have announced on Sunday 8 July 2018 at a meeting in Asmara, Eritrean, that the two countries would re-establish diplomatic and trade ties. A signal that "war and talk of war must end" has really ended after almost 18 years.
Cameroon's economy is expected to grow 4 percent this year, up from 3.2 percent in 2017 due to the start of natural gas production and construction work for an upcoming soccer tournament, the International Monetary Fund (IMF) said.
Moroccan Minister of Foreign Affairs Nasser Bourita has refused any action from the European Union to outsource migrant reception centers to Morocco, emphasizing that this suggestion is an "easy solution."
The Chairperson of the AU Commission Mr. Moussa Faki Mahamat has charged African Union member states to commit to dialogue to resolve conflicts, pointing to countries like the Central African Republic, Western Cameroon, Western Sahara and Central Mali where he said people are "paying the price for violence".
Vienna – The "Voices of Migration" concert, the first ever musical event of its kind to be held at the United Nations, took place in the Rotunda of United Nations Vienna International Center on 28 June 2018, showcasing the richness of culture and art that migration brings.
The new immigration, asylum and integration bill officially approved by the French Senate, includes strict measures against illegal immigration which is targeting Algerians directly as they are second nationals who live in an illegal situation on the French soil with a population of more than 10,000.
The Directorate of Studies and Financial Forcasts in the Ministry of Economy and Finance, represented by its Director, Mr. Mounssif Aderkaoui, took part in the 10th plenary session of the OECD initiative on global value chains, held in Paris from June 26 to 27 2018. 
Further to its announcement of 27 April 2018 in respect of freezing orders filed against Mutanda Mining Sarl ("Mutanda") and Kamoto Copper Company SA ("KCC"), subsidiaries of Glencore plc, by Ventora Development Sasu ("Ventora"), a company affiliated with Mr. Dan Gertler,  Glencore has carefully considered its legal and commercial options in connection with its dispute with Ventora and Africa Horizons Investments Limited ("AHIL"), also a company affiliated with Mr Dan Gertler, and its obligations to its various stakeholders, including its shareholders, customers and the communities in which it operates in the Democratic Republic of the Congo ("DRC").  
Seedstars World 2018 Africa tour is now in Accra, Ghana, where ten of Ghana's best seed-stage startups will compete on 13 July to represent the country at the annual Seedstars Summit holding in Switzerland where winner can win up to US$ 1 million in equity investments and other prizes.
Kinshasa – The Government of Japan has given US$1m.  to  the IOM to expand the Democratic Republic of the Congo's (DRC) national Ebola response to other provinces – Kinshasa, Mai Ndombe, Tshopo and South Ubangi – and scale up the response in Equator province according to IOM release.
President Uhuru Kenyatta today warned Kenyans against politicising the renewed efforts to rid the country of corruption and economic crimes.
Art Basel's renowned talks series, will once again bring together leading artists, gallerists, collectors, art historians, curators, museum directors and critics from across the world. Programmed for the fourth year by Mari Spirito, Founding Director of Protocinema, Conversations provides a platform for dialogues and discussions on current topics, offering diverse perspectives on collecting and exhibiting art and the wider artworld ecosystem.
The 3rd edition of the LAFF Festival (Lausanne Afro Fusions Festival), the first Afro-positive festival in Switzerland, will take place from 19 to 22 July 2018. We expect between 10,000 and 20,000 people. With the beautiful Place de l'Europe in Lausanne, in the district of Flon, this edition will be dedicated to local and international discoveries.
UK – Gisa Fuatai Purcell, a national of Samoa has been appointed as Director of ICT Development Department of the Commonwealth Telecommunications Organisation (CTO). The Director of ICT Development, who reports to the Secretary-General is responsible for overall strategic direction of the operational divisions of Capacity Development, Events and Technical Support and Consultancy.
By Rael Ombuor
Joshua Okumu's wife, Mary Mwanja, died during childbirth 18 years ago at Pumwani Maternity Hospital in Nairobi. But their daughter survived.
When he picked up his newborn baby at the nursery, grief-stricken and shocked, Okumu was not entirely sure how to feed her.
"So when I reached home, I started feeding her with a packet of milk called Tuzo," he said. "By that time, Tuzo was not diluted like nowadays. So, that is what I was using to feed the small baby when I took her from the hospital. If the mum was there it would have been healthier to be fed by her mum."
For Kenyan widowers like Okumu, there will soon be another option: human donor milk.
Pumwani is getting Kenya's first breast milk bank, which will be only the second of its kind on the continent. The other one is in South Africa.
The bank is a joint initiative by Kenya's Ministry of Health and PATH, a U.S.-based nonprofit health organization. It will open in September for donations and offer free breast milk by prescription for babies who cannot get it from their mothers.
'Next best option'
Dr. Elizabeth Kimani Murage, head of maternal and child well-being at the African Population and Health Research Center, is behind the project.
"The World Health Organization recommends that if the mother's own breast milk is not available for the baby for any reason, the best next option would be the donor milk," she said. "So the recommendation is to make donor milk available to such vulnerable babies."
The milk bank aims to help orphaned and malnourished babies get the nutrients essential to healthy development.
Murage said mother's milk has an enormous impact on child survival, especially during the first month of life.
"Despite improvements in infant mortality, neonatal mortality is reducing at a very slow rate, so those are the children we want to target," she said. "According to the Every Newborn Action Plan [from the World Health Organization and UNICEF], we should actually reduce neonatal mortality to 12 deaths per 1,000 live births. But, you see, we are very far [from that goal]. We are at 22."
There are misconceptions and concerns about hygiene and the spread of disease to newborns in the use of donated milk. Murage noted that all donors' health would checked at the hospital and that the milk would be pasteurized to ensure that only safe and healthful breast milk is given to babies in need.
By Joyline Maenzanise
... And we need to stop reducing homosexuality to a mere sexual act, pleads Joyline Maenzanise.
Zimbabwe recently launched its 2018 - 2020 Pre-Exposure Prophylaxis Strategy, which is geared at boosting the consumption of the drug (PreP tablets) among identified "key populations" who are at high risk of contracting HIV. These "key populations" are described as groups of individuals who face an increased risk of contracting the Human Immunodeficiency Virus (HIV) due to their behaviour or the nature of their sexual activities. To compound the problem, these groups often face legal and social issues, such as stigma and unfair discrimination, which drive them underground and serve to increase their vulnerability to infection.
Speaking at the launch of the document, Zimbabwe's Minister of Health and Child Welfare, Dr David Parirenyatwa, said that this PreP programme would focus on, among other key populations, sex workers, men who have sex with other men (MSM), truck drivers, married couples, tertiary institution students and young people.
The nation's Health Ministry aspires to work towards ending AIDS by 2030. According to the United Nations Aids Programme (UNAIDS), Zimbabwe is said to have the world's highest prevalence of HIV infections. Dr Parirenyatwa is also on record as saying that HIV prevalence in prisons is higher than in the country at large.
It is encouraging to note that his Ministry is taking steps to tackle the spread of HIV in a realistic and holistic manner. It stands to be argued that this can be attributed to the tireless advocacy of various human rights organisations who work with the marginalised communities that make up the key populations in Zimbabwe. Still, this move is very important, especially since anal sex is the riskiest form of sex and therefore imprisoned men having sex with other men need to have access to condoms to lower risk of infection or re-infection.
Unfortunately, albeit unsurprisingly, this form of harm reduction does not always sit well with many people in a society that deems itself "conservative". When condoms are supplied to groups whose behaviour or sexual activities are frowned upon by society for religious or cultural reasons, such a move is seen to be instigating or perpetuating the destruction of our social mores. In such instances, what is viewed as "immoral", "a sin" or "un-African" is perceived to be encouraged. Many people in our society therefore do not take kindly to the distribution of condoms in prisons since they believe that this will "promote homosexuality".
Male condom. Photo Source: Death and Taxes Magazine
Critics have also argued that same-sex activity is illegal in Zimbabwe and consequently providing condoms in prisons would be tantamount to encouraging an act that is outlawed. Section 73 of Zimbabwe's Criminal Law and Codification Act stipulates that "any male person who has consensual anal sex with another male person shall be guilty of sodomy, which is punishable by up to 1 year in prison". This is just another instance where some people are quick to use statutory clauses to serve their purpose, even though these very clauses have been found wanting and in urgent need of reform because of their oppressive and divisive nature. Granted, these people may support the goal to curb the spread of sexually transmitted infections. However, they fail to appreciate how opposing the mandate to ensure access to condoms for certain people whose ways of being or sexual behaviour are not aligned to their morals only impedes our collective efforts to eradicate certain social challenges.
Countries such as Lesotho have already - or finally - come to that realisation and are now distributing condoms in prisons. It is high time we all followed suit. We need to make the tough decision of accepting reality and taking substantive steps to curb the spread of HIV. Lopsided interventions guided by religious or cultural ideologies will not get us anywhere. It is a fact that people in prisons have sex, whether we legally or morally approve of it or not. And if the report by Matooke Republic is anything to go by, prison officials are also engaging in sexual activities with prisoners. Even if the prisoners might engage in sex only in exchange for certain items, the reality still stands: Where (sexual) human beings are, sexual encounters are very likely to occur. Even if we provided prisoners with the material resources or food they need, some of us would be disappointed to find that sexual activities still prevailed.
Prisoners at very high risk
The catch is that in settings such as prisons, much of the sexual engagement is unprotected, placing prisoners at a high risk of contracting HIV. So, if we are serious about curbing HIV transmissions, it makes no sense that such sexually active, high-risk individuals would be left out of any HIV (or STI) prevention programme. In fact, it is irresponsible of us to leave the prisoners to endanger themselves as they engage in sexual activities without adequate protection. We are leaving them at risk of contracting what are preventable diseases. When we do this, we are failing to appreciate the interconnectedness of our lives - and that should scare us all.
Read: South Africa rolls out condoms in schools amid doubts
A man living with HIV prepares to take his medicine at the HIV/AIDS Care Center, a hospice in Myanmar. Photo: ANP/ EPA/Lynn Bo Bo
Instead of fretting over the promotion of homosexuality, which only brings our homophobia to the fore, the transmission of HIV among prison inmates ought to be our collective concern - just as the transmission of HIV among sex workers and their clients ought to be our collective concern, and just as the transmission of HIV among the LGBTQI+ community ought to be our collective concern too. The reality that is overlooked by opponents is that, depending on their sentence, any infected prisoner is bound to be released back into society at some point. Once that happens, they will, through more inevitable sexual contact, bring the virus back into the community.
Read: Zimbabwe is moving towards inclusive health care to fight HIV, not to legitimise gay rights
This will perpetuate the spread of HIV. And when recidivism comes into play and the former prison inmate re-offends the infected party takes the virus back to prison, where they may infect new prisoners. In this way the dangerous cycle is maintained.
One of the results is high public expenditure on health, because controlling the spread of the virus is pricey. And we all know that a Public Health Bill is just another financial burden that the taxpayer will have to bear. The higher it is, the heavier the burden.
Is it not obvious that this reality cannot be ignored if we are truly serious about reducing the incidence of HIV infection in every way possible?
By Mangina/Geneva
The Ministry of Public Health of the Democratic Republic of the Congo today announced the launch of Ebola vaccinations for high risk populations in North Kivu province.
The vaccinations have begun just one week after the announcement of a second outbreak of Ebola this year in the country. A total of 44 cases have been reported so far, of which 17 have been confirmed.
Work has begun to prepare ring vaccination in the Mangina health area, 30km from the town of Beni.
The provincial health minister and the provincial coordinator of the Expanded Programme on Immunization were the first to be vaccinated. They were followed by first line health workers from the Mangina health centre, who had been in contact with people who were confirmed cases of Ebola.
"Vaccines are an important tool in the fight against Ebola. This is why it has been a priority to move them rapidly into place to begin protecting our health workers and the affected population," said Dr Oly Ilunga, Minister of Health of the Democratic Republic of the Congo.
A total of 3,220 doses of the rVSV-ZEBOV Ebola vaccine are currently available in the country, while supplementary doses have been requested. While the vaccine goes through the licensing process, an agreement between Gavi, the Vaccine Alliance and Merck, the developer of the vaccine, ensures that additional investigational doses of the vaccine are available.
"The Democratic Republic of the Congo has once again demonstrated strong leadership in its early response to this outbreak," said Dr Tedros Adhanom Ghebreyesus, Director-General of the World Health Organization (WHO). "Ebola is aggressive. We must respond more aggressively. Beginning the vaccination so quickly is a key early step."
WHO has provided logistical support for the establishment of the cold chain and sent supplies needed for the vaccinations, in addition to supporting the negotiation of protocols with the manufacturer and national authorities, and supporting the deployment of vaccination experts from Guinea to work alongside national staff, who began the vaccination.
"We are proud of the regional solidarity demonstrated by the vaccination efforts, and confident that the strong capacity of the African region will once again be demonstrated during the response to this outbreak," said Dr Matshidiso Moeti, WHO Regional Director for Africa.
By Festus Outule
Francistown — Chief Registered Nurse at Northern Blood Transfusion Centre, Mr Joseph Moatshe has urged Batswana to donate blood in large numbers and on regular basis in order to save lives.
Mr Moatshe said in an interview recently that Botswana needed about 40 000 units of blood per year, and currently collection was between 19 000 and 21 000, which shows that more blood was still needed.
He said that blood was donated on voluntary basis and without any payment as it had been deemed the safest type of donation. Paid-for blood donation is associated with high risk of infections in donated blood as people donate for economic returns.
Mr Moatshe added that blood could be stored for 42 days before it expires.
However, since demand for blood was high, blood stocks rarely reach expiry dates, hence the need for consistent blood donation to ensure full blood supply.
He said blood was needed for patients involved in road traffic accidents and other injuries where there is loss of blood or for those with cancers, burns and anemia.
Mr Moatshe said the major sources of blood were students, churches and Botswana Defence Force personnel and therefore urged individuals to donate blood regularly.
He said anyone aged between 16 and 65, weighing at least 50 kilograms could donate blood as long as they are HIV, Syphilis, Hepatitis B and C infected and do not have heart problems, high and low blood pressure.
He said that men could donate blood once in three months while women could do so once in four months.
He assured the donors that there were no known side effects since tests were conducted before donating to confirm if those who donate blood were in good health.
Mr Moatshe added that a single donation takes 450ml of a person's blood, making it less than 10 per cent of his/her total blood volume, which is not dangerous or unhealthy.
"Blood donors are advised to have a meal within four hours and drink a lot of liquids before donating, and after donating we provide refreshment to blood donors to give them energy," he added.
Mr Moatshe said the blood donation process takes about 10 minutes for an individual and a minimum time of 15 minutes of rest after donation and therefore people should not think it will take much of their time."
He added that after donation, the body replaces blood volume or plasma within 24 hours, and red blood cells need four to eight weeks for complete replacement, therefore no danger can arise as a result of blood donation.
Mr Moatshe said that other benefits of blood donation are that blood donors enjoy continuous counseling on positive living to help them stay healthy, and they are regularly tested for different infections.
He noted that blood donation is a noble, selfless service and an expression of love for humankind, as blood knows no colour, religion or race.
<i>Source : BOPA</i>
By Anastacia Sibanda
Gaborone — The importance of physiotherapists in sport cannot be overemphasised, and www.focusphysiotherapy.com, says "they can bring dynamics to the warming up, conditioning, muscle activation as well as the recovery of players."
Team Botswana that competed at the just ended 21st Confederation of African Athletics (CAA) African Senior Championships did not have a physiotherapist, something which is said to have cost the country a 4x400 metre relay medal in the finals.
Nijel Amos, who was running the second leg, could not finish his lap after receiving the baton from Leaname Maotoanong, after pulling a hamstring and had to pull out of the race in the 150-metre-mark.
The Botswana quartet, who were the defending champions, watched helplessly from the sidelines as Kenya cruised to the finish line to dethrone Botswana of its bragging rights.
Team Botswana assistant coach, Isaac Mbise admitted that the team did not have a physiotherapist, adding that had they travelled with one, maybe Amos could not have been injured, or he/she could have detected the problem before the race and a different athlete could have been fielded.
One of the 4x400 metre relay team members, Onkabetse Nkobolo said Amos' injury was not that severe and a physiotherapist could have dealt with it.
"To be honest, lack of physio contributed to our failure to defend our title. I think if it is possible next time we should at least travel with one coach to cater for the physio," he said.
Botswana Athletics Association (BAA) president, Thari Mooketsi admitted that the team did not travel with a physiotherapist due to financial constraints. Research shows that it is a necessity for every team be it football, boxing, karate or athletics to travel with a physiotherapist to their respective competitions.
The team physiotherapist is said to be one of the most important assets any coach can have when working with a team due to the high intensity of matches, tournaments and training sessions.
<i>Source : BOPA</i>
By Claude Sengenya
Mangina — Barely one week after the Democratic Republic of Congo declared an end to its ninth outbreak of Ebola, it announced, on 1 August, its 10th. Only this time, the deadly virus has struck a new part of the country, one rife with armed groups and long ravaged by conflict.
Here's our briefing on the latest outbreak and the unique response challenges it poses.
CThe first suspected cases were reported in Mangina, a town about 30 kilometres southwest of the city of Beni (pop: 350,000), in the eastern province of North Kivu. Suspicions were raised after a 65-year-old woman died showing telltale symptoms of Ebola Virus Disease (EVD) - which include high fever, external and internal bleeding, vomiting, and diarrhoea.
At the woman's burial, seven mourners who - in keeping with local tradition - touched her body, became infected.
As of 8 August, the Ministry of Health has recorded cases of haemorrhagic fever in five "health zones", or catchment areas, in North Kivu: Beni, Butembo, Oicha, Mabalako (where Mangina is located) and Musienene. Cases have also been reported in neighbouring Ituri Province's Mandima health zone. Lab tests have confirmed the presence of Ebola only in Beni (four cases) and Mabalako (13 cases) health zones.
Congo's previous outbreak erupted in May in Equateur Province, on the opposite [western] side of the country.
According to the Ministry of Health, both outbreaks feature the Zaire species of the genus ebolavirus (one of four species that causes EVD in humans) but genetic sequencing of samples taken from the new outbreak reveal it to be an entirely different strain to the Equateur one - in other words, it is a new, separate outbreak.
This is the first time any strain of Ebola has struck in North Kivu, and experts consider the emergence of the Zaire species - which has a mortality rate of around 90 percent - in eastern Congo to be a particularly worrying development.
Congo's Ministry of Health has attributed 34 deaths in North Kivu and two in Ituri to haemorrhagic fever. Laboratory tests have confirmed nine of these fatalities - eight in Mabalako and one in Beni - were caused by Ebola.
Across the six affected health zones, there have been 44 cases of haemorrhagic fever, 17 of which are known to have been caused by the Ebola virus. The others are "probable cases" where it was not possible to obtain biological samples for testing. A further 47 suspected cases of Ebola virus - all in Beni and Mabalako health zones - are currently being investigated. A mobile testing laboratory is now operating in the town of Beni and a second will soon be set up in Mangina.
By way of comparison, Congo's previous outbreak, which took place in the eastern Equateur province, killed 33 people. Between 2014 and 2016, a major Ebola epidemic in West Africa - where, unlike in Congo, the disease was virtually unknown - claimed more than 11,000 lives.
Too early to say really, but asked what worried him most about the current outbreak, Peter Salama, deputy chief of the UN's World Health Organisation and head of its Health Emergencies Programme, told ScienceInsider: "Beni is very close to Butembo, a commercial centre with a lot of trade that has a population of 800,000 to one million. And Beni is on the road to Goma, another major population centre, where we've already had suspected cases.
More on This
"Superspreading in a village might mean seven people in Mangina with an unsecured burial. In an urban area, it might mean one person going to a shopping centre and affecting 1,000. That's going to be a trend we're going to have to grapple with for years and decades to come."
Mangina also lies about 100 kilometres from the Ugandan border, across which there is a constant flow of people and goods, including rebel fighters.
North Kivu in general, and the area around Beni in particular, have for decades been plagued by violence; dozens of armed groups operate in the region and a million people are internally displaced within the province. Many are staying with friends or relatives, creating the kind of cramped living conditions that only help the transmission of Ebola.
"In some households, nine people share a tiny bedroom. And they move around a lot in search of food," Janvier Kaserea Kasayiryo, a spokesman for civil society groups in Beni Territory, told IRIN. "These are the kind of encounters and contacts that favour the spread of the outbreak."
On 7 August, citing local officials, Reuters reported that 14 bodies had been discovered in the town of Tubameme, about 40 kilometres from Mangina. Those killed were said to have been kidnapped by an armed group last week.
Since 2014, about 1,000 people in the Beni area have met violent deaths.
Ituri, another province where infections have been reported in the latest outbreak, has also seen a recent eruption of violence.
Chief among the reasons why the Ebola epidemic that struck West Africa between 2013 and 2016 killed more than 11,000 people was that it took about three months for the virus to be confirmed as the cause of a spate of mysterious deaths that began in southern Guinea in December 2013. By the time the virus was identified, 60 people had died and the outbreak had already spread to the two neighbouring states of Liberia or Sierra Leone.
It was not until August 2014, by which time around 1,000 people had died, that the WHO declared the epidemic a Public Health Emergency of International Concern, which helped mobilise a major global response.
Having experienced so many Ebola incidents, Congo has established tried-and-tested response systems, which have contained outbreaks relatively quickly and kept death tolls relatively low.
Speed is key, according to Bathé Ndjoloko Tambwe, who heads the Ministry of Health's Ebola response unit. "The outbreak had hardly been declared on 1 August when we launched the response on the 2nd," he told IRIN.
"Also, with this new outbreak, we are seeing politicians getting involved. That's reassuring in terms of mobilising people and resources," he added.
Congo's previous outbreak in May also saw the first major use of an experimental vaccine, rVSV-ZEBOV, which appeared to play a key role in containing the virus in Equateur. All known contacts of infected parties were located as soon as possible and then vaccinated in a so-called "ring vaccination" campaign, which proved highly successful as none of the 3,300 people vaccinated in Equateur developed EVD.
The experimental vaccine is only effective against the Zaire species, so it can and is being deployed in North Kivu to contain the outbreak.
Congo has 3,200 vaccines left over from the last outbreak, and their manufacturer, Merck, has 20,000 more in stock. The first vaccination teams began working in Mangina on 8 August and preparations are being made to mount another "ring vaccination" campaign.
As was the case in Equateur, a major challenge here, in a region with little electrical power, will be to keep the vaccines at a temperature of -70 degrees Celsius by setting up a "cold chain" - a series of refrigeration units dotted across the area of the outbreak.
But a more formidable hurdle is the widespread insecurity that could prevent the free movement of health workers, surveillance teams, and teams tasked with explaining to local communities how to reduce the risk of contracting the Ebola virus.
And because vaccination teams may need to keep their field visits very short, the WHO is considering vaccinating all the residents of villages home to suspected infections, rather than spending time on the laborious process of identifying contacts. That said, about 1,000 contacts have been identified in North Kivu already.
There is no specific medical treatment for Ebola patients. Those showing signs of EVD are given supportive therapy, which includes balancing the patient's fluid and electrolytes, maintaining their oxygen status and blood pressure, and treating such patients for any complicating infections. Treatment centres have been set up in Mangina and Beni.
Raising awareness about the nature of the Ebola virus and how it is spread is a key element of efforts to contain the outbreak. In an attempt to both respect local custom and to limit the spread of the virus, the Ministry of Health is promoting what it calls "safe and dignified burials".
Relatives of people who die "can no longer touch the corpse because it is wrapped in a special bag before being buried," a health ministry official told IRIN, noting that this went against the tradition of washing and hugging the bodies of deceased loved ones.
"We are working with communications experts, psychologists, as well as religious and traditional leaders to make people understand the need to abandon these traditional practices," he added.
Ebola is named after the Ebola River, near the village of Yambuku where the first known outbreak occurred in 1976.
(Additional reporting by Anthony Morland)
cs-am/ag
Two of the world's fastest-growing short-form video apps, musical.ly and TikTok, announced that they will unite to create a new global app. The newly upgraded platform, which keeps the TikTok name, creates a unified user experience, debuts a new logo and user interface, and offers greater capabilities for video creation. By bringing together the best of TikTok and musical.ly, TikTok now becomes the world's number one go-to destination for short-form video content creation and consumption.
The upgraded app will offer users an effortless, compelling, and personalized viewing experience. Existing creators' account, content and fan base will move automatically to the new TikTok app, where creators will keep all of their preexisting content and fans while enjoying the opportunity to reach a bigger and more diverse global audience than ever before.
TikTok incorporates the most popular elements of both apps with a feed that highlights the users' community, in addition to a "For You" feed that uniquely serves a curation of personalized video recommendations based on viewing preferences. The app will also introduce new upcoming features including:
A "reaction" feature that allows users to react to friends' videos directly from the phone;
Enhanced creative tools like interactive gesture filters unlock features such as funhouse mirror camera effects;
VR-type filters that can be activated just by blinking;
Green screen-like background effects.
By Godwin Muzari
Congolese musician Koffie Olomide came and performed, but he did not impress. Expectations were high and fans were looking for the best act, but Koffi decided to go for a lukewarm act at the Harare International Conference Centre on Saturday night.
Whether it had something to do with the change of concert day from Friday to Saturday or an average crowd that turned up for the concert, the rhumba star was not in his best form.
The act was worsened by the team that he came with. His dancing ladies were pathetic. Rhumba is traditionally known as a genre associated with waist-shaking and gyrations, but Koffi came with a team of apparently tired ladies that struggled to shake their bulging tummies.
And they proudly displayed the tummies like they were on a "fat-mummy" contest. It was indeed pathetic.
It was not surprising when Koffi drooled at the sight of well-equipped local ladies that he called to the stage for freestyles. They outclassed a team that flew in with the mega-star of rhumba music.
If he had picked a team of dancers from the crowd to be his backers, they would have put in a coordinated impromptu act that would have made the show lively.
He chose good songs and belted out hits with his usual roaring voice, but the choreography was disappointing.
If he had come with a different team, Koffi would have made a spectacular night for local merrymakers. His dancing boys did not get much time on stage to prove themselves.
They came in with a fantastic introduction and later left the stage to the bulging tummies that were proudly displayed for the better part of the show.
Some of the ladies had screaming tattoos that, unfortunately, failed to make up for their lack of activity. Their massively-revealing outfits worked more to their disadvantage than the purported motive of being attractive.
Koffi remained calm on stage as he has done during most of his shows and he was composed as usual, save for scenes when he openly confronted his dancers for different reasons.
He displayed his well-known rude character when he snatched spectacles from one of his dancers and harshly threw them away. After a short break, the dancer came back in the same spectacles and Koffi took them again, and put them in his pocket. She did not get them back for the rest of the show.
Local dancers from the crowd stole the show and the visitors, and their leader, evidently liked the flexibility of local waists.
However, Koffi still got cheers of approval from rhumba lovers for a good playlist when he ended his show and bowed in salutation with his team around 3.30am yesterday morning.
He had come up to a stage that had been warmed up by several local acts that included Alick Macheso, Suluman Chimbetu, Winky D and Leonard Zhakata.
Macheso performed early because he had another assignment elsewhere. He performed before a small crowd and did well as he exhibited rejuvenated exuberance that now characterise his shows since the release of his highly-popular latest album "Dzinosvitsa Kure".
Zhakata was next on stage and he also did his best. He belted out most of his popular hits to wild cheers from the crowd.
Sulu also did a good job. He performed his songs and his late father's hits that went with good choreography.
His team did well and left fans marvelling at good and well-coordinated dance moves. They were smartly dressed as usual and would have scooped the best-dressed outfit for the night if such a contest was done at the concert.
Winky D did his best, but this time around he failed to send the crowd into frenzy as he usually does.
The dancehall musician has a history of stealing the show when he shares the stage with several musicians, but his performance fell below the high bar that he has set before.
He did most of his hits and some fans sang along, still, it was not the usual outstanding Winky D. He tried his best. It was just not his best night.
However, show promoters should be commended for being able to send the word about change of day of concert well on social media.
Most people anticipated a flop at the Koffi concert, but the attendance was higher than expected. It had the potential of being a full house if the timing had been well.
Doing the sh0w a few days after the harmonised elections perhaps worked negatively for the promoters.
press release
The legendary SA hip-hop Artist, affectionately known as ProKid of Hip Hop, passed away on Wednesday, August 8, 2018. He suffered a severe seizure attack, whilst visiting friends and paramedics were called in to assist, they did their best to revive him to no avail and called his time of death at 20h38.
He is survived by his beloved mother Fikile Mkhize and his father Zwelakhe Kheswa, his wife Ayanda, his three year old daughter Nonkanyezi, his brothers and his extended family.
ProKid 's family requests that the media respect their privacy during this tragic period of time. Further details will be furnished as soon as his family has gathered.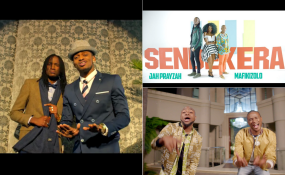 Photo: allafrica.com
Jah Prayzah has also collaborated with South Africa's Mafikizolo, Nigeria's Davido and Tanzania's Diamond Platinumz.
By Robert Mukondiwa
The nation was once again gripped in what turned out to be a very hot debate when Jah Prayzah, the man of the moment, (whose moment has become pretty long actually, to think of it) released yet another song this past week.
The media rolled out a tongue, at least those that are always prone to such, and licked Jah Prayzah as having scored a first and what have you in his "history making" exploits and so on and so forth. There are those that lick the chap so much that one day he may disappear and his status will read "last seen being licked by so and so" . . . but we digress.
The others were rather sober and made a better attempt at making a critique.
There was a deadlock!
The media of those ordained in the Jah Prayzah cult swore by their first commandment that Jah Prayzah had produced a scorcher. After all their first and only commandment is "Jah Prayzah is always right". The others, well they thought Jah Prayzah had messed up big time in both the song "Ronika" and the video.
But is the song truly that bad and has the man from Uzumba really gone off the rails with this new release? Actually, this could be the best song to show the genius of Jah Prayzah in all its full force and might.
The song
Those who tore into Jah Prayzah said his song was a disaster both lyrically and audio-graphically. They just may have a point. Only just.
Jac Mtandwa wrote on social media, Facebook to be precise; "It's trash . . . below par for one of JP calibre. No message." Kipa Nemukati and Tinashe Mutero thought it was also hogwash although they tried to delete their thoughts forthwith while Plot Mhako had to reach for his medical aid after falling terribly ill following an encounter, or encounters, with the song.
The thing is, there is a bit of folly in someone who tunes in to a Jah Prayzah song and expects to hear a song pregnant with lyrical artistry and sophisticated messaging that leaves the mid enriched and a tad more sophisticated. Especially since this is a party song and party songs can really lack any coherent meaning but are meant to make someone jump up and down and forget their troubles and other woes.
Expecting such deep lyrics from Jah Prayzah especially is much like someone who is studying towards a degree in philosophy hopping off to the nearest kindergarten library with the hope of finding useful material amongst the books of Winnie The Pooh, Alice In Wonderland or Pinocchio.
Unless you are writing a thesis on the impact of children's books on their reading patterns and language, you will never find anything there of use. You are looking for the right thing in the wrong place. Or that person. You know? That one person who goes with their scuba diving equipment, straps it on snugly and takes a quiet plunge in the shallow end of a primary school swimming pool. Not a rewarding idea.
Jah Prayzah, like the legendary writers of what is called Nonsense Literature, can hardly stitch together coherent songs with deep meanings which leave one lyrically enriched. Like Edward Lear's Jabberwocky, the lyrics are there for rhyme and fun and meant to leave someone giddy.
They are lyrics which one can use to train the human child the art of speaking as their first words. Easy to recite while not tough on the brain. They are words you can also use to teach those who have suffered loss of speech in very nasty adult accidents to regain the precious art and, God willing, speak again. But to want him to be a master lyricist; that is not his hallmark as he has no (prolific) history of philosophical deep lyricism.
And expecting him to do so is unfair because that is not his niche. At all!
And so did Jah Prayzah deliver a song with words, phrases that rhyme and can form a sentence? He did and for that he gets full marks in the lyric writing department. End of argument with no possibility of appeal against judgement!
"Ronika na Rokadhiya Ramekin a Mbudziyadhura/Makumbo ndamagura nekutamba ndini ndakonzera . . . " he sings in the opening verse. That rhymes for certain and means JP has scored maximum points. Others have argued that Jah Prayzah put together a video that was not exactly the golden standard for music video cinematography from casting of the rather chunky girls right down to the general video concept.
The truth is Jah Prayzah made a decent video and was only being compared to himself. The chunky girls could never have been better for what was probably meant to be a dance song. And skinnier and it would have been like watching crochets knitting together a doily. Yet it is the music that many people are and were worried and occupied with. Others said the song was absolute hogwash and ought not be played. That it is a waste of precious resources which he could otherwise have spent on his other "kids" in the stable.
But we all know Jah Prayzah does not spend money on anyone other than himself. Investing in his name at every turn and breath in the Military Touch Movement. He can only be rivalled in the cult creation scene by Jim Jones as everything seems to revolve around him. Even the best song of the moment, "Pahukama", by stable mate Ex Q is a sign of how we pay homage to Jah Prayzah before everyone else. It is Ex Q's song but it starts with the words; "Jah Prayzah is done... " Brilliant deification. But we digress. It is "Ronika" who we are focussed on.
There is another pressing criticism of Jah Prayzah's new song, some say it is not catchy at the very first playing. Others have not played it all to the end because it has soured before they got to the end. Others have had a couple of hundred listens and still haven't felt the 'that' in the song.
A few lucky ones like Mai Fara na Faro on Facebook said; "a very hot club song. I'm sure ichatoenda up the charts soon,"
The inclination is to agree with her. With all due respect many, if not most of the songs that became hits for Jah Prayzah started off as difficult to understand and love and then they eventually settled. After that they become scorchers. Jah Prayzah's music is much like having an ugly baby . . . he grows onto you. No matter how "ugly" he is upon first sight. They have a name for it -- a face only a mother can love! And so it is with his music and with time we will all see some beauty in "Ronika".
But that is not his genius. Remember the notion that Jah Prayzah is selfish and wants "everything"? Well that is the genius which "Ronika" exhibits. Jah Prayzah loves winning and to be the best at everything. If "Ronika" doesn't become the best song this season it will be something else; the worst! Jah Prayzah wants to produce, every year, the best song and the worst song of the year so that he takes all the awards good and bad.
When you are all thinking he made terrible mistakes in Angelo with Jah Cure, My Lilly with Davido and now "Ronika", it's just Jah Prayzah ensuring he is a master of everything great and small!
Could there be a better genius?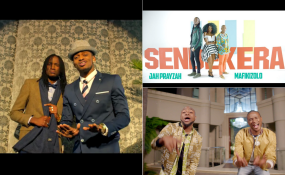 Photo: allafrica.com
Jah Prayzah has also collaborated with South Africa's Mafikizolo, Nigeria's Davido and Tanzania's Diamond Platinumz.
By Godwin Muzari
Denial is a dangerous state of mind. It steals time to implement pertinent remedies to a condition going bad. The results can be disastrous.
As he works on his upcoming album, Jah Prayzah should seriously keep this in mind.
His blunt determination to keep moving away from the traditional beat that made him popular is reaching disappointing levels.
Many articles have been written warning him to avoid drifting away from his fans. The fans that supported him as he went up the music ladder from humble beginnings.
A bigger section of these fans have also registered their disapproval over how Jah Prayzah is getting carried away with getting carried away with borrowed glitz of associating with the likes of Davido, Diamond Platnumz and Jah Cure among others.
Even his band members have complained about his globe-trotting habit that affects their remuneration because their shows have dwindled. It was among reasons cited by some members that left the group.
Yes, Jah Prayzah is right in trying to make his brand international. Every artiste wants international glory, but the route he is taking might not take him to his desired destination.
Yes, he has won recognition at international awards and has been on prestigious platfors like Coke Studio Africa, but he is pushing too much on that front and risks losing his identity in local showbiz.
The route he is taking might not take him to the best destination. He might be ecstatic about the little stars at night and forgetting the sun that lit his day.
The likes of Davido and Diamond Platnumz will pull crowds when they come to perform in Zimbabwe. It is obvious that Jah Prayzah will not get similar recognition in Kenya or Nigeria, yet he seems too obsessed with expeditions in those areas, forgetting that he has a crowd that has stood by him over the past years back home.
Maybe the adage "all that glitters is not gold" has been overused to make sense to Jah Prayzah.
Yes, Davido and company have the gold because they rule in their territory. But is their territory and Jah Prayzah may later realise that what he touches in that golden territory might end up turning to ashes.
And the sooner he realises it, the better.
If he continues stuffing all sorts of objects in his ears to ignore advice, time will not stop ticking.
It might be too late when he decides to return to his people. He has been told about this many times, but he is in denial.
He is refusing to accept that his international forays are eating out the flesh of a body he made with the aid of that small mbira he brought from Uzumba. That mbira is the weapon he should have used for his international offensive.
It is the same mbira instrument that took the late Chiwoniso Maraire to great international stages. It is the same mbira instrument that has taken Thomas Mapfumo to prestigious world festivals.
Local traditional music is powerful. It does not need glittering foreign ornaments to make a mark beyond our borders.
Jah Prayzah possesses the most powerful traditional music weapon for international offensive -- the mbira.
It is traditional music that has made Mokoomba a big name in Europe despite being little-known back home.
It is traditionally-inclined Katekwe beat that has made Oliver Mtukudzi the biggest local star on international stage.
If Jah Prayzah wants to test the waters, even on an international stage in Europe, he should play "Goto" after "My Lilly" and he will understand while the afore-mentioned artistes have made it abroad.
He should make use of such examples to reshape his sword. He has the potential. He is a hard worker, but he might lose it on both ends if he is not careful.
Already, mumbles of disapproval are getting louder at home while nothing much has been achieved on his international route.
He has promised to release a new album this year. He is already working on it and he should seriously consider the signs around him. They do not look good.
People want the music they have known as Jah Prayzah's style from the time he started to get recognition.
If he does not change his fast-growing style of arrogance, he might regret in the near future.
If a musician like Alick Macheso can listen to his fans' comments and make music according to them, why does Jah Prayzah think otherwise?
Macheso got a serious backlash for his two previous albums because of the way he was beginning to change his style.
Then, before releasing his current album "Dzinosvitsa Kure", he admitted he had bowed down to pressure and factored in people's suggestions in creating it.
Today, the big numbers are back at Macheso's shows. That is all Jah Prayzah needs.
He should listen to his fans and make sure that his upcoming album speaks to the souls of their music taste. Otherwise the young man still has the energy and vocal prowess. He should not crush his great potential carelessly. It is not yet too late. The ball is still in Jah Pryazah's court.
If you are one person who has followed trendsetting musician, Jah Prayzah for his rich and elevating lyrical content in his songs, then brace your emotions for a tearing heartbreak as the release of 'Ronika' two weeks ago could save as a proof that the lanky musician is moving on.
The 31 year old's desperation to make a name on international showbiz arena has prompted him to abandon the roots which saw his breakthrough leaving most of his fans feeling left out.
you are going international Mukudzeyi, but I think for now revert back to that Zimbabwean feeling. vana gogo nana sekuru nevana still need your touch and I'm afraid if you leave them behind you might lose some of your biggest fans. We want that soja feel not to be casted out. this is a good song zvayo but I'm not feeling ka that.
Initially, when he launched his music career, the 'Kutonga Kwaro' hit-maker was known for delivering never aging songs that resonated and related with all generations, songs like 'Sungano' which up to date sound sweet to the ear.
But alas! the lanky superstar has forgotten that charity begins at home. As a musician he should always strive to impress, maintain and retain a local fan base because they are the first pillar of support.
In Mbare, one can never host a successful gig without the Mbare born Zimdancehall star, Kinnah who has now earned the title 'Mr Mbare.' To residents of this suburb, a concert will not be, if there is no Kinnah.
In Bulawayo, Cowdray Park, it is the same case, the stage comes to life once Sikhobokhobo hits the venue, all illustrating how important capturing and maintaining a local fan base is.
The rate of distaste to Jah Prayzah's 'Ronika,' two weeks later after the song was released on his YouTube platform is confirmed by a whooping 1 400 dislikes against 2 400 likes. Yes! dislikes are competing with likes, a clear indication that even the international audience he is trying to reach out to have not found it worthy their attention.
Early this year the 'Ndini Ndamubata' hit-maker had a song with Jamaican Reggae-Soul veteran Jah Cure titled Angel Lo which proved to be a disaster and it was expected that he would learn and see the need for him to stay within his zone, but Jah could be adamant.
Could Jah Prayzah be heading towards his Waterloo? Only time will tell.
By Patience Ahimbisibwe
The National Curriculum Development Centre (NCDC) has developed a software where they will upload the primary and secondary curricula on a tablet to ease understanding of the syllabus and enable learners to explore at their convenience.
The technology they have termed Virtual Learn is loaded with simulations and animation, which can be manipulated, and permits performance tracking by schools and parents and can be accessed on mobile devices and android.
Sources at NCDC who requested for anonymity in order to speak freely said the project has cost more than Shs1 billion and will be ready for launch in the course of the month.
The students will buy the tablet at a reduced price ranging from Shs300,000 to Shs650,000 depending on the special features they have.
In the meantime, 25 secondary schools whose students can buy the tablets have been enrolled on the programme before it is extended to all education institutions.
However, the schools have to pay a subscription fee for each student of between Shs5,000 and Shs10,000, depending on their locality.
"There are certain schools, which do not have an opportunity to get good learning materials. The content uploaded on this software will be harmonised. The students will have self-assessment before they proceed to another topic. It will generate a report; if a topic was difficult, it will give options of delivering that content and the feedback will improve on the teaching and learning," the source said.
The NCDC specialist in-charge of lower secondary curriculum review, Mr James Asile Droti, yesterday confirmed that they developed the software to motivate the learners and meet the technological needs of the 21st century but declined to give details, saying they will be shared during the launch at a yet-to-be disclosed date. While it is not compulsory at the moment to own this tablet, officials close to the NCDC planning meetings said once adopted, it will be self-explanatory for parents to facilitate their children to own one.
For the learners who will not afford the tablet, NCDC officials said they will open pop-up classrooms for disadvantaged schools and regions using the termly subscription individual students wishing to access the programme will pay.
The software was developed in partnership with Sensal Systems Ltd and is both an online and offline system where learning materials are uploaded in the software on a tablet.
The students' interaction with the tablet will be monitored by NCDC officials, head teachers, teachers and parents. The NCDC officials will handle the training only for schools, which have already paid.
By Thomas Matiko
Education Cabinet Secretary Amina Mohamed on Tuesday shocked parliament with revelation of how her son once sought her help to enable him cheat in a national examination.
While appearing before the Parliamentary Committee on Education CS Amina cited the case of here son to illustrate the wave of student unrest in boarding secondary schools which some quarters have attributed to fear of examinations.
CS Amina narrated to the committee how her son who sat the Kenya Certificate of Secondary Education (KCSE) in 2015 approached her for money to buy leaked examination papers.
"My son was in Form Four three years ago. He came asking for money saying a teacher in his school had asked for the cash. According to the teacher, the money was to be used in buying the students leaked CSE papers," Amina recounted.
"I told my son that I did not have the money and that I was going to work for it. He insisted the money was needed urgently. I stood my ground nonetheless. He blamed me for failing to chip into enabling him score an (A Plain) like his colleagues," further told the committee.
The CS went on to state that 107 secondary schools had been affected by the unrest of students, with 67 being rocked by arson. So far, 198 students have been arrested for their involvement in the wave of unrest in various secondary schools.
Last month, Amina warned students found responsible of taking part in school arson attacks of dire consequences, including not be allowed to join Kenyan universities.
By Collins Omulo
Reverend Stephen Mbugua has been appointed as the new vice chancellor of Catholic University of Eastern Africa (CUEA).
The announcement was made by the chancellor of the university Berhaneyesus D. Cardinal Souraphiel, Archbishop of Addis Ababa.
Prof Mr Mbugua was appointed at the conclusion of 19th Association of Member Episcopal Conferences in Eastern Africa (AMECEA) plenary assembly which took place between July 13 and 23, 2018 in Addis Ababa.
Mr Mbugua, who is from the Nakuru Catholic Diocese, takes over from Professor Justus Mbae, whose term ends in September, having served the university since May 5, 2016.
The new vice chancellor will assume office on October 1, 2018 in keeping with the university's tradition of giving a two-month period for effective transition and handover.
Until his appointment, Mr Mbugua was the vice-chancellor of Tangaza University College, which is a constituent college of CUEA.
Cash-strapped university fights to stay afloat
He holds a doctorate in educational psychology from Egerton University and he brings to CUEA 20 years of experience and knowledge in management and leadership.
At the same plenary, Rtd Rev Charles Kasonde, Bishop of Solwezi, Zambia was elected as the new chairman of AMECEA, taking over from the outgoing chairman Cardinal Souraphiel.
In his position, Rev Kasonde will also be the new chancellor at CUEA.
"With this transition, the University management is confident of a stronger CUEA that will continue to offer quality programmes for innovative and marketable graduates into the future," said the statement sent to newsrooms on Tuesday by the university's communication department.
CUEA, a chartered private international university, was established in 1984 by the Association of Member Episcopal Conferences in Eastern Africa (AMECEA).
AMECEA plenary comprises of Catholic Bishops of Episcopal Conferences of Eritrea, Ethiopia, Malawi, Kenya, Tanzania, Sudan, South Sudan, Uganda, Zambia and the affiliate members of Djibouti and Somalia.
Photo: The Guardian
Muslim female students wearing hijab (file photo).
By Gboyega Akinsanmi
The Lagos State Government yesterday noted that it would not allow the use of Hijab in all its public schools until the Supreme Court "determines an appeal seeking to upturn the decision of a Court of Appeal."
The state government equally clarified that religious institutions were exempted from paying taxes, according to the state laws, though any religious institution engaging in commercial activities was liable to pay taxes, accordingly.
The State Commissioner for Home Affairs, Dr. Abdulateef Abdulhakeem on a Television Continental (TVC) programme, 'YourView' yesterday, said the state government would not enforce the appellate court's decision on the use of Hijab.
A Court of Appeal sitting in Lagos had in July 2016 unanimously set aside the judgment of a Lagos High Court, which banned students in public schools in the state from putting on the Hijab with their school uniforms.
The court presided over by Justice AB Gumel held that the appeal was meritorious and should be allowed. Gumel held that the use of the Hijab was an Islamic injunction and also an act of worship, hence it would constitute a violation of the appellants' rights to stop them from wearing it in public schools.
Dissatisfied with the decision of the appellate court, the state government approached the apex court, challenging the court decision, which reinstated the use of Hijab in the state's public schools on July 21, 2016.
Confronted with a question on the refusal of the state government to enforce the court decision on the use of Hijab, Abdulhakeem noted that the state government "firmly believes in the rule of law and will continue to uphold it."
He explained that the state government did not enforce the judgment of the appellate court, which reinstated the use of Hijab in the public schools on July 21, 2016 until the state government had already appealed the judgment.
According to the commissioner, the state government is awaiting the decision of the Supreme Court on this matter. We cannot enforce the decision of the lower court until the Supreme Court determines the appeal before it.
He also clarified the position of the law that exempted religious institutions from paying taxes, noting that all religious institutions were exempted, though those involved in commercial activities was liable to pay taxes.
"Religious institutions are not taxable under the Lagos laws. If religious institutions engage in business transactions, they are liable to pay taxes. But as far as the institution is concerned, it is exempted from paying tax," he said.
He explained that the law was not applicable "to those who convert their buildings into mosque to avoid paying taxes," adding that we have made it abundantly clear that they are not allowed to convert residential premises into religious centres.
"So, people should just respect God the way the state government has respected God and do not come under that arena to avoid payment of taxes," he said.
He debunked reports that it was planning to commence paying salaries to religious leaders in the state, saying the claim was totally untrue and misleading.
He said the reports did not contain any iota of truth, thereby urging the residents "to disregard it in its entirety. Contrary to the reports, we have no plan to employ imams and pastors. We are not willing to delve into a private realm.
"There is a symbiotic relationship between the state government and faith-based organisations. It is a mutually beneficial relationship which has contributed to the growth and development of the state," the commissioner said.
Abdulhakeem had been quoted to have said the state government would soon place religious leaders on the State salary structure to encourage them to use their Pulpit and the Minbar to re-orientate citizenry to shun corruption and immorality.
He however clarified that he was misunderstood or misquoted, explaining how he encouraged religious leaders "to be advocates against corruption because religious leaders have millions of adherents and they enjoy the allegiance of millions of followers.
"We expect them to advocate good governance and selflessness so that they can influence their members positively. In Lagos State, our success is that we have cutting-edge approaches to relating with religious leaders."
By Njoki Kihiu
Nairobi — Education Cabinet Secretary Amina Mohamed has called on parent and teacher intervention to ensure students are disciplined both at home and in school.
While appearing before the National Assembly Education Committee, Mohamed attributed the wave of school unrest to fear of exams and drug abuse by students among other possible causes.
"Some of the reasons that may have or may cause students unrest are indiscipline, drug and substance abuse. Reaction to change management especially after we had school principals transferred and inadequate school facilities among others may have also contributed," said Mohamed.
She said that the ministry will not relent in the fight against the vice that has seen one 108 schools affected leading to loss property.
"The ministry has implemented and continues to implement recommendations of taskforce reports commissioned by ministry and has put in place a multi-agency standing committee to review and continuously advice on the implementation process. We will do our best to bring the school unrest to a stop," outlined Mohamed.
She also explained that her ministry has taken some short-term measures to curb the vice which include close collaboration with the Ministry of Interior and Coordination of National Government as well as ensuring that the schools adhere to the student transfer policy as elaborated under Regulation 40 of the Basic Education Regulations, 2015 among others.
According to her, a total of 198 arrests have so far been made and once the investigation is over the culprits will face the full force of the law.
Nairobi County leads in the number of arrests made with 37 people followed by Makueni County with 34 arrests and in third position is Homabay County with 26.
The least affected counties were Kericho, West Pokot and Kisii.
Currently, 63 schools which were adversely affected have since been closed.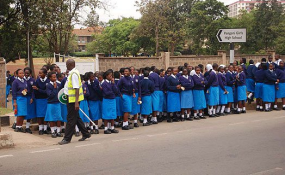 Photo: Nation
Pangani Girls High School students on Juja Road, Nairobi (file photo).
By Jemimah Mueni
Nairobi — Education Cabinet Secretary Amina Mohamed has directed public, private primary and secondary schools to hold classes strictly between 8am to 3.30pm as part of measures to address indiscipline leading to unrest in schools.
While appearing before the Parliamentary Committee on Education, Mohamed told MPs that investigations had revealed that some schools force students to attend classes as early as 5.30am and after 5pm, a move that could have frustrated the learners.
She submitted a report detailing other causes of unrest in schools which include inadequate resources, change of management among others which have led to arson cases in over 100 schools countrywide.
"Even as we maintain standards, we must not overstretch our children," she said.
She said the tight school programmes did not provide time for learners to think or play, saying that school programmes should not make it hard for students to be children.
Nyanza region was the worst affected by the unrest that led to the arrest and prosecution of about 200 suspects who included teachers and students.
Student indiscipline was also attributed to alcohol and drug abuse and frustration that the tight administration of national examinations had made it impossible for them to access examinations a head of sitting for them.
She said cheating in examinations had become an accepted or normal practice, saying it was time the students knew that only hard work and honesty pays in the long run.
She asked managers of schools to have regular meetings where students are allowed to air their views and grievances to the administration without victimization.
She however said the ministry is working on a framework that that will see school atmosphere improved for learners.
She discounted corporal punishment as a viable form of discipline students saying it undermined the dignity of learners and their self-confidence.
Khartoum — The increased price of fuel in Sudan is one of the leading factors that caused the price hikes for domestic flight prices, according to the head of the parliamentary transport committee.
Member of Parliament Mohamed Ahmed El Shayeb, who heads the transport, roads and bridges committee in the Sudanese parliament, told Radio Dabanga that several factors have caused the increase in prices, including the increase in fuel prices by 23 per cent.
"In addition, the tax imposed on each aviation service alone - called vat tax - as a global tax increased by 17 per cent in Sudan. It rose ten per cent in other countries," El Shayeb told Radio Dabanga yesterday.
"Next to that, customs exemptions that benefit only foreign airlines are applied to the national companies, which pay customs on all inputs such as spare parts and other operating services."
He explained that the owners of airlines pay the parallel price for all services and operation costs instead of the indicative price, which has raised operation costs in general.
According to the new increases, active as of today, the value of the plane ticket from Khartoum to El Geneina is SDG3,290 ($116.88*), for Khartoum-Nyala SDG2,695 ($95.70) and to El Fasher SDG2,455 ($87.22).
Proposed amendment
"Our National Assembly in the Committee of Transport, Roads and Bridges has completed an amendment of Article 54 of the Sudanese Customs Code, which makes a distinction between national and foreign companies," the MP said.
The committee worked in coordination with Airports Holding Company, Civil Aviation, Customs and Taxation, and the Ministry of Oil on this, in order to remove intersections between these bodies related to the aviation industry and national aviation.
"They must be supported because it is important for tourism and revitalises the economy/ The return of this support will benefit the country and the economy," according to El Shayeb.
The Civil Aviation Authority has acknowledged that a number of airlines have been out of business because they were unable to keep pace with the rise of industry inputs of customs and spare parts.
Spokesman of the authority, Abdelhafiz Abdelrahim, attributed the price hikes in airline tickets to the high prices of insurance companies, taxes, transit, landing fees and fuel.
Yesterday, economic analyst and former banker Hafiz Ismail confirmed that the ticket price increase is linked to the rapidly dropping value of the Sudanese Pound. He warned that Sudan may soon enter the stage of hyperinflation.
Apart from skyrocketing prices, the majority of the Sudanese are suffering from continuing fuel shortages, a scarcity of wheat and medicines, repeated power cuts and drinking water outages.
* Based on the indicative US Dollar rate quoted by the Central Bank of Sudan (CboS)
By Chinedu Eze
Ethiopian Airlines has announced rolled out stopover packages without any additional airfare that cater for all leisure needs with a view to promote tourism in the country.
The service commenced on August 1. This is also expected to encourage passengers to visit historical and tourism sites in Ethiopia and return to the airport to continue flights to their final destinations.
Passengers traveling through Addis Ababa and continuing their journey to one of the destinations on Ethiopian network can now take advantage of stopover offerings from Ethiopian Holidays, the tour operator wing of Ethiopian Airlines, enabling them to discover and experience the many historical, cultural, religious and natural treasures of Ethiopia, Land of Origins. An online e-visa service for processing stopover visa is available for all international visitors to Ethiopia.
The airline said the packages range from sightseeing in Addis Ababa, the diplomatic capital of Africa, to visits to the pre-Christian era obelisks of Axum, the stunning medieval rock-hewn churches of Lalibela, the amazing 9th century mosques of Harar, the majestic castles of Gondar, the stunning source of the Blue Nile, the jaw-dropping Simien Mountains, the splendor of the lake side resorts of Hawassa and Arba Minch, or the unique coffee farms of Kaffa, birth place of coffee and many others.
Group CEO of Ethiopian Airlines, Tewolde Gebremariam said, "Ethiopian is working with all stakeholders in the tourism chain to make Ethiopia a tourism destination of choice. With its many riches, the world has yet to truly discover Ethiopia and tourism has the potential to become the main foreign currency generator for the country and a mass job creator for the youth. With the stopover packages, we aim to attract a significant portion of our transit customers in Addis as tourists and to considerably enhance the flow of tourism into the country."
Ethiopia airlines said the stopover packages are easily accessible on its website and would pop-up as an option when passengers book flights transiting thru Addis Ababa or can directly be accessed at Ethiopian Holidays website.
By Abdullateef Aliyu and Vanessa Richard
Lagos — Nigeria's mangrove ecosystem is said to be the largest in Africa and the third largest in the world spanning about 10,000 square kilometres, from Badagry in the West to Calabar in the South, an expert has said.
The Executive Director, Eco Restoration Foundation, Prince David Omaghomi, stated this in Lagos recently while marking the International Day for the Conservation of the Mangrove Ecosystem 2018. Joining other environmentalists to advocate for the conservation of mangrove to protect the coastal areas, he said, "If the mangroves are not preserved, then the coastal areas will be wiped out completely."
The event was organized by the Nigerian Conservation Foundation (NCF) and MangroveXpo. It was the first time the day would be marked in Nigeria.
"When we lose the value of the mangrove, we make the poor get poorer because most people depend on those aqua-species in the mangrove for their livelihood," he noted. Omaghomi highlighted some of the threats to the mangrove ecosystem to include indiscriminate activities of oil exploration firms in the Niger Delta and government's involvement in environmental degradation.
The Technical Director of NCF, Dr. Joseph Onoja, said the celebration was to create awareness of the mangrove and to find solutions to challenges threatening the ecosystem.
An environmentalist, Mr Desmond Majekodunmi, said the mangrove forest in Nigeria is one of the most valuable bio-diverse resources in the environment which used to be protected.
"It is our life support system that we inherited in a fairly good condition from our parents because they hadn't abused and destroyed it by misuse of technology," he noted.
Highlighting the imperative of mangrove conservation, a book, 'Man and Mangrove, An Environmental Awakening', written by the director MangroveXpo, Mr Jerry Chidi was presented at the event.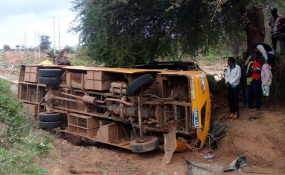 Photo: Capital FM
School bus crash site near Mwingi town.
Nairobi — Any school activity entailing travel should not be undertaken past 6pm, President Uhuru Kenyatta has warned school principals and managers.
While officially opening the 10th African Confederation of Principals Conference at Pride Inn Hotel in Mombasa, President Kenyatta said it was unfortunate that 11 children lost their lives in the Mwingi accident that occurred on Saturday.
Kenyatta said there's a directive from the Ministry of Education that any school activity entailing travel must be undertaken between 6am and 6pm.
The accident which killed pupils of St Gabriel Primary School Mwingi is reported to have occurred at around 11pm while the pupils were returning from an academic trip from Mombasa.
"If you have delayed, for one reason or another, let us try and go to the closest secondary school, go to the closest police station that can guide you to the closest secondary school and let the children go and spend the night, cause after all it is better to be late by one day than to lose life," said Kenyatta.
Kenyatta led the delegation of the over 1,200 principals from Ghana, Rwanda, Swaziland, Tanzania, Uganda, Kenya, Lesotho, Malawi, Nigeria and South Africa in a one minute of silence to remember the 11 pupils who lost their lives.
The Head of State said any school in the country has access to any other school in another region.
By Chinedu Eze
The federal government may not be willing to provide about N30 billion needed to complete the new airports terminals in Abuja, Lagos, Port Harcourt and Kano airports, THISDAY has learnt.
While most of the projects are over 80 per cent completed, the terminals at the Murtala Muhammed International Airport (MMIA), Lagos and that of the Nnamdi Azikiwe International Airport, Abuja were wrongly located, necessitating that many other structures must be removed before they would be put into use.
In 2013, Nigeria obtained a $500 million facility from the Chinese Exim Bank with additional counterpart funding of $100 million to build four terminals at the four major airports in the country, including the airports in Lagos, Abuja, Port Harcourt and Kano.
About a month ago when President Muhammadu Buhari inaugurated the train station at the Abuja airport and inspected the new terminal, the Managing Director of the Federal Airports Authority of Nigeria (FAAN) Saleh Dunoma, said the terminal in Abuja would be put to use in October.
Dunoma, said major work to be done would be to connect the new terminal to the old one in order to have seamless passenger movement, as the train station, which is located at the new terminal would have to process passengers from both the local and international terminals.
But a study on the infrastructural limitation of the airport, funded by the Ministry of Transportation, disclosed that there are many facilities that must be relocated before the terminal would become operational.
The report which was carried out by Arcaid, Architects and Environmental Consultants, revealed that the new airport terminals built at the cost of $600 million (N2.16 billion) are inadequate for targeted passenger traffic and lack essential facilities.
The report of the studies made available to THISDAY, disclosed that to provide the infrastructure lacking in the terminals, government has to deploy over $500 million.
This would be in addition to the funds needed to destroy and relocate fire service in Abuja and Lagos airports, the control tower, reinforcement of power supply and others.
Details of the report disclosed that adequate feasibility study was not carried out before locating the terminals at the Abuja and Lagos airports where it obstructed the fire service and the control tower respectively.
The studies also revealed that essential facilities that were absent in the new terminals included landside link, which ought to link the new terminal to the old, drop off canopy, access roads, apron and taxiway, water treatment upgrade and power improvement equipment.
This was acknowledged by the Minister of State, Aviation, Hadi Sirika, who regretted that more money would be spent on the projects.
Sirika had explained that the planning of the project did not envisage that the building would lead to additional works, power and water supply, adding that it was also discovered that the building would block both the control and fire towers which would require relocation, so additional work was required to link it with the existing terminal as well as expanding the apron to accommodate bigger air planes.
"The contractor has told us some of the challenges he has been facing regarding some of the components of work and some additional works required for this project to be put into use. "Unfortunately, some of these components are complex which would delay this job and some of them are from the foundation like that of the sewer and water.
"There is also the problem of the control tower blocking the access into the terminal apron and also the inadequate nature of the apron itself," Sirika said.
But FAAN officials, THISDAY learnt, are happy that operations would start in the new terminals where modern equipment has been installed and where passenger facilitation would be done with modern facilities.
By Julius Osahon
Yenagoa — Pupils of the Bayelsa State Government Model Schools on excursion at the multi-billion international airport have commended the Governor Seriake Dickson for changing the narratives of the State, through his developmental strides.
The students, who were left in awe by the nearly completed state-of-the-art facilities at the international cargo airport, commended the huge investments in infrastructure, education and other sectors of the economy.
The State Commissioner of Education, Jonathan Obuebite, who accompanied the over 1,200 students on excursion to the airport, said the facility will be commissioned by month end.
The visiting students described the airport project as a landmark achievement of the restoration government, adding that when finally completed it will ease the transportation system, boost the Internally Generated Revenue and create employment opportunities for the teeming youths in the state.
According to them, the visit afforded the opportunity to visit the project site of one of the laudable achievements of the present administration.
In his address, Obuebite said the excursion was aimed at intimating the students with the developmental strides of the present administration, as well as exposing them to other learning methodology and widening their scope of learning.
The visit, according to him is part of the activities lined up for the free summer classes that started two weeks ago at the Ijaw National Academy, Kaiama in Kolokuma/Opokuma Local Government Area of the state.
Nigerian-British writer, Anietie Isong has been named winner of the 2018 McKItterick Prize for his debut novel, Radio Sunrise.
He received the prize from broadcaster and actor, Stephen Fry at the Authors' Awards ceremony in London, on July 19.
The ceremony, which took place at the Royal Institute of British Architects, saw over 400 guests from across the publishing industry come together, as the winners of other prizes administered by Society of Authors were revealed.
Prize Judge, Aamer Hussein, short story writer and Fellow of the Royal Society of Literature said: "It's a particular pleasure to discover the original, intriguing voice of Anietie Isong.
"In his brief, deftly-told Radio Sunrise, the author depicts his often hapless protagonist's sexual mishaps and political travails on a journey to his hometown with a unique blend of humour and poignance - An intriguing and accomplished new novelist."
Isong, who is the brother of Emem Isong, the award-winning Nigerian filmmaker, says he is excited to be named winner of the prize.
"I wrote Radio Sunrise to help draw attention to a myriad of issues in Nigeria, and I am thrilled that this resonated with the judges," he said.
The McKitterick Prize, administered by the Society of Authors, honours the first novel by a writer aged over 40. Isong, the first Nigerian to win the prize since it was established in 1990, joins an illustrious line of previous award winners including Helen Dunmore, Petina Gappah and Mark Haddon. Apart from receiving the prize money, Isong has been invited to speak at the Marlborough Literature Festival in the UK, in September. Isong has worked as a journalist, speechwriter and communications manager in Nigeria and the UK. He holds a PhD in New Media and Writing.
By Mary Nnah
The wife of the Ogun State governor, Mrs Olufunso Amosun, was recently equated with legendary Queen Moremi Ajasoro, an influential and brave queen of the Yoruba race, who fought a violent war during her time to save her people from prowling attackers. This tribute was made by the Ooni of Ife, Oba Adeyeye Enitan Ogunwusi, at the unveiling of a book titled, "Queen Moremi Ajasoro", dedicated to her. Mary Nnah who witnessed the event reports
Ile Ife, an ancient Yoruba city in south-western Nigeria, located in the present day Osun State, was recently agog when its traditional ruler, His Imperial Majesty, Oba Adeyeye Enitan Ogunwusi played host to an array of personalities from all walks of life at the Oduduwa Hall of the Obafemi Awolowo University (OAU), Ile-Ife in Osun State. The occasion was the unveiling of a historic book, "Queen Moremi Ajasoro", which vividly re-echoes the virtues of Queen Moremi, most especially in saving the people of Ile-Ife from recurrent invasions.
Dedicated to wife of the Ogun State governor, Mrs Olufunso Amosun, the book is basically about the legendary Queen Moremi Ajasoro, an influential and brave queen who fought a violent war during her time to save her people from prowling attackers.
The venue of the event was filled to capacity with royal fathers, monarchs, government officials, members of the academia, and cultural enthusiasts from far and near.
Unveiling the book, the Ooni of Ife described Mrs. Amosun as a jewel whose deeds and merits are written in gold.
'Moremi of Yorubaland'
The enthralling story of legendary Queen Moremi Ajasoro of the ancient of Ile-Ife appropriately exemplifies sacrifice and passion for the survival of the Yoruba race, bearing in mind her invaluable contributions in the 12th Century, which served as the harbinger of hope for the people and this, according to Oba Ogunwusi, is what Mrs. Amosun stands for in the present day Yoruba race.
The monarch described the Ogun State First Lady as an Amazon in the likeness of the legendary queen. While extolling Mrs. Amosun as a woman in the character of the legend, the Ooni of Ife described her as a courageous, intelligent, beautiful, humble, soft-spoken and selflessly useful to the society, just like Queen Moremi served in her time.
Ogunwusi said Mrs. Amosun's generosity, humility and magnanimity in service made her a role model, while as a caring mother she remained a strong pillar in the sustenance of democracy in Ogun State, behind her husband, Senator Ibikunle Amosun, governor of the state.
"Olufunso Amosun has immensely supported cultural agenda in Ogun State, Nigeria and beyond. Her merits have been written in gold and she has become a heroine in Yorubaland", the Ooni said.
Interestingly, the story of Queen Moremi, the beautiful wife of Oranmiyan, the Ooni of Ife, Obalufon Alayemore, summarises the heroic deeds of a woman, who dared the odds to save her people from extinction following external invasion of Ile-Ife.
The invaders were said to have appeared so weird to Ife people on the battlefield that they were thought to be spirits. As the invasion persisted, the land was enveloped by perpetual fear.
Moremi, who shared in the worry of her husband, Oba Oranmiyan, and the discomfort caused the people by the development, made a bold attempt to work out a solution to the problem by expressing her readiness to offer anything as sacrifice to the goddess of River Esimirin. This was with a view to discovering the secret and strength of the enemies that killed and maimed her people in their thousands.
When the enemies came calling again, she was said to have been taken as a slave by the people and due to her beauty, the then invading king married her. Exploring her wit as a woman, she was able to extract the truth about the warriors from her husband.
After acquainting herself with the secrets of her new husband's army, she escaped to Ile-Ife and revealed this to the Yorubas who were able to subsequently defeat the invaders.
According to the Ooni, Moremi's legendary feat brought peace that the monarch's royal home and the entire Yoruba race enjoy today.
Oba Ogunwusi maintained that the attributes of Moremi, which were exhibited by Amosun, compelled him to dedicate the book to her and also proclaim her as the Moremi of Yorubaland.
Heritage
The book, "Queen Moremi Ajasoro", written and produced by Princess Ronke Ademiluyi in collaboration with Oduduwa Foundation and Obafemi Awolowo University Centre for Cultural Studies, was launched as a historic book in preservation of Yoruba cultural heritage.
The 80-page book, published in both English and Yoruba languages, is a monumental documentary of the feats of the famous Yoruba Amazon, "Queen Moremi Ajosoro" who fought wars, sacrificed so much for the emancipation of her people. The book will be used in schools as a history book.
The global heritage ambassador for Queen Moremi Ajasoro (QMA) brand, Aderonke Ademiluyi, explained that Queen Moremi Ajasoro initiative was established by the Ooni as part of the House of Oduduwa Foundation.
"As the custodian of Yoruba culture, Oba Ogunwusi is committed to the promotion of the rich narrative of the legendary Queen Moremi Ajasoro of which he has demonstrated in various ways of keeping alive her rich legacy", Ademiluyi said.
She disclosed that one of the projects in honour of Moremi was the construction of the 42-feet Moremi statue of liberty, which is the tallest statue in Nigeria. So also is the cultural pageant, which empowers young women and beauty queens into becoming future employers of labour with the sum of N5 million impact investment fund dedicated to this cause.
Women Emancipation
Addressing the gathering, the chairman on the occasion, the Olugbon of Ile Igbon, Oba Olusola Alao, said, "This is the time for women to be actively involved in government as Moremi had set the pace centuries ago. Moremi, through her historical feat stood for justice and liberty. This is a clarion call that women should be involved in governance in our nation. Women should take over the mantle of leadership."
Mrs. Amosun, in company of her husband, Senator Ibikunle Amosun, was the cynosure of all eyes at the hall as tributes and accolades were bestowed on her by numerous speakers.
In his remarks, Governor Amosun said, "Our tradition, custom and heritage must not be forgotten. We must not forget our heroes. We have to thank the Ooni of Ife and others involved in this book launch for keeping our culture alive," stressing that religion and civilisation should not erode African culture.
Mrs. Amosun said in the history of the Yoruba, the power and strength of a woman was aptly demonstrated by the great Heroine, Queen Moremi Ajasoro.
She stated, "She rose against all odds to save her people from harassment and invasions; it took her intuitive intervention and strong will, to restore peace in Ile Ife and save the entire Yoruba race from further intimidation and destruction.
"Ultimately, she had to sacrifice her most prized possession to save her people from further oppression, misery and torments from neighbouring adversaries. The continuous recognition and celebration of this great Amazon sincerely gladdens my heart."
She added, "It is essential to constantly acknowledge, remember and celebrate all heroes in whom we are well pleased. I am immensely humbled, grateful and appreciative of this honour bestowed on me today, knowing fully well that I am not worthy to hold a candle to the magnanimity of the heroine being celebrated here today.
"I therefore take solace in the belief, that this dedication is a celebration of all women especially those that believe in and promote the core values of womanhood, women that exemplify and promote integrity, dignity, courage, hard work, sacrifice, contentment, justice, humility and love.
"The story of Moremi is constantly re-enacted in our contemporary world today and a good number of mothers, sisters and daughters seated here in this auditorium are good examples of this."
Mrs. Amosun described Queen Moremi as a forerunner and trail blazer for a number of other great Yoruba icons like Madam Efunroye Tinubu, Mama Funmilayo Ransome Kuti and a host of other great amazons who fought for women emancipation and paved the way for the traction gained in women's liberation today.
While appreciating Oba Ogunwusi for finding her worthy of recognition with the Queen Moremi book dedicated to her, she said, "Kabiyesi, I wish to assure you that I do not take this with levity neither do I take it for granted, I can only pray that God will assist me to live up to the expectations that formed this decision.
"Needless to say, dedications like this provide platforms for us to reflect on who we are and how we are living, it serves as a constant reminder to all of us that whatever we do today, is what becomes history tomorrow, may posterity record each and every one of us favourably."
analysis
By Chris Steyn and Mark Minnie
The book is a collaboration between journalist Chris Steyn and former undercover narcotics agent Mark Anthony Dawid Minnie. They compare notes to deliver a shocking story of apartheid-era criminality, cover-ups and official complicity in the rape and murder of children. Here is the foreword, written by Marianne Thamm.
In January 2015, an investigative team consisting of South African and Belgian police swooped on the home of a 37-year-old computer engineer, William Beale, located in the popular Garden Route seaside town of Plettenberg Bay. The raid on Beale came after months of meticulous planning that was part of an intercontinental investigation into an online child sex and pornography ring. The investigation was code-named Operation Cloud 9.
Beale was the first South African to be arrested. He was snagged as a direct result of the October 2014 arrest by members of the Antwerp Child Sexual Exploitation Team of a Belgian paedophile implicated in the ring. South African police, under the leadership of Lieutenant Colonel Heila Niemand, co-operated with Belgian counterparts to expose the sinister network, which extended across South Africa and the globe. By July 2017, at least 40 suspects had been arrested, including a 64-year-old Johannesburg legal consultant and a 20-year-old...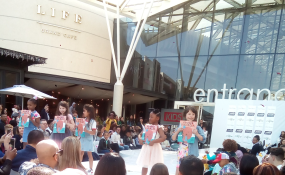 Photo: allAfrica
Models from Rainbow Nation Little Charmers modeling academy.
By Sethi Ncube
Little Charmers have hosted their 5th Annual Charity Show where former president Nelson Mandela's daughter Zindzi's children Zazi (8) and Ziwelene (6) launched the Mandela family's first children's story book titled Grandad Mandela.
Singer and songwriter LeAnne Dlamini emceed and entertained guests at the event whose proceeds were donated to the Nelson Mandela Children's Hospital in Johannesburg.
Children from Rainbow Nation Little Charmers modeling academy showcased the latest fashion from stores like MR Price Kids, Cotton on Kids, Guess Kids while random adults were picked from the crowd to model for gift vouchers.
Zazi and Ziwelene also took to the stage alongside their mother Nondzolo Lindo Mandela to launch the picture book that explains Madiba's role in ending apartheid. The book was written by ambassador Zindzi Mandela, Zazi and Ziwelene. It is available at Cotton on Kids store.
A raffle draw was run and the generous winner donated his R10,000 worth of goodies prize to the Mandela Children's Hospital.
Little Miss and Mr Charity were crowned for selling the highest number of tickets to the show.
A cheque of R60 000 rands was donated to the children's hospital at the end of the show.
The 'Little Charmers Charity Show' was born in 2014. The aim of the events is to teach children the importance of giving back by ticket sales to generate funds for a selected organisation involving children.
This year's show was dedicated to Madiba's legacy.
By Collins Omulo
Kajiado County government has signed a deal with Kenya Literature Bureau (KLB) that will see the latter publish competency-based curriculum learning materials for Early Childhood Development (ECD) and vocational training colleges in the county.
The county Education and Vocational Training executive Mr Seki Lenku said that the initiative will cost the county about Sh15 million in printing and distribution costs to schools in the county.
He said that the literature package will include books, learning charts and other teaching materials.
MAA CULTURE
"We realised that the learners in the county are not well versed with the Maa culture and language. Through this partnership, we now have an opportunity to tap and mould them in their formative years," said Mr Lenku.
Mr Lenku said that ECD teachers will undergo training in August on curriculum implementation.
"The new initiative will improve the provision quality education for our young learners; Governor Joseph ole Lenku will flag off the books in the coming weeks," she said.
VERNACULAR LITERATURE
On his part, KLB Managing Director Victor Lomaria said that once published, the books will be uniquely patented to the county government complete with the governor's seal as a value proposition mark that will uniquely identify them as belonging to the county.
He said that the MOU will include the printing of vernacular literature for the county schools.
"As your partners in the education sector, we are committed to ensuring quality education is realised in schools within Kajiado County," said Mr Lomaria.
By Gregory Austin Nwakunor and Omiko Awa
The executive members of the Local Organising Committee (LOC) for the 37th yearly international convention of the Association of Nigerian Authors (ANA), visited Rutam House, the corporate head office of The Guardian Newspapers, on Thursday, to intimate the newspaper house of its events holding at Lagos Airport Hotel, Ikeja, Lagos from October 25 to 28.
The LOC Chairman, Akin Adeoya, said the three-day event would be unique, especially as it will be hosting over 1,000 writers from the 36 states and Abuja.
He disclosed that this would be the first time in 25 years Lagos State is hosting the convention, adding that the last one it held was in a way dissipated because of the death of the then president of the association, the late Ken Saro-Wiwa, who was executed by the government of General Sani Abacha.
According to Adeoya, the LOC has put together some pre-events activities that will deliver the magic of the state to participants.
With Literature: Megacities And Mega Narratives as theme, Adeoya revealed that there would be a colloquium on digital publishing, stressing that the forum is legacy project designed to immortalise creative spirit of the late Tayo Aderinokun, who promoted and inspired creativity aside actively supporting writing through Lagos chapter of ANA.
He also disclosed that Patrons' Night, one of the pre-events programmes, would hold in advance of the convention.
According to him, the event will be an assemblage of friends and supporters of the creative writing world in Lagos State.
He informed that the night slated for August 26, will feature the induction of patrons, light entertainment and intellectual discuss on books, piracy, publishing and the use of the World Wide Web as a medium of expression and writing.
Calling on The Guardian to partner with ANA and to promote its activities, the LOC chairman disclosed that other activities line up for the event include mega beautiful Lagos show, feast of literacy and creativity as well as cultural fiesta.
Responding to the question if people still books, ANA Chairman, Lagos Chapter, Yemi Adebiyi, said people still read, adding that technology has provided more options for people of different to read diverse and varied materials on the Internet. He disclosed that apart from hard copies, e-books of different literary works and bookshops where they could be bought can be got from the Internet.
He revealed that ANA Lagos has begun a book reading advocacy programme in secondary schools across the state, adding that the project is, however, bedeviled by government's bureaucracy.
He noted that the advocacy programme is targeted at making students embrace reading culture.
Meanwhile, the duo of Oba of Lagos, His Royal Majesty, Oba Rilwan Babatunde Osuolale Aremu Akiolu I, and the Alayeluwa Oba R. I. Babatunde Balogun, Elejinrin of Ejinrin land, have, on different occasions, endorsed the international convention due to be hosted in Lagos.
Oba Akiolu, the Olowo Eko, as he is popularly known and addressed, said this in his palace in Iga Iduganran, on the Island of Lagos, when a team of the LOC paid him a courtesy visit.
Received by his personal staff in the presence of all the Lagos foremost chiefs, the Idejos and elders, on Tuesday, July 24, 2018, the ANA's team was warmly received as guests.
Oba Akiolu later narrated the history of beauty and hospitality of Lagos and Lagosians, to the admiration everyone in the palace, insisting, "there is hardly any one among the extremely rich Nigerians in, history, who has not shared in the hospitality and endless benevolence of Lagos gods of wealth," he said.
The team, which was led by Adebiyi, a biochemist and author, included, Adeoya, Feyi-Abiodun Samson Oyeniyi, politician and Lagos State Chapter's Public Relations Officer II and spokesman for the LO;, Ms. Yinka Kadiri, Chairperson of Publicity/Media Management Committee as well as Miss Elizabeth Uwandu a writer for Vanguard Newspaper.
According to Adebiyi, the visit to the Oba-in-Council became a necessity, as any responsible individual or organisations cannot afford to organise or hold the an event of the magnitude of ANA internationals convention without letting the Alayeluwa, a prominent royal father to, not only be awared, but be formally informed and involved.
According to Oba Akiolu, in his response, "I pray for a successful entry and exit of all participants at your convention. I wish you success and pray that no evil shall distort or destroy the success of the entire programme," he said, even as he promised to be at the event, personally, on the first day.
"Out of my tight schedule," he assured, "I will find time to, not only attend, but to support you beyond the period of the event."
Adeoya had requested that Oba Akiolu be royal father at the international convention as well as accept the offer to become a Royal Patron of the association.
Earlier, the Adeoya-led LOC, accompanied by Mr. Monday Edet, Secretary, Oyeniyi, and Mrs. Abigail Ohiero, Financial Secretary were at the palace of Elejinrin of Ejinrin land, His Royal Majesty, Alayeluwa, Oba R. I. Babatunde Balogun, the Adetoyese Ejalonibu II in Ketu-Ejinrin, Epe, Lagos State penultimate week.
The Oba gave the team a warm welcome. In response to the request of the LOC team, the Oba promised to give full support to ANA and the upcoming convention as well as ensuring an accommodating relationship with ANA, Lagos chapter, beyond the time of the event.
The team of the local organising committee, after being given light entertainment by the royal family of, in the presence of some Chiefs from Lagos, including, Chief Fashola Savage, the Awishe of Lagos, later went round to view the ancient town and some colonial days facilities which exhibit the historical touch of civilisation and splendour which have been long lost, due to abandonment or negligence from several past federal and state's government administrations. This, too, was the subject of lamentations by everyone within reach.
By Jimmy Lwangili
MSICHANA Initiative (MI) has organised a one-day annual forum to address girls' agenda scheduled to take place in Dar es Salaam on Saturday this weekend.
The event, expected to draw in 1000 participants, will be presided over by girls from different Schools, groups, various Clubs, and the ones with special needs, as well as community development stakeholders and government representatives.
Briefing journalists on the event yesterday, MI Executive Director, Ms Rebecca Gyumi said the guest of honour, Director of Women Fund Tanzania (WFT), Ms Merry Lusimbi will preside over, where this year's theme will be -'The role of community in protecting and defending rights of girls'.
She said various topics touching girls, through the forum's theme would be presented, including 'the role of men in the family and role of family in protecting girls.'
"Through the forum the girls will have an opportunity to express challenges facing them, and discuss how they can stand strong to get their solutions," she added.
The Director hinted that the forum is sponsored by the Global Fund for Women and Open Society Initiative for Eastern Africa (OSIEA), whose last year's forum held in Dodoma City, discussed teenage pregnancy and gender violence.
Msichana initiative is a programme established to advocate for girl-child rights to education in Tanzania, which includes addressing key challenges facing them and limits their access to education.
Ms Gyumi said the organisation seeks to ensure that a girl-child inherits all rights accorded to any human being, without regard to gender, and discriminations based on economic, culture and socio-political stances.
The mission of MI is to become the leading organisation in advocating for the provision of quality education and safe study environment to all girls, including creating self-reliance, confidence and self-determination amongst them.
"To create a society which empowers girls, who ought to realise their full potentials by advocating for their right to education, that is our target," she said.
analysis
By Kylie Kiunguyu
FIFA Secretary General Fatma Samba Diouf Samoura, ranked number one on the Forbes 2018 Most Powerful Women in International Sports list, is determined that, on her watch, the world's most widely loved sport will be inclusive of all.
When newly elected president Gianni Infantino appointed Fatma Samba Diouf Samoura as his secretary-general in June 2016, Samoura, an African Muslim woman, became not only the first non-European to hold FIFA's second-most powerful position but also the first female to sit at its top table.
Samoura was born in Dakar two years after Senegal declared independence from France. Speaking to Arab News, she said, "I was the second of seven children, but the only girl. Traditionally, in Senegal, because we are a Muslim society, they would not consider a woman's education as a priority, but in the case of my family it was totally the opposite.
"My parents were both well educated -- my mother was a teacher and my father was in the military -- and they invested in my education, ensuring that I was not discriminated against, by my brothers or by society. They gave me all the tools and support to grow up with an independent mind-set."
Samoura went on to join the United Nations World Food Programme (WFP) in 1995, working as the Country Director for WFP in Djibouti and Cameroon, before she was appointed as Deputy Humanitarian Coordinator for eastern Chad in 2007 and finally assuming the role of FIFA Secretary General responsible for overseeing the commercial and operational side of the organisation.
Pushing for reform
Samoura met FIFA's president, Gianni Infantino, in 2015 during a World Cup 2018 qualifying game. Hewent on to offer her the job months later when he won the presidency.
When he gave her the role, he was quoted by Face2Face as saying, "Fatma is a woman with international experience and vision who has worked on some of the most challenging issues of our time. She has a proven ability to build and lead teams, and to improve the way organisations perform. She also understands that transparency and accountability are at the heart of any well-run and responsible organisation."
Read: Senegal: the silver lining to Africa's dismal World Cup showing
At the time of receiving the appointment, Samoura told Arab News, "I know there were other candidates. I cannot really say too much about the criteria for my appointment, but I think the fact that I was coming from a totally different background was considered an asset. As for being a woman, I do not feel any added pressure. Instead I see it as an opportunity. Already we can see that FIFA is a more diverse, open and transparent organisation than before and I am very proud to be leading this change."
These changes are echoed in FIFA's reforms, which include statutory obligations to promote and support women in football and a requirement of at least one female representative in each of the six confederations on the FIFA Council. There is also the new Women's Football Division, created for the development of the female game and led by New Zealand's Sarai Bareman, the only woman on FIFA's 2016 Reform Committee.
Other reforms Samoura has brought with her include convincing Qatar to improve conditions for migrant workers constructing its facilities for the 2022 World Cup.
"Over the past six months we have heard nothing negative about the working conditions in Qatar," she said to Face2Face "It is a strong sign that football can help change cultural behaviour, even in a more conservative society."
Read: Russia: Senegalese fans win hearts after cleaning up stadium after the game
Pushing against racism and sexism
Through her leadership Samoura wants to make it known that FIFA is now ready to embrace the benefits of gender diversity in decision-making, that it will finally see women's football with a degree of equality and that it will encourage girls across the world to achieve their dream in sports.
"There are people who think that a black woman should not be leading the administration of FIFA. It's sometimes as simple as that," Samoura told the BBC "It is something we are fighting on a daily basis on the pitch. I don't want any racist person around me."
Samoura is not a novice to football - both her uncle and her husband are former players. "Football is nothing new to me. I have been surrounded by it since I was six years old, but I am proud to see the changes we are making and the progress we are taking in regard to the women's game.
"Throughout my life, I have always faced challenges as a woman in a traditional society or in a workplace dominated by men, but what has really taken me to where I am is hard work. I never expected anybody to do me a favour because I am a woman, and I still don't."
By Betelhem Bedlu
Ministry of Industry (MoI) said that it would commence an on-site workplace daycare service to infants of its female employees so as to minimize their home and workplace burden, reduce parental anxiety and increase productivity at work.
Approached by The Ethiopian Herald, Ministry's Gender Issue Office Director Eyerusalem Damete said that the daycare which becomes operational in the coming two months would have benefits for the Ministry and employees as it minimizes employees' absenteeism and turnover during postpartum period.
Supposing that a daycare at work place is somewhat a new experience and only few institutions, such as the Ethiopian Human Rights Commission and Metals and Engineering Corporation, have built so far, she said that other institutions should take the experience in order to create conducive work environment for their employees.
While mentioning the activities the Office has been undertaking to empower women, she said that back in the days; the education and training manual of the nation had allowed scholarships and school fee coverage for students who want to further their education at second degree level and above.
However, Mol has revised and improved the manual to benefit employees with educational achievements of different levels to further their education.
Benchmarking the best experience of Agriculture and Education Ministries, the Office has provided fully funded full-time scholarship for its employees.
As to her, Queens, National and Gage colleges are the institutions that are currently offering the scholarship for Ministry's employees.
Concurrent to this, the Ministry provides training packages in different areas depending on the gaps observed in the assessment done beforehand.
By Dan Wandera
Luweero — A High Court Judge in Luweero District has sentenced a 19-year-old man with disabilities to a seven year jail term for assaulting and raping a 65-year- old woman.
Moses Ssekito, committed the crime at Bukatira Village, Kito Sub-county, Nakaseke District in 2015.
Justice Olive Karazarwe on Thursday said she handed a light sentence to Ssekito because of his physical disability.
Prosecution led by Mr Hussein Nasur Ntalo, told court that on August 21, 2015, Ssekito forced his way into the house of the victim, who is a resident of the same village, after breaking the door.
Upon conviction, Ssekito who for the last two years has denied the offence, requested for leniency.
Justice Karazarwe said that the woman, given her age, could not publically claim to have been raped and of all people, pin Ssekito, a person with disabilities.
This email address is being protected from spambots. You need JavaScript enabled to view it.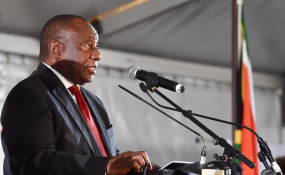 Photo: @CyrilRamaphosa/Twitter
President Cyril Ramaphosa delivers the keynote address at the 2018 National Womens Day celebrations at the Mbekweni Rugby Stadium in Paarl in the Western Cape.
President Cyril Ramaphosa called for a moment's silence on Women's Day on Thursday to remember women who have been brutalised by violence and exploitation.
"As men, we hang our head in shame," Ramaphosa told the thousands of people attending the national Women's Day event in Mbekweni, Paarl.
He said that South Africa should build a society where the "daughters of our nation" will be able live in peace, dignity and security and said the scourge of violence against women, and their exploitation, should end.
He said women should feel protected whether they are in the streets, on village pathways, at university, at work, or just going about their daily lives.
"I ask that we honour those women who have been brutally killed; those women who have also been raped; those women who have been brutally violated through violence - young and old.
"But particularly those women who have died recently, either through deep depression or who have been killed," he said, before asking the audience to stand to observe a moment of silence.
"Let the sadness that is felt by the women of this country seep into our consciousness, seep into our hearts."
Ramaphosa's speech was preceded by a small protest by a group of women bearing small posters calling for an end to farm evictions who filed into the front of the stage as he was about to take the podium. Some of their placards read, "This is our land" and "We want our land back".
A woman addressed the group separately as Ramaphosa told them they would be heard, and they filed out again quietly.
Ramaphosa said that Land Reform programmes must make sure that women are treated equally, and that women are empowered.
"The land should not only be parcelled out to men," he said.
Ramaphosa said that many young women were leaving school before completing the full 12 years and although they may "stumble and fall" due to a range of reasons, they should be encouraged to finish their schooling.
He said South Africa is now a country where women should be free to march to the Union Buildings in a protest, unlike the women who marched to the seat of government in 1956 over apartheid pass laws and who were arrested, banished, or even died in the struggle against apartheid.
He said the women who marched to the Union Buildings during the #TotalShutdown march last week had the right to do so, and he had personally instructed that action be taken against police officers who slapped a woman and insulted another.
"Our nation is hungry for the leadership of women and we must move in that direction," he said.
Earlier, Sophie De Bruyn, one of the last surviving leaders of the women's march of 1956 hit out at Ramaphosa and his government for the handling of sexual offences and violence against women.
She said the women didn't march for democracy to find perpetrators of violence being treated "with kid gloves".
"This fills me with a lot of pain and sadness," said De Bruyn.
Minister of Women in the Presidency Bathabile Dlamini received a rousing welcome.
The former Social Development Minister who is also the president of the ANC Women's League struck a chord with her condemnation of a society that makes single mothers struggle to get the fathers of their children to pay maintenance, and support their children.
She was also horrified by the rape of 23-year-old Khensani Maseko, a Rhodes University student, who committed suicide on Friday. Maseko had been battling depression after she was allegedly raped by her boyfriend.
She was laid to rest in Johannesburg on Thursday while the Women's Day speeches in Paarl were under way.
Dlamini wanted to know why universities allow rape-accused men to remain on campus and demanded that universities develop a new policy to deal with this.
"Wake up, our children are killed every day," said Dlamini.
Women's Day marks the 1956 march to the Union Buildings by women who resisted the pass laws of the apartheid government. This year the theme is a tribute to struggle stalwart Albertina Sisulu.
Ramaphosa also announced that there will be a summit on gender violence on August 31.
Source: News24
analysis
By Amanda Gouws, Stellenbosch University
The start of Women's Month (August) in South Africa this year was refreshingly different from other years as women took to the streets in #TheTotalShutdown protests. It saved the country from the yearly hackneyed speeches by politicians about women's empowerment.
The marches reminded South Africans of women's protests that took place during the country's transition period between 1992 and 1994 under the banner of the Women's National Coalition. At the time women were demanding to be included in the negotiation process and in designing the architecture of the new democracy.
In the decade that followed activism around women's issues became limited to campaigns that were smaller in scope, such as the Shukumisa Campaign that engaged the state around the Sexual Offenses Act, or the One in Nine Campaign which proclaims that only one in nine rapes are reported. There has also been NGO activism.
Five years ago when the country was shocked into action after the brutal murder of Anene Booysen. The 17-year old was gang raped, disembowled and left for dead in a small town called Bredasdorp in the Western Cape province. The brutal nature of the attack led to a country-wide outcry and was featured on the front pages of newspapers.
This campaign was short-lived, but it emphasised the need for state intervention that did not happen. Three years later, in 2016, protests erupted at universities across the country as students took gender based violence to the streets. The #EndRapeCulture protests were led by women at universities and was, in my view, South Africa's #Metoo moment - even before #Metoo happened globally.
The #EndRapeCulture exposed the insidious nature of sexual violence, men's entitlement and women living in constant fear of being raped or sexually brutalised. It was a resistance against the normalisation of gender based violence.
Then the issue once again fell away from public attention - until recently, when women began mobilising for the #TheTotalShutdown protests. This was the first time activism on a national level focused on gender based violence, not only against women but also against members of the LGBTIQ communities.
This activism was long overdue. Not only did the protest marches foreground sexual violence; they also attempted to change the binary view of sex as male and female.
The demands
The #TheTotalShutdown has 24 demands in its memorandum. None of these are really new, but they are the reiteration of requests that have been made again and again in the hope that something will change this time.
The most important demands are:
a review of past national action plans on gender based violence and the development of a new National Action Plan;
the re-establishment of the Joint Monitoring Committee on the Quality of Life and the Status of Women that did stellar work monitoring state departments under the leadership of feminist and human rights activist Pregs Govender in South Africa's first democratic parliament;
greater involvement in monitoring gender based violence by the country's Chapter 9 bodies, such as the Commission for Gender Equality; and,
the prevention of secondary victimisation and consistent sentencing of perpetrators of sexual violence; psycho-social support and better resourcing of the Thuthuzela care centres, one stop centres for reporting rape at police stations.
What's next
Women have been asking for a great deal of what's on the list for more than a decade.
So why has there been no action?
There's clearly a lack of political will to deal with sexual violence. This starts with state agencies such as the police that often trivialise women's reports of rape, are quite lethargic to investigate rape and often are complicit in rape themselves. This needs to change.
South Africans need to know how police are trained to deal with victims of sexual violence.
The large numbers of women who took part in the #TotalShutDown marches showed that women are not only victims. They also have agency. Their decision not to allow men to participate was so that women could take a stand without men taking charge. Men can show solidarity through working with other men, and by challenging men who are involved in violence.
The #TotalShutDown protesters demand 365 days of action against gender based violence. But more powerful ways of keeping government to account must be found. The fight against gender based violence needs to move beyond simply seeking that perpetrators be jailed, as the ANC Women's League does with its mantra rapists should rot in jail.
Violence should be dealt with not only once it has happened but should also be prevented. How many more women have to get raped or lose their lives before South Africa develops interventions that will not put the burden of responsibility on women's shoulders?
By Kylie Kiunguyu
'Too Black' to Play a Superhero: Senegalese-American Anna Diop is experiencing racist backlash from fans for her role as DC Comic's Starfire. Her response has been: "I am here to remind you that whatever ugly and negative thing anyone ever chooses to say about you is always a reflection and revelation of themselves."
Racism, colourism and sexism are staples of the comics universe, with fans becoming almost obsessively protective of the characters that are increasingly being brought to the big and silver screen. This incessant and often misguided want for characters to remain true to the original comics leaves little room for diversity, even though the characters themselves are rarely realistic to begin with.
Just last year we saw the stunning Gal Gadot critised for both her race and body when it was announced that she would play the role of Wonder Woman. First critics claimed that it was wrong for an Israeli woman to lead the film, which was the reason it was subsequently banned in several Arab countries. Then fans began criticising the fact that she wasn't as 'busty' or 'voluptuous' as the character's depiction in comic books.
Another actress, Kelly Marie Tran, who played Rose Tico in Star Wars: The Last Jedi, deleted her online presence after experiencing months of social media harassment. The actress, who was the first lead female character of colour in the iconic series, was thoroughly criticised by Star Wars fans for her performance, looks and Asian ethnicity.
It is no surprise therefore that Senegalese-American actress Anna Diop is at the receiving end of disturbing backlash from "fans" of DC Comics new series Teen Titans. Diop is set to play Starfire, aka Princess Koriand'r Starfire, a female alien with vibrant orange skin and a mane of scarlet hair.
With the release of the first trailer at Comic-Con last week, and with leaked pictures of Diop in cosplay doing the rounds on the Internet before that, fans got their first look at Diop's Starfire. Unfortunately, a section of the show's fandom went on to criticise the actress for her skin color.
In a compiled BuzzFeed list, one fan tweeted, "She is too fat and too dark for Starfire." Another commented: "Starfire is not African."
Diop's Instagram page became so flooded by hate that she had to disable her comments. She addressed the racism at the time in a now-deleted post, saying: "Too often social media is abused by some who find refuge in the anonymity and detachment it provides; misused as a tool to harass, abuse and spew hatred at others," Diop wrote. "This is weak, sad, and a direct reflection of the abuser. Racist, derogatory and/or cruel comments have nothing to do with the person on the receiving end of that abuse."
Experience has shown that the people who attack these women are predominantly men who are not only super fans but ardent propagators of misogyny, homophobia and racism. Aptly put by Vox.com, this pattern of attack based on gender, race and sexual orientation is upsetting not only to those directly affected by the attacks but for the potential it has to stifle pop culture's slow evolution towards greater representation for people who are not white men.
To counter this, many have come to Diop's defence, upholding the obvious fact that no actor would have "naturally" fit the role of an orange-skinned alien and that the attacks were blatantly racist and not attempts to maintain the integrity of the characters depiction.
analysis
Germany's development minister has sparked a debate by calling for EU tariffs to be waived on African goods. Critics question whether import duties are really the issue, or are there other barriers to trade?
The European Union can boost development to and stem migrant flows from Africa by completely opening its market to the region, German Development Minister Gerd Müller said on Wednesday.
"Open the market for all African goods," Müller told Die Welt newspaper, adding that the European market is effectively closed to Africa at present.
Brussels has the power to "give the continent a new status -- also politically," he said.
At the European level, Müller wants to see the introduction of an Africa Commissioner who will connect the numerous threads that make up the EU's Africa policy. He also called for an EU-Africa Council to meet regularly.
But above all, his call is about trade, where agricultural products from Africa are free to be imported into the EU duty and quota-free.
EU Trade with Africa - more Harm than good?
Müller, who is a politician for the Christian Social Union -- the Bavarian sister party of Chancellor Angela Merkel's Christian Democrats -- said he would work towards the creation of a new EU-Africa treaty in the two years leading up to Germany's presidency of the EU's executive body, the European Council, in 2020.
Each EU state assumes a six-month rotating presidency of the Council and Germany's turn will run from July to December 2020.
Criticized for little action
But within hours of the ideas being made public, they were rounded upon by his political opponents, and labeled a "smokescreen."
The chairman of the Bundestag's Committee for Economic Cooperation, Olaf in der Beek, of the business-friendly Free Democratic Party (FDP), said Müller "must stop talking and start acting," in an apparent sign of impatience at the speed of German-led plans to help boost Africa's economy, which he said had been mooted for three years.
The Green party's spokesman for development policy, Uwe Kekeritz, questioned why Müller was backing a free trade plan for Africa, when previously he backed the EU's Economic Partnership Agreements, which prevented such a market opening. The agreements created the intention to reduce trade tariffs on both sides, but have hit many roadblocks.
Roland Süss of the anti-globalization group Attac told the German daily Frankfurter Allgemeine Zeitung (FAZ) it would be difficult to achieve free trade between two continents that are so unequal.
Read more: Trump against Rwanda in trade war over used clothes
He said many African states have reduced their tariffs on foreign goods -- in some cases by up to 90 percent -- which has just opened the floodgates to low-cost European products, many of which are heavily subsidized by the EU.
Africa not benefitting
"Subsidized agricultural products from Europe are flooding African markets and destroying local smallholder structures," Süss told FAZ.
The EU forecasts that its agricultural subsidies will total €365 billion ($423 billion) between 2021 and 2027, while Brussels' entire European-Africa policy is worth just €39 billion a year.
Suss's response was backed up by Sahra Wagenknecht from the left-wing Linke Party, who agreed that the agriculture sectors at home and in Africa were suffering due to the EU-Africa trade deals.
"Instead of more free trade to create more reasons for migrants to leave, we finally need to stop plundering Africa's raw materials," she said, adding that "fair trade" was a more appropriate term.
Fall in imports from Africa
Despite duty-free imports (apart from arms and ammunition) already being in place from the 32 poorest countries in Africa and the 12 countries with which the EU has Economic Partnership Agreements, EU imports from Africa have fallen by almost 40 percent in recent years, according to the German development minister.
Müller believes it is not so much a problem of tariffs and import quotas, but other obstacles that make market access so difficult for African companies. In many cases, they produce goods that do not meet strict European quality standards, for example foodstuffs, he said.
European Parliament politician Elmar Brok of the CDU agrees that it is crucial to help African companies to meet the corresponding import conditions into the EU.
"Fair and good trading conditions are key to achieving better living standards in Africa. And such measures also ensure less migration," he told German public broadcaster ARD on Thursday.
Each evening at 1830 UTC, DW's editors send out a selection of the day's hard news and quality feature journalism. You can sign up to receive it directly here.
By Tariro Washinyira
Saadi Ali Tokiti, a 32-year-old gay Congolese man, says that when he tried to report a homophobic assault in June, Manenberg police refused to open a case. He says he was assaulted and his life was threatened by three men on his way to Thembalethu shelter, Cape Town. They made insulting remarks about him being a "weird" person who sleeps with other men.
Tokiti arrived in Cape Town on 22 May 2018. OutRight Action International had put him in touch with PASSOP (People against Suffering, Oppression and Poverty), who helped him with a bus ticket. He is seeking asylum in South Africa, but he says he feels "unsafe and unwanted".
One of the attackers in June was Congolese and spoke Swahili. He says the man said, "You should stop talking about the Mayi-Mayi [community-based militia groups in the DRC]."
Tokiti says some Mayi-Mayi groups persecuted gay people in his home country. He says the attacker told him: "You should know that as you were not free in DRC and in Mozambique, even here [Cape Town] you are not free."
Tokiti says the female officer on duty at Manenberg police station denied that he was attacked because he was gay. According to Tokiti, she told him to "stop tarnishing South Africa's name with your claims because it is one of the peaceful countries".
Journey to South Africa
It took Tokiti three months to travel from the DRC through Zambia and Zimbabwe to reach the South African Beitbridge border in July 2017. He had no documentation. He declared that he was seeking asylum because of persecution for his sexual orientation. He says an immigration officer told him: "We don't want gay men in South Africa. Go back to where you came from."
Tokiti went to Mozambique to the Maratane Refugee Camp in Nampula. In his fourth month in the camp, he says he was attacked twice, he believes for being gay.
Fearing for his life, he sought help at the National Institute for Refugee Support in Maputo, but the institute could not help him while he was living outside the camp.
He started to live on the streets of Maputo, where he says he was harassed by police and criminals.
Then he made contact with OutRight. Paul Jansen, a senior advisor for global advocacy at OutRight Action International, confirmed that they linked Tokiti with PASSOP. "The only thing we did after receiving his desperate mail was to make the connection with PASSOP, as we knew they are specialised in refugee issues. All handling of the case was done by PASSOP," Jansen said.
Tokiti obtained a refugee passport and a bus ticket to Johannesburg. At the South African border at Lebombo he was given 30 days on 22 May 2018 to proceed to a refugee reception centre to apply for asylum.
Fleeing the DRC
Tokiti says he grew up in Gulu, Northern Uganda, and studied for a Bachelor of Commerce. His father left the DRC to take refuge in Uganda in 1985. His father died in 2002.
Tokiti says that in 2007 the Ugandan government started to crack down on homosexuals and gay rights activists. Tokiti was running LGBTI awareness workshops. He says he started to receive calls threatening him and telling him "to do your sexual activities in your country, not here in Uganda".
He fled back to DRC and lived there for 10 years. He says he formed an underground organisation, Wandu Pamoja (brothers together), for gay men in Uvira on Lake Tanganyika.
In 2017 he was warned that Mayi-Mayi militia were going to kill him. He sought help at a United Nations camp. He stayed for three days. Officials advised him to seek asylum in another country and he started his long journey to South Africa and Cape Town.
The Cape Town Temporary Refugee Facility on the Foreshore is still not accepting new applications despite a court order. Tokiti's transit paper has expired.
"[Thembalethu] shelter only keeps one for a maximum of three months. I am worried I might find myself living on the streets again, because without a document, I am unable to seek work. My future is uncertain. I feel unsafe and unwanted here," says Tokiti.
Regarding Tokiti's complaint about the failure of the police to open a case in Manenberg, Captain FC van Wyk of the police in the Western Cape said Tokiti should report the matter to management. If the allegations are true, action will be taken, he said.
analysis
By Michelle Nel
The International Criminal Court (ICC) came about after an overwhelming majority of states attending the Rome Conference voted in favour of its adoption 20 years ago. The aim was to combat the grave crimes of genocide, war crimes and crimes against humanity that threaten peace and security in the world.
The court seeks to put an end to impunity by ensuring that these serious crimes don't go unpunished, and ensure their effective prosecution through international cooperation.
The ICC was started with the overwhelming support of African states. But this has since waned. African countries have become increasingly vocal in their displeasure on a number of issues, leading to the 2017 AU decision calling on African states to leave the ICC. This followed Burundi and South Africa announcing their withdrawal. The Gambia did too, but then reversed the decision.
Historically, the relationship between African states and the ICC can be tracked along governance lines. Those states with poor governance and rule of law were most opposed to international jurisdiction, in fear of personal criminal liability by their leaders. Countries with a history of good governance and rule of law, on the other hand, tended to support the ICC more.
But this neat categorisation hasn't always worked, with South Africa as a notable example.
The unhappiness with the ICC can broadly be placed in three categories: The justice versus peace debate, sovereignty, and Africa versus Western imperialism.
These arguments have serious repercussions for the future legitimacy of the ICC. With Africa being the largest regional grouping, it has been convincingly argued that
the impact of the ICC on global justice will be determined in Africa.
I nevertheless believe there's a case to be made for Africa's withdrawal from the ICC. This is because there are alternatives.
One of them is the proposed merger between the current African Court on Human and People's Rights, and the African Court of Justice, established by the AU Constitutive Act. This would lead to the creation of the African Court of Justice and Human Rights.
The idea of an African court with international criminal jurisdiction has been debated since 2009, but it's never been put into operation. With the pervasive anti-ICC sentiment it's now the most advantageous time for the AU to ratify the protocol and implement the merger.
What I envisage is that the ICC would continue to operate, albeit with fewer signatories. The new African court could work side-by-side with it, complementing its work.
New court
The merged court would have three main mandates - addressing general affairs between states, human and peoples' rights, and international crimes.
The current African court doesn't have international criminal jurisdiction. But the Malabo Protocol, which was adopted by the AU in June 2014, extends the African Court on Justice and Human Rights jurisdiction to include 14 international and transnational crimes. These include genocide, war crimes and crimes against humanity.
The Malabo Protocol goes further than any other contemporary treaty, including the Treaty of Rome.
It provides the African Court on Justice and Human Rights wider jurisdiction than the ICC in addressing the serious challenges Africa faces with transnational crimes. It provides the means of interpreting and applying not only the AU Constitutive Act, but "all other Treaties" adopted within the framework of the AU. Other international courts are limited to a single treaty.
The biggest challenge of the Malabo Protocol is arguably Article 46A bis which gives immunity to serving heads of state, or anybody acting in such capacity. This may be in line with international custom but clashes directly with Article 27 of the Rome Statute, which does not exempt heads of state from prosecution.
There is a way round this limitation: it is for the ICC to complement the merged African court. The ICC could exercise its jurisdiction over serving heads of state where African states were unable to exercise their jurisdiction because of the immunity granted by the Malabo Protocol.
Case for an African alternative
Now is the time for African states to give serious consideration to the ratification and implementation of the Malabo Protocol.
The ICC is facing a legitimacy crisis. The court's statistics bear witness to the fact that nine out of ten cases before it are African.
The ICC is seemingly unable to get past the veto powers of the UN Security Council, where three of the five most powerful countries are not even parties to the Rome Statute. This is a clear predictor that the possibility of any prosecutions of non-African heads of state is little to none.
The ICC received a further blow to its stature recently, when one of its few successful prosecutions, that of Congolese military commander, Jean-Pierre Bemba, for crimes against humanity and war crimes, was overturned by the ICC Appeal Chamber in June.
In contrast, the Extraordinary African Chambers in Senegal successfully prosecuted deposed Chadian president Hisséne Habré. Although the victims waited 25 years for justice, this case was confirmed on appeal, showing that Africa can indeed successfully prosecute the most serious of international crimes.
This strengthens the argument for a regional court. The challenges faced by the ICC in Africa resemble the proverbial Gordian knot. Allowing a regional alternative may just prove to be the undoing of the knot.
analysis
By Linda M. Richter And Tawanda Makusha
The first 1000 days of a child's life are crucial. During this time the foundations for optimum health, rapid brain growth and child development are laid. New mothers undergo enormous emotional and physical changes in this time, too.
South Africa has made great strides in prioritising these first 1000 days since it adopted the Integrated Early Learning and Development policy in 2015. It's also embarked on a number of initiatives that focus on improving maternal, newborn and child health.
But an important factor is missing from these efforts: the role that fathers have to play, particularly during the early stage of their child's life.
In collaboration with other universities and civil society organisations we've been conducting studies on fathers since 2003. Our studies have found that "fathers" aren't just biological parents. Very often, they are other important men in a child's life: a grandfather, an uncle, a mother's current partner, a teacher, pastor or a benevolent man in the community.
Only about 36% of children in South Africa live with their biological fathers. Our research nevertheless suggests that the vast majority of men want to be involved in their children's lives, even if they live far away or are too poor to support their children as they would like to.
These issues of distance and poverty, as well as other social factors, must be tackled so that men are able to be fathers. That's because having involved, engaged fathers benefits everyone: the child or children, the child's mother and the father himself.
Science says dads matter
There is evidence that men experience hormonal and other changes if they have the opportunity of being involved with a partner's pregnancy. Their testosterone levels decline and synchronise with the hormonal levels of the mother. This is likely to reduce men's aggression and make them more likely to be involved and protective towards their partner and their child.
Fathers can also play an important role in providing practical and emotional support for the mother by encouraging positive health behaviours that indirectly affect pregnancy and foetal development. This is associated with increased child birth weight, and lower rates of preterm birth.
For example, father involvement during pregnancy can encourage mothers to seek prenatal care earlier, eat more healthily, exercise more and avoid alcohol, drug abuse and smoking.
Fathers also remain enormously important in the period after childbirth. Studies have shown that they influence vital decisions, such as whether women breastfeed, how long they breastfeed and how timeously they register their infant's birth.
Fathers who are involved in their partner's pregnancy and the early days of their child's life are more likely to remain involved throughout the course of that child's life, and likely to take on shared child care and responsibility.
When fathers are involved, others benefit too: research shows that father involvement is linked to greater maternal satisfaction and lower rates of maternal depression. And, crucially, positive father engagement is associated with higher educational achievement, higher self-esteem especially among girls, and lower levels of machismo among boys.
What holds dads back
But there are a number of barriers to father involvement in the first 1000 days. These exist at many levels: individual, family, societal, institutional and policy.
The main barrier is the high rate of children living away from their fathers, principally because of unemployment and poverty. Other reasons are migrant labour, family conflict and past or present incarceration. In some cases, a child's parents may have separated or divorced.
In South Africa societal factors such as the high rate of male deaths due to violence and the HIV epidemic play a role, too. Cultural practices such as payment of costs related to inhlawulo (essentially about acknowledging paternity and granting permission to a man to be involved in the life of a child born out of marriage) and lobola - bride price - may prevent poor but willing fathers from being involved in their children's lives.
Negative perceptions of men in South Africa are also a huge barrier. Common stereotypes include men being absent, strong, unfeeling, uninvolved, violent, disengaged, uncaring and "macho".
Another factor is that health care services, especially during pregnancy and early childhood development, are targeted at women since they're considered children's primary caregivers. Facilities seldom cater for the inclusion of men.
Possible solutions
South Africa needs strategies for reaching out to fathers early and more effectively. But messages, interventions and service delivery to get men more involved need to be tailor-made to suit specific father groups. For example, young fathers still at school need support to acknowledge paternity and to negotiate involvement with his partner's family.
Poor men who can't financially support their children must be reassured that their children value their presence and interest as much as any material provisions. Health care facilities and workplace environments need to be family-focused, not only mother-child centred.
Policies and programmes should be put in place to facilitate work and family responsibilities being better balanced. This can be done by promoting equal parenting between mothers and fathers. Countries that involve fathers in pregnancy and early childhood, and give shared parental leave from work, such as Sweden, show the benefits of being and having engaged parents.
Social media promotion, advertising positive fatherhood messages on billboards, and taking fatherhood messages and services to places and events that fathers frequent, such as football matches, and car washes, could be effective.
Linda M. Richter, Human Sciences Research Council and Tawanda Makusha, University of the Witwatersrand
analysis
By Matt Hayward
The translocation of wild animals is becoming an increasingly important conservation strategy and is happening more and more frequently around the world.
The Australian Wildlife Conservancy has translocated 20 species (13 of them threatened) to its reserves around Australia. Similarly, the Conservation Land Trust in Argentina has translocated a suite of native mammals including the giant anteater, tapir and jaguar to restore the Iberá Wetlands in Corrientes Province. The Red Squirrels Trust Wales is restoring the Ogwen Valley by eradicating invasive grey squirrels, and translocating native red squirrels and pine marten.
Translocations have become more frequent in Africa, too; elephants are the biggest animals to be moved. In places where species have historically been wiped out, but where managers have now removed the causes of those declines, translocation is an important tool.
One of the biggest elephant translocations ever undertaken is underway as part of an attempt to rebuild Mozambique's elephant population. The global mining company, De Beers Group, has initiated a project to move 200 from their nature reserve in northern South Africa to Zinave National Park in Mozambique - a distance of 1500 km. The process has already started and will take place over a number of weeks. The team managing the move is hoping that all 200 will have be in their new home by the end of August.
De Beers has partnered with African Parks, an NGO that manages national parks across Africa. African Parks has recently completed the world's largest elephant translocation, moving 520 elephants 250 km from from Malawi's Liwonde National Park and Majete Wildlife Reserve to its Nkhotakota Wildlife Reserve.
How it's done
The movement of elephants is a major mission.
First, helicopters are used to direct herds of elephants to a capture area so they can be darted from the air. Once that's been done, the elephants are dragged (or co-oerced) onto semi-trailers for transport. The long journey to their new home then begins.
For 200 elephants, this sounds like a monumental task. But South African conservation managers have vast experience with wildlife restoration projects on this scale. As long ago as 1979, 6000 animals (including elephants) were reintroduced into the newly established Pilanesberg National Park. In 1991, Madikwe Game Reserve took the title of the world's biggest translocation when 8000 individuals from 28 different species, including elephants, were translocated.
Expertise is critical with translocations because they can go horribly wrong. For example, a Kenyan Wildlife Service translocation of 11 black rhinos this year led to 10 dying because the water at the translocation site was too salty.
Lessons have also been learnt over the years. The elephants translocated to Pilanesberg were youngsters orphaned following culling in Kruger National Park. These youngsters grew up in the absence of adults and the unruly males ended up attacking and killing rhinos. Once adults were returned to Pilanesberg (and the offending elephants were removed), this aberrant behaviour ceased. Now entire herds are translocated, including adult bulls.
Need for relocation
Rampant poaching has afflicted Africa's elephant populations over the past 8 to 10 years. Some poaching happens in South Africa, but elephant populations in the country are generally well managed and protected. Some populations have even increased beyond carrying capacity. For example, the reserve in Limpopo that's home to the elephants being moved to Mozambique can carry 60 elephants but has a population of 270.
For decades elephant populations in South Africa's Kruger National Park were held in check by culling. Rangers would shoot entire herds to keep numbers in check, and mobile abattoirs would fleece the carcass and give or sell the meat and products. But this was stopped in the 1990s.
Since then the elephant population in Kruger has more than doubled and there are concerns that they are damaging the park's vegetation to such an extent that other wildlife species are going extinct.
Translocation has been increasingly used to manage this growth in numbers - not just in Kruger but in reserves across the country. Until recently, elephants were moved to establish new populations elsewhere in South Africa. But this option has started to run out because almost all reserves are now well stocked. As a result, South African conservation managers have begun to look elsewhere.
Mozambique's elephant population was decimated during decades of civil war. With the return of peace, and better governance and security, wildlife populations can be restored in a number of different places. Because elephants are such slow breeders, populations in Mozambique have not returned to their previous levels. As a result, translocation and dropping the fences between Kruger in South Africa and Parque Nacional do Limpopo in Mozambique are being implemented.
Translocation for the future
With the swathes of free space in the world and the improved ability to manage threats to species, translocations should become more common as a way to reverse the wildlife declines humans have caused.
But government conservation agencies don't take part in translocations as much as they should because they're risky operations. It's time governments reviewed their approach to active and innovative conservation interventions and show that they're prepared to take risks to improve the bleak plight of the world's biodiversity.
By Omeiza Ajayi
All Progressives Congress, APC, has again restated its earlier declaration regarding the suitability of Senator Bukola Saraki to continue to preside over the affairs of the Senate, saying Saraki is not a good example for political leadership.
The party in a statement issued by its acting National Publicity Secretary, Yekini Nabena, yesterday, said: "A traitor will always be a traitor, however, the time and place. The Senate must do everything possible to put Dr. Saraki where he rightly belongs - the back seat.
"He is definitely not a fit and proper person to preside over the country's upper and revered legislative house."
In a sharp reaction, Saraki through his Special Adviser on Media, Yusuph Olaniyonu, said: "We can't descend into the gutter with these characters. Apparently, they have not recovered from the shock of their Tuesday's failed attempt to subvert democracy."
According to the ruling party, in every democratic country, the position of the Senate President is one of the highest political offices one can attain.
"It is a position reserved for the best of the best, experienced and exemplary politicians who by their character and conduct in public offices, the younger generation look up to as role models," the party stated.
It said in terms of exemplary personage, the reverse was the case in respect of Dr. Saraki who had been a dismal failure and had been involved in one controversy or the other, including budget padding, filibustering, legislative rascality, sabotage of matters of national interest, among other, criminalities too numerous to mention.
The party stated: "Having suffered under the 16-year misrule of the Peoples Democratic Party, PDP, Dr. Saraki will go down in our country's history as the worst Senate President Nigeria has had the misfortune to have.
"Since his usurpation of the coveted seat, achieved through a wicked conspiracy with members of the opposition PDP, it has been from one controversy to another - the Code of Conduct trial for false declaration of assets; conspiracy with his deputy to fraudulently alter the rules of the Senate and links to the deadly armed robbers who wasted many lives in the Offa robbery attack.
"It is alleged that some of the robbery suspects were his political thugs used to rig elections; a common adage says: 'Show me your friends and I will tell you who you are.'
"Dr. Saraki is definitely not our good example for political leadership. All over the world, the leadership of the legislature is provided by the political party with the majority members. But Dr. Saraki would in the absence of many members of his former party, the All Progressives Congress, APC, connive and conspire with members of the opposition PDP to emerge Senate President, and in the process trade off the Deputy Senate President position to the opposition PDP, a political betrayal and treachery even the devil would be envious of.
"Even at this time he has defected to the opposition PDP, and with APC still in the majority in the Senate, Dr. Saraki still has the impudence to present himself as the Senate President. Political ambition should be made of nobler stuff."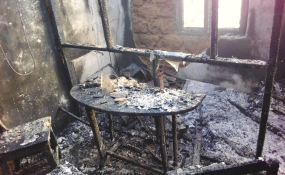 Photo: Barnard Tata Gibip/CPJ
An alleged arson attack on Cameroon's Sky FM gutted the private community radio station in the Northwest Region town of Ndu destroying equipment, furniture, and the studio.
Johannesburg — Cameroonian authorities should speedily investigate an alleged arson attack on community radio station Sky FM in the volatile Northwest region and ensure those responsible are prosecuted, the Committee to Protect Journalists said today.
Unknown persons on August 3 set fire to the station, destroying the building and equipment, according to the station owner Abdou Borno, an article on Sky FM's official Facebook page, Cameroonian journalist Ndi Eugene Ndi, and two local website reports. The equipment included two transmitters, computers, four recorders, a video camera, a mixer, decoder, television set, and office furniture, according to Borno.
The radio station is based in the town of Ndu, about 124 km (77 miles) from Bamenda, the capital of the Northwest region--one of two regions where Anglophone separatists have been waging an armed struggle for an independent state called Ambazonia against the French-speaking government of President Paul Biya , according to news reports. A recent Human Rights Watch report blamed both sides for grave abuses against civilians, including killings.
"All parties to the conflict in Cameroon, whether government forces or Ambazonians, should stop targeting journalists and media organizations and allow them to operate safely and without fear of reprisal," said Angela Quintal, CPJ Africa Program Coordinator. "The media is not the enemy. Journalists are simply trying to do their jobs by ensuring that citizens are armed with useful information in what has become an increasingly bloody phase in Cameroon's history."
Borno told CPJ that he learned of the fire the morning of August 4 when the manager of the nearby Summit Hotel, Nformi Victor, called him to tell him that the radio station had burned down. According to Borno, Victor told him that a hotel receptionist heard a noise at about 11 p.m. the night before; she did not investigate further since she did not hear the noise again and because it was windy.
Sky FM's station manager, Bernard Tata Gibip, found a cutlass, gasoline container, and a box of matches near the radio station after he too was alerted by Victor, Borno told CPJ.
The station broadcasts in English and "all other local languages including Limbum and Mbororo," on topics including culture, health, and the economy, according to Borno, who is a local official of Biya's ruling Cameroon People's Democratic Movement party. The station also broadcasts BBC programs and national broadcasts in French.
Borno told CPJ on August 7 that he believed his radio station was targeted because of its "Back to School" campaign, which began last year encouraging students to return to school. The new school year starts in September, and a school boycott has been in place since November 2016 when lawyers and teachers in both the Anglophone Northwest and Southwest regions began protesting the alleged marginalization of English by Biya's central government in Yaounde, according to news reports. The grassroots protest was then taken over by separatist factions as the conflict escalated with Amnesty International and Human Rights Watch accusing them of violently enforcing the boycott, according to the independent humanitarian news website, IRIN.
The station has been off air since May 19 after its two transmitters were damaged in a lightening strike; they were planning to relaunch the week of August 8, according to Borno.
Borno told CPJ that because the new school year starts next month, the "separatist activists know very well our stand so they decided to burn the entire radio house with all equipment."
In a detailed emailed statement to CPJ, a spokesperson for the separatists' Self Defense Council of the Ambazonian Interim Government (ASC), A.J.N. Mbiydzenyuy, said it controlled about 98 percent of the "restoration forces"-- who are the self-defense units of the separatist Ambazonia movement-- in the Northwest and Southwest regions and that there was no evidence that they were responsible for the arson attack.
"The ASC leadership has never approved [an] arson attack, the restoration forces council in Nkambe is unaware of any involvement of their forces...and the field commanders of our forces in Ndu declined responsibility of the FM radio station arson attack," he said.
CPJ could not verify independently the alleged motive or whether separatists were responsible for the alleged arson.
Ndi, the publisher and editor-in-chief of the weekly NewsWatch , told CPJ that both the government and separatists were targeting journalists. "Separatists are threatening us with messages that we are siding with government in our reports as we try to stay neutral or objective in the crisis. On the other hand, any report that seems to be propagating the agenda of the separatists is tantamount to the crime of 'apologies de terrorisme' punishable under the anti-terrorism law by the government," he said.
Borno said he employed four staff members to report and produce programs. He said that the station, which he established in 2013, was not a profit-making enterprise, nor was it subsidized by the government.
Communications Minister Issa Tchiroma Bakary, who also serves as a government spokesperson, did not respond to CPJ's request via Whatsapp for comment. The Northwest Governor Adolphe Lele Lafrique had not replied to CPJ's request for comment at the time of publication.
In a Cameroon special report about the abuse of anti-terror laws against journalists published last year, CPJ spoke to journalists who said they were increasingly caught between the Cameroonian government and separatists.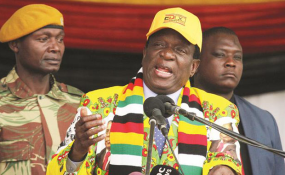 Photo: The Herald
President-elect Emmerson Mnangagwa.
By Tendai Mugabe
President.elect Cde Emmerson Mnangagwa has hinted on a new Cabinet of fresh faces appointed on the basis of capacity to deliver set targets.
The President-elect is expected to appoint a new Cabinet after his inauguration scheduled for Sunday.
The MDC-Alliance intends to scuttle the inauguration through an application challenging the presidential election results.
The application has to be filed by end of day today.
Should the alliance petition be filed today, the inauguration will be guided by Section 93(3) of the Constitution which speaks of the court having to determine whether the President-elect has been elected correctly and if so, after the judgment has been passed, inauguration has to happen within 48 hours.
The Constitutional Court can nullify the results in which case there has to be a fresh election within 60 days.
The court's decision on the matter is final.
Addressing Zanu-PF winning legislators at the party's headquarters in Harare yesterday, Cde Mnangagwa said some long-serving members of his Government would be deployed to work full-time at party level.
He said the move will be aimed at strengthening the revolutionary party.
"After everything else, we will appoint our new Cabinet," said Cde Mnangagwa.
"The last Cabinet that we have was the one which includes most of us before we were expelled. There were some gaps after vana Jonso vatiza and we replaced them. This time when we choose our Cabinet, we will look closely on who occupies this position and that position. So Comrades, we have a lot of work to do ahead despite the fact that you won or you lost.
"If you lost, work hard and if you won work hard as well to retain your position. We shall plan amongst ourselves here (at the top table) to see those who will work full-time at the party to ensure that our party remains strong."
Cde Mnangagwa said inauguration processes were going ahead as planned for Sunday, but that could stop if the MDC-Alliance files its petition today challenging the presidential results announced by the Zimbabwe Electoral Commission (ZEC).
"At the moment, we are not moving forward because according to the Constitution we should wait for seven days after declaration of the results so that if there is anyone who wants to appeal against the results, they do so," President Mnangagwa said.
"The seven-day period lapses tomorrow and we are told the MDC-Alliance wants to file their
appeal tomorrow (today). The law says after they filed their appeal, the courts should urgently hear the matter within 14 days. The courts may take one day or three days but that has to be within the 14 days. We had planned to have our inauguration on Sunday but we now have to wait for court processes if the alliance files its appeal.
"But as of now, they have not yet filed but they still have another day to do so. If they fail to do so tomorrow (today) we will go ahead with our plans."
Cde Mnangagwa said plans for Heroes Day celebrations on Monday were progressing as scheduled.
By Elisée Mpirwa
Women make up about 61 per cent of all nominees compared to 50 per cent in the 2013 elections that ushered in an unprecedented 64 per cent seats for women.
The next parliament is set to be dominated by female lawmakers as this year political parties have nominated more women compared to the 2013 parliamentary elections.
At a media briefing held at their offices on Monday, the Chairperson of NEC, Kalisa Mbanda, said that the commission approved 521 nominations out of the 539 applications that it received.
Mbanda pointed out that women make up about 61 per cent of all nominees compared to 50 per cent in the 2013 elections that ushered in an unprecedented 64 per cent seats for women.
The Lower Chamber of Parliament is made up of 80 members, 53 of whom are drawn from political parties or independents, 24 representing women (elected through the National Women Council structures), two youth representatives, and one representative of people living with disabilities.
"We looked at the aspect that every political party fulfilled the 30 per cent women nominees as says the Rwandan constitution. And parties like the RPF-Inkotanyi, 58 per cent of its nominees are women. More women might enter the parliament," Mbanda said.
Of the 179 female candidates vying for the 24 seats, 33 are from Northern Province, 62 from Southern Province, 39 from Eastern Province,, 39 from Western Province, and 16 from Kigali City.
There is a significant increase of female candidates compared to the 2013 when only 221 women ran compared to 326 this year.
The Government of Rwanda has been promoting gender equality since 1994. The political participation of Rwandan women has been facilitated by a constitutional mandate and the work of key institutions, notably the Ministry of Gender and Family Promotion, the Rwanda Women Parliamentarians Forum (FFRP), National Women's Council (NWC) and the Gender Monitoring Office (GMO).
Rwandan women have created a remarkable political space for themselves in the last 24 years.
The President is expected to dissolve the Chamber of Deputies today and elections are due to take place from September 2 to 4.
The outgoing Parliament is third since Rwanda held its first post-Genocide parliamentary elections in 2003.
By Moki Edwin Kindzeka
Aside from Cameroon's President Paul Biya and main opposition leader Joshua Osih, no candidate for the October election is creating as much hype as 66-year-old lawyer Akere Muna.
Muna, the former vice president of the anti-corruption group Transparency International, says he is the best candidate to fight the deep-rooted corruption that has hindered Cameroon's development, despite rich natural and human resources.
A 2015 Transparency International report labeled Cameroon as one of the most corrupt African nations, alongside Ghana, Liberia, Nigeria and South Africa. Transparency said corruption creates and increases poverty and exclusion. It also said whistleblowing is key to fighting graft, but many people are afraid to come forward.
"Under my government, there will be zero tolerance for corruption," Muna said. "Absolutely zero tolerance. This country is tailor-made for any type of corrupt practices. The World Bank report on public expenses of 18th May says so. Procurement — prices bloated; meetings — prices bloated; missions, travel — prices bloated. Every single way they have to spend money, they increase it by prices."
But Ngolle Ngolle Elvis, a close aide of Biya, says Muna is wasting his time.
"A good policy, such as the fight against corruption, should not be manipulated upon or should not be distorted or should not be rendered a mockery by those who do not understand the moral foundations, the legitimacy of that policy," Ngolle said.
Ngolle says Biya has made the fight against corruption a public policy, and points to the arrests of scores of Biya's former colleagues, including former Prime Minister Inoni Ephraim.
However, Biya's critics say he uses corruption to go after political opponents, an allegation Ngolle refutes.
"There is nothing to tell me that it is politically motivated, and I think that the initiative is a deliberate public policy which is intended to make Cameroon a better country. If there are manipulators, we would know how to take care of those manipulators," Ngolle said.
Recovered funds
Cameroon has complained about lengthy judicial processes and difficulties tracing embezzled funds in foreign banks. In 2016, the government said it had recovered $4 million in stolen public funds. The state estimates more than $150 million has been stolen.
Muna says he already is working on what he calls an African platform to bring back the stolen money.
"I made a proposal, which was adopted by the heads of state of the African Union," Muna said. He explained it was that all money found in foreign bank accounts should be transferred to the African Development Bank instead of frozen in place.
"I am saying that those banks that are keeping that money are complicit with the kleptocrats who stole the money from Africa because they knew that they were taking this money illegally and they took it," Muna said. "So they are handling illegal goods."
Activist Edward Nfor praises Muna's lofty ideas, but says competing in Cameroon's politics will be more than a challenge for the anti-corruption campaigner.
"He has never come out on a public debate or on a political debate before. He has never been on any political platform," Nfor said. "So, I do not see how he can win elections in this country. In fact, he is well known at international circles. But politically speaking, in this country, Akere Muna is a non-figure in politics. And I know the English community is against his standing for elections, especially during this crisis."
Muna says his being from southwest Cameroon, where insurgents are fighting for an English-speaking state, will help spur dialogue to end the simmering conflict.
Split opposition
But some argue the conflict has divided the population.
Political science student Joseph Foyong says the opposition is too split to challenge Biya.
"The Anglophone crisis has taken a good part of the population that might have voted in favor of Akere [Muna]. His percentage might have swollen if the situation in the northwest and southwest regions of Cameroon was stable," Foyong said. "If Akere and other prominent opposition candidates like Joshua Osih, Maurice Kamto came up with a single opposition candidate to face Paul Biya, Akere may have been having some hopes."
Cameroonian voters will get a better sense of the anti-corruption campaigner's chances as Muna and the other presidential candidates begin campaigning for the October election.
By Agency Report
Acting President Yemi Osinbajo has described the current political happenings in Nigeria as a battle between the good and bad elements whose aim was to continue suffocating the nation by milking it dry.
He said the Federal Government "would not compromise" in the ongoing war against corruption and protection of national interest.
Mr Osibanjo made the declaration in Daura on Thursday while addressing thousands of APC loyalists at a campaign rally for Saturday's Katsina north senatorial district bye-election.
He reeled out the achievements of the administration focused on transforming the nation infrastructure like roads, rail lines, agriculture, education, health, security and the fight against corruption.
"We will not relent," he said, adding that no amount of blackmail will stop the government.
He used the occasion to call on the electorate in Daura north senatorial district to vote for the APC, noting that the election was necessitated by the death of the senator for the area, late Mustafa Bukar.
Earlier, Katsina state governor, Aminu Masari described the current face-off in the Nigeria's Senate as "unfortunate, uncalled for and saddening".
He called on Nigerians of every divide to continue to support President Muhammadu Buhari, stressing that "this country must be reformed to the right path of progress and prosperity".
Also, Kano State Governor, Abdullahi Ganduje, who spoke on behalf of the North-west governors, described the bye-election as testing ground preparatory to the 2019 general elections and called on the electorate to use their votes wisely.
APC National Chairman, Adams Oshimhole, called on the electorate to vote for the APC and shun alleged financial inducement by the PDP candidate.
He described President Buhari as "honest, gentle and one of the most decent Nigerian leaders ever produced".
He said Nigeria would in the future be "bailed out of poverty, crimes and insecurity whose seed was laid by the 16 years of the PDP misrule in the country".
By Christine Kasemiire
Government is final stages of zoning all mining areas as a method of restoring order in the mining sector.
According to Eng Vincent Kedi, the Principal Engineer in charge of mining, Ministry of Energy and Mineral Development, the zones will introduce clear characterisation and clarification of miners and deter them from moving anyhow in search of new mining opportunities.
"The new system will make small scale and artisanal miners organised and respect owners of particular mining zones which reduces conflicts over mining areas and rights," Eng Kedi said.
He said a similar system has been successful in Tanzania and Rwanda.
He said they will soon select leaders of various mining groups and companies in Uganda and take them to Rwanda and Tanzania to learn the best practices as far as mining zones are concerned.
Mr Kedi was speaking to players in the sector in Bugolobi Kampala, on Tuesday during a review of the Mining Act 2003.
He said once the zones are in place, medium and small scale miners as well as artisanal miners will peacefully exist in the business.
Last year, a combined force of police and army evicted about 20,000 artisanal miners from several mines in Kassanda and Kitumbi in Mubende District.
The eviction followed a protracted conflict between the artisanal miners and AUC as well as Gemstone International, which companies have gold exploration licences in the area.
The companies accused the artisanal miners of encroaching on the areas licenced to the companies.
Eng Kedi said on May 7, 2018, Cabinet approved the Mining and Mineral Policy for Uganda 2018 on which replaced the Mineral Policy for Uganda 2001 adding that all stakeholders in the sector will be catered for.
He said they are also reviewing the mining regulations of 2004 to introduce an online mineral licencing platform which will usher in transparency and efficiency.
Under the new guidelines, he said, organised mining groups, companies and associations will be able to acquire licences and follow the best mining practices that don't endanger the environment and other social safeguards.
Earlier, Buhweju County MP, Francis Mwijukye, said the Energy Ministry has a tendency of not involving local leaders and politicians where mining takes place to make artisanal miners appreciate new policies in the sector.
A concept note by Ms Christine Aboke, the interim country director of Action Aid Uganda, the convener of the review process indicated that they have been engaging all stakeholders in the mining sector to ensure justice and fairness between artisanal miners and big players.
By Pius Rugonzibwa
Kakonko — Residents of some isolated villages here have requested the government to connect them to telecommunication networks.
Some Kiga village in Kasuga Ward said they had been facing communication hitches, making it difficult for them to reach their relatives during emergencies like sickness, deaths or financial problems.
Revocatus Rukanura and Maria Mukabukoba told reporters yesterday that the only network available in the locality was from Burundi, to which they didn't have access.
"For many years, we have been facing communication difficulties that make us live in isolation.
To make it worse, we cannot make any mobile money transactions, unless we do so from tree tops, " Mr Lukanura lamented.
They appeared to the CCM candidate, Eng. Christopher Chiza, to give the issue top priority if he makes it to Parliament.
In his response, Eng. Chiza said even before the election day on Sunday, he would immediately contact the Ministry of Works, Transport and Communications or personally discuss the matter with the Deputy Minister, Atashasta Nditiye.
He said the areas bordering Burundi had been facing troublesome communication networks, asking them to remain calm as he was set to address the matter if he were elected to represent them in Parliament. Kakonko District largely borders Burundi and one is normally greeted with communication signals from Burunditel. T
he standard response to attempts to make local phone calls is 'Inyumelo nihaba' , meaning 'the phone you are trying to call does not exist'.
Communication woes in the area were also a matter of concern to MPs who campaigned for Eng. Chiza yesterday, with Mr Peter Serukamba (Kigoma North), Joseph Musukuma (Geita) and Nape Nnauye (Mtama) , all from CCM promising to address it.
Another area of concentration for the CCM candidate was tobacco farming, the growers expressing disappointment over low prices. Sources from the Kakonko District Council told the 'Daily News' that tobacco farming was slow-paced during the current and next seasons due to the growers perceiving the undertaking not being very beneficial.
"We are actually looking forward to embarking on beekeeping for modern honey production and in doing so we want to discourage the farmers from cultivating tobacco," said an official who sought anonymity.
On Monday and Tuesday, all agents from the parties taking part in the Buyungu by-election were busy taking oaths ready to represent their parties in vote casting and counting exercise on Sunday and yesterday the papers bearing voters list were distributed for them to verify their names.
Ballot boxes, ballot papers and other materials are expected to be supplied to around 176 polling stations by Saturday evening, ahead of the Sunday election.
The Buyungu by-election has been prompted by the death of the former legislator, Kasuku Bilago and ten candidates are vying for the post.
Road users are reporting multiple accidents on Mombasa Road that are causing a huge tailback as you head into the CBD.
The accidents are near Bunyala roundabout where a truck and a 14-seater matatu have overturned.
It is not clear whether there are any casualties.
@Ma3Route multiple accidents on mombasa road.. At the bunyala roundabout.. An overturned truck.. And a few metres ahead.. Another overturned matatu.. @984inthemorning traffic
- Jim Sadaat (@JimAgunga) August 10, 2018
@Ma3Route watu wa Mombasa road mbaki kitandani... Massive traffic from Bellevue.Trailer has fallen near Nakumatt Mega.Leo ni leo.
- Nashon Gaza (@Muscadd) August 10, 2018
Several vehicles involved in an accident along waiyaki way. Trailer just rolled over at the bunyala road round about. Heavy traffic incomingto to the CBD @Ma3Route
- Collins (@kimsile) August 10, 2018
A track has overturned around nyayo stadium round about, @Ma3Route, @KenyanTraffic
- Humphries Dot Young. (@dotyoung13) August 10, 2018
More to follow
Completely opening up the EU market to African goods would help reduce migration, German Development Minister Gerd Müller has said. In particular, he wants barriers to agricultural trade taken down.
The European Union should completely open its market to products from Africa in order to promote development and stem migration flows, German Development Minister Gerd Müller said Wednesday.
"Open the market for all African goods," he told Die Welt newspaper in an interview.
Agricultural products from Africa must be able to enter the EU without tariffs and quotas in order to provide work for millions of people on the continent, Müller said.
The EU currently has separate trade agreements with African countries or regional economic blocs. In addition to tariffs and quotas, agricultural products face a hurdle being exported due to the EU's strict sanitary and phytosanitary standards.
Müller also suggested that as part of an agreement with the EU, African countries should take back migrants who entered the bloc without proper approval. In return, the EU should open up avenues for Africans to come to the EU for legal employment.
Only around 1,000 out of 3.5 million German companies are active in Africa, Müller said, highlighting the massive potential in the continent of 1.2 billion people. On the other hand, China, Russia and Turkey have aggressively entered the Africa market.
Support from coalition, farmers
Müller, a member of the Christian Social Union (CSU), the Bavarian sister party of Chancellor Angela Merkel's Christian Democratic Union (CDU), received support for his ideas from the Social Democrats (SPD).
SPD agriculture spokesperson Bernd Westphal told the daily Berliner Zeitung on Thursday that opening the EU's agriculture markets would improve employment prospects in Africa and reduce migration pressures.
The German Farmers Association also supported the idea of duty- and quota-free African agriculture exports to the EU. At the same time, the association's general secretary, Bernhard Krüsken, said processed and value-added agriculture products should be encouraged because they provide more employment and wealth creation.
EU Africa Commissioner
Müller also called for a new EU Africa commissioner position to be created to coordinate and expand policy towards the continent.
In addition, at the EU level more money should be spent implementing the bloc's Africa policy, he said.
(AFP, dpa)
By Kabo Keaketswe
Samochima — The Samochima inland fish farming syndicate in Okavango has been promised assistance with access to the market for their produce.
Handing over the Samochima fisheries facility, which was renovated under the poverty eradication initiative, Assistant Minister for Presidential Affairs, Governance and Public Administration, Mr Machana Shamukuni said two refrigerated vehicles had been procured.
He said the vehicles would have scheduled visits to different fish farming projects, including Samochima to collect fish for the market.
Mr Shamukuni, who is also Chobe MP, said government was working on creating a market for fish farming projects in the country. He said they encouraged hypermarkets and hotels to buy fish from local fish farming syndicates.
"I must also hasten to say that accessing markets beyond ourselves here requires meeting certain standards, and in light of that, training on meeting standards commenced in Chobe, while Samochima beneficiaries and others in the area are scheduled for the same on the 20th of this month," he said.
Mr Shamukuni said it was the beneficiaries' responsibility to ensure that customer satisfaction was met after workshops by the Botswana Bureau of Standards.
The fish processing and handling equipment that have been procured for the Samochima syndicate include fish salting bins, filleting knives, smoking kilns, freezers, drying racks and weighing scales.
A fishing boat was also handed to the group as part of the package under the poverty eradication initiative.
On another issue, Mr Shamukuni noted that many good projects failed because of group dynamics, and urged the syndicate to work on modalities to run a successful business in order to avoid personalities denting the noble idea.
"Many from all over will come to benchmark, let them benchmark best practices because the business will be managed well," he said.
Still on fish farming, government has embarked on eight fish farming projects to pilot the intervention as one of the packages under the Poverty Eradication Programme.
The projects include fresh water aquaculture at Shakawe, Kareng, Thito, Parakarungu and Toteng as well as the inland fish farming at Samochima and Lake Ngami.
There is also a hatchery in Mmadinare which is almost complete.
Stating challenges facing them, Samochima fisheries chairperson, Mr Kakuru Disho cited a market for their produce as the main c
<i>Source : BOPA</i>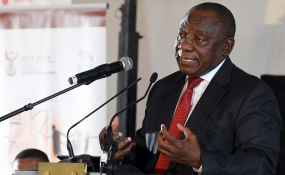 Photo: GCIS
President Cyril Ramaphosa
The government reportedly plans cut the jobs of 30 000 public servants in the next three years as part of the President Cyril Ramaphosa's planned restructuring to reduce the the administration's salary bill by R20-billion.
The Mail and Guardian reports that the move is "likely to put Ramaphosa on a collision cause with labour federation Cosatu, which supported his bid to become the ANC president in December".
According to the M&G, government insiders who attended the recent Cabinet lekgotla said the treasury will use R4-billion to kick off the process of issuing "employer initiated" severance packages.
Those most likely to be affected were the government's older and more experienced employees, the report said.
All Africa, All the Time.http://allafrica.com/sport/http://allafrica.com/misc/tools/rss.html15http://allafrica.com/static/images/structure/aa-logo.pnghttp://allafrica.com/sport/en-ushttp://allafrica.com/stories/201808100006.htmlhttp://allafrica.com/stories/201808100006.html[Nation] Athletics Kenya will liaise with Athletics Kenya Police Service and any other committee to see that the late 2015 World 400m hurdles Nicholas Bett is given a befitting, and hero's send-off.Fri, 10 Aug 2018 05:05:23 GMThttp://allafrica.com/stories/201808100048.htmlhttp://allafrica.com/stories/201808100048.html[New Democrat] The Federation of International Football Associations (FIFA) has restricted funding to the Liberia Football Association (LFA) and is in a near takeover of the FA's finances after audit shows that Liberia football officials have mismanaged football development money intended for the country.Fri, 10 Aug 2018 06:40:36 GMThttp://allafrica.com/stories/201808100505.htmlhttp://allafrica.com/stories/201808100505.html[This Day] The Nigeria Football Federation (NFF) Electoral Committee has rolled out a new timetable for elections into the NFF Executive Committee 2018-2022, with intending candidates now able to buy and return forms within a fresh grace period of Friday, 17th and Friday, 24th August 2018.Fri, 10 Aug 2018 11:27:51 GMThttp://allafrica.com/stories/201808100503.htmlhttp://allafrica.com/stories/201808100503.html[This Day] After Nigerians missed the live broadcast of the traditional season opening FA Community Shield match Manchester City defeated Chelsea 2-0 last Sunday, the worst is yet to come.Fri, 10 Aug 2018 11:27:31 GMThttp://allafrica.com/stories/201808100463.htmlhttp://allafrica.com/stories/201808100463.html[Nation] Former 400m hurdles World Champion Nicholas Bett, whose stellar career came to a tragic end in a road accident on Wednesday, will be buried next Friday at his Simat home in Uasin Gishu County.Fri, 10 Aug 2018 10:59:57 GMThttp://allafrica.com/stories/201808100440.htmlhttp://allafrica.com/stories/201808100440.html[East African] Kenya's 2015 400m hurdles World Champion Nicholas Bett has died aged 28 in a road accident on Wednesday morning.Fri, 10 Aug 2018 10:52:11 GMThttp://allafrica.com/stories/201808100425.htmlhttp://allafrica.com/stories/201808100425.html[Nation] Michael Olunga could be set for a move to J-League side Kashiwa Reysol, Japanese media reported on Wednesday.Fri, 10 Aug 2018 10:40:21 GMThttp://allafrica.com/stories/201808100394.htmlhttp://allafrica.com/stories/201808100394.html[The Conversation Africa] The afterglow of France winning the 2018 World Cup tournament on July 15 should be gone by now. But the arguments over France's 23-man squad, with as many as 15 players with African roots, rage on. The victory has ignited social commentaries on race, immigration and national identity across the international terrain.Fri, 10 Aug 2018 10:15:31 GMThttp://allafrica.com/stories/201808100233.htmlhttp://allafrica.com/stories/201808100233.html[New Times] A Rwandan cultural troupe paid a surprise visit to Arsenal Football club's training ground, London Colney--in Hertfordshire, and performed to a cheerful group of players and the coaching staff yesterday, the club said today.Fri, 10 Aug 2018 09:19:32 GMThttp://allafrica.com/stories/201808100216.htmlhttp://allafrica.com/stories/201808100216.html[New Times] American rider Timothy Rugg staged a stunning solo performance to win stage four (Musanze to Karongi) of the 2018 Tour du Rwanda.Fri, 10 Aug 2018 09:14:58 GMThttp://allafrica.com/stories/201808100095.htmlhttp://allafrica.com/stories/201808100095.html[Nairobi News] Gor Mahia have publicly apologized following an embarrassing incident in which members of the first team's technical bench physically confronted each other moments after the loss to Bandari in a Kenyan Premier League match earlier this week.Fri, 10 Aug 2018 08:05:28 GMThttp://allafrica.com/stories/201808100046.htmlhttp://allafrica.com/stories/201808100046.html[Capital FM] Nairobi -Ahead of their tie against Posta Rangers in Kisumu on Friday, Gor Mahia head coach Dylan Kerr says he has wiped off the hangover of their first Kenyan Premier League loss of the season last Tusday to Bandari in Mombasa.Fri, 10 Aug 2018 06:29:15 GMThttp://allafrica.com/stories/201808100042.htmlhttp://allafrica.com/stories/201808100042.html[Capital FM] Nairobi -Reports in Italy have linked AS Roma with a move for Harambee Stars and Tottenham Hotspur midfielder Victor Wanyama who is currently recovering from a niggling knee injury in London.Fri, 10 Aug 2018 06:29:08 GMThttp://allafrica.com/stories/201808100023.htmlhttp://allafrica.com/stories/201808100023.html[Guardian] Candidates for the 2018 Nigeria Football Federation (NFF) elections now have a new grace period to buy and submit their forms for the polls billed for September 20.Fri, 10 Aug 2018 05:53:07 GMThttp://allafrica.com/stories/201808100497.htmlhttp://allafrica.com/stories/201808100497.html[This Day] Abuja -Operatives of the Department of State Services (DSS), on Thursday morning restored sanity to the crisis enmeshed Nigeria Football Federation (NFF) secretariat in Abuja.Fri, 10 Aug 2018 11:25:21 GMThttp://allafrica.com/stories/201808100477.htmlhttp://allafrica.com/stories/201808100477.html[This Day] Rasheedat Ajibade's first-half penalty kick on Thursday afternoon was enough to see Nigeria's Falconets edge Haiti 1-0 in Group D at the FIFA U-20 Women's World Cup France 2018 to secure a crucial three points, keeping their knockout round qualification hopes alive.Fri, 10 Aug 2018 11:06:12 GMThttp://allafrica.com/stories/201808100447.htmlhttp://allafrica.com/stories/201808100447.html[Botswana Daily News] Gaborone -The mouth-watering cash prizes and bragging rights will be enough motivation for the big guns in the BTC Charity Cup at the National Stadium on August 11.Fri, 10 Aug 2018 10:52:18 GMThttp://allafrica.com/stories/201808100446.htmlhttp://allafrica.com/stories/201808100446.html[Botswana Daily News] Maun -Sankoyo Bush Bucks former assistant coach, Tiiso Gadimang has expressed disappointment over the delay by the club to pay the P300 000 it owes him for the past four seasons.Fri, 10 Aug 2018 10:52:16 GMThttp://allafrica.com/stories/201808100413.htmlhttp://allafrica.com/stories/201808100413.html[This Day] The President of Confederation of African Athletics (CAA), Hamad Kalkaba Malboum, on Thursday commended the Delta State Government and the Solomon Ogba-led Local Organizing Committee (LOC) for a job well done saying the good memories of Asaba 2018 will stay with all for a long time.Fri, 10 Aug 2018 10:32:13 GMThttp://allafrica.com/stories/201808100347.htmlhttp://allafrica.com/stories/201808100347.html[Premium Times] Will Kelechi Iheanacho and Wilfred Ndidi make it a bumpier and grumpier journey for Jose Mourinho's Manchester United, when the new English Premier League [EPL] season kicks off at the Theatre of Dreams Friday?Fri, 10 Aug 2018 09:52:19 GMThttp://allafrica.com/stories/201808100343.htmlhttp://allafrica.com/stories/201808100343.html[This Day] After two days of qualifying round, the top seeds at the 2018 ITTF Challenge Seamaster Nigeria Open, the top seeds will begin their campaigns for honours at the $46.000 prize money championship.Fri, 10 Aug 2018 09:51:43 GMThttp://allafrica.com/stories/201808100261.htmlhttp://allafrica.com/stories/201808100261.html[Sascoc] Lebogang Shange completed his African Athletics Championships medal collection in Asaba, Nigeria when he finished second in the 20km race walk.Fri, 10 Aug 2018 09:23:29 GMThttp://allafrica.com/stories/201808100257.htmlhttp://allafrica.com/stories/201808100257.html[Sascoc] Banyana Banyana national women's head coach Desiree Ellis, is happy with the way things are going in the training camp currently underway in Johannesburg.Fri, 10 Aug 2018 09:22:51 GMThttp://allafrica.com/stories/201808100253.htmlhttp://allafrica.com/stories/201808100253.html[Sascoc] Paul Boshoff staved off a late charge from fellow Pretoria golfer Hendrikus Stoop to claim his maiden professional victory in the seventh Big Easy IGT Challenge Tour event at Randpark Golf Club on Wednesday.Fri, 10 Aug 2018 09:22:05 GMThttp://allafrica.com/stories/201808100241.htmlhttp://allafrica.com/stories/201808100241.html[Daily News] TANZANIA Basketball Federation (TBF) has expressed gratitude to NBA Africa International Coordinator, Events & Marketing, Kyle Schofield for handing the federation basketball gear.Fri, 10 Aug 2018 09:20:02 GMThttp://allafrica.com/stories/201808100238.htmlhttp://allafrica.com/stories/201808100238.html[Daily News] IT was a sea of red and white that as reigning Mainland champions Simba marked their 9th edition of Simba Day at the National Stadium in Dar es Salaam.Fri, 10 Aug 2018 09:19:59 GMThttp://allafrica.com/stories/201808100093.htmlhttp://allafrica.com/stories/201808100093.html[ANGOP] Moçamedes -Namibe province is to host as from August 14 -20 the Ministry of Education annually held multiple sports competition dubbed south zonal school games.Fri, 10 Aug 2018 07:31:37 GMThttp://allafrica.com/stories/201808090436.htmlhttp://allafrica.com/stories/201808090436.html[Cameroon Tribune] Some 14 athletes will represent Cameroon in the competition that kicks off tomorrow August 10, 2018 in Mahébourg.Thu, 09 Aug 2018 13:43:16 GMThttp://allafrica.com/stories/201808090401.htmlhttp://allafrica.com/stories/201808090401.html[Ghanaian Times] /Thu, 09 Aug 2018 13:19:25 GMThttp://allafrica.com/stories/201808090387.htmlhttp://allafrica.com/stories/201808090387.html[The Point] The minister of Youth and Sports, Hadrammeh Sidibeh, has called on the The Gambia Football Federation (GFF) and the National Sports Council (NSC) to end their grievances for the interest of football development in the country.Thu, 09 Aug 2018 13:17:36 GMT
With few days to the close of the transfer window, Nigerian international, Ola Aina will be farmed out on loan by Chelsea, with manager Maurizio Sarri omitting the defender from the Blues last two games against Inter Milan and Arsenal.
West Brom are in the market for a right-back after missing out on the signature of Yeovil's Tom James and have switched their attention to Aina.
The Baggies are preparing to lodge a loan bid for the Chelsea fullback and they need to conclude negotiations before the next six days as the transfer window in England will close on August 9.
Aina impressed during his first loan spell away from Stamford Bridge, making 46 appearances in all competitions for Hull City, including 44 starts.
The 21-year-old was given false hope that he was in the plans of Sarri after hetravelled with the first-teamers to Australia for a friendly against Perth Glory, but has been training with the 'loan group' since the squad returned to the United Kingdom.
Central defenders Kenneth Omeruo and Fikayo Tomori are the other players of Nigerian descent linked with a temporary departure from Chelsea this month.
A soccer enthusiast shot during a suspected gang gun fight in Mitchells Plain on Thursday night is on the mend, but neither he nor the other four survivors of shootings in the suburb want the police to investigate.
"He is still receiving treatment," said Lentegeur Community Policing Forum (CPF) spokesperson Anthea van der Vent.
She described the atmosphere in the suburb as "tense" ahead of a meeting with police, which was related to the shootings.
She said the scholar's mother was with him and did not want to speak to the media.
"All she wants is for her son to get better. He was in the wrong place at the wrong time."
On Thursday night, between 19:10 and 19:25, one person was killed and five people, including the scholar, were injured at three different scenes in the suburb, east of Cape Town's CBD.
Police spokesperson Captain FC van Wyk said police received a call at about 19:10 and were told that there had a been a shooting in Kreupelhout Street, Lentegeur.
When they got there, they found the body of a 22-year-old who had been shot several times.
Van Wyk said the incident was gang-related and nobody had been arrested.
Five minutes after the Kreupelhout call, police received another call about a shooting in Eros Way, Woodlands. At that scene, four men between the ages of 18 and 24, were found wounded. They were taken to hospital for treatment.
"All four victims were interviewed by police and they informed the members that they do not want any criminal investigation into the matter," said Van Wyk.
'Motive was gang related'
Van Wyk said a man who was found shot in his legs and left hand in Waterlilly Street, Lentegeur, after police were called at 17:25, did not want to take matters further either.
"The motive was gang related," said Van Wyk. "The victim refused to open a criminal case."
Police have, however, opened their own murder and attempted murder cases and anybody with information about the shootings can call Detective Constable Ricardo Louw of Lentegeur Serious and Violent Crimes on 082 411 2382.
In the meantime, in an unrelated incident, Mitchells Plain Crime Prevention officials received a tip-off about drugs and guns at a house in Twickenham Street, Beacon Valley.
A 47-year-old and a 34-year-old man were arrested.
The house was searched and a .38 special revolver, which was allegedly stolen in an incident in Belhar, a silver 7.62 mm Tokarev pistol, a 9mm pistol, and a variety of ammunition, including three 9mm magazines, were confiscated.
A stash of drugs, which included one gram of methamphetamine, better known as tik, three full mandrax tablets and another 10 halves of the sedatives commonly mixed with dagga were seized.
Police also seized 96 units of heroin, two ecstasy tablets, six parcels of dagga, 27 sachets of dagga and 43 dagga cigarettes.
Van der Vent said the breakthroughs made the community very proud of the police.
"They are turning the negatives around and showing us that not all are corrupt," said Van der Vent.
Source: News24
By Elias Makori
Olympics and World 3,000m steeplechase champions Conseslus Kipruto toyed with the field before winning the Africa Athletics Championships gold at the Stephen Keshi Stadium in Asaba, Nigeria.
Kipruto, who is also the 2018 Commonwealth games champion, beat Morocco's Soufiane El Bakkali to achieve his long-wish of holding all the major titles in the specialty.
More to follow...
South Africa's Caster Semenya on Friday in Asaba said she planned to run till age 40.
Semenya won the women's 400m event with a time of 49.96 seconds on Friday at the African Senior Athletics Championships, beating Bostwana's Christine Botlogetwe who had a time of 51.19 seconds.
Nigeria's Yinka Ajayi was third in the race with a time of 51.34 seconds.
Semenya, while speaking with newsmen about the race, said while she was just having fun she was also with an objective.
"The race went in my favour. For me it is all about having fun, waiting for the right moment to execute, so you can have a good race.
"It was just one of those race that works on your favour.
"But my goal is to run till I am 40 years, probably three more Olympics to come. This race and the 800m are all part of this goal," she said.
"For example, in the 800m we really do not focus more on personal best, the main goal is to run a good race and have a good 400m., which I have now done.
"The 800m is just to maintain the pace, since we have done the 400m already, but I am here to just enjoy myself," Semenya added.
Meanwhile, Baboloki Thebe of Bostwana won the men's 800m event with a time of 44.81 seconds.
Phora Thapelo of South Africa came second in 45.14 seconds, while Chidi Okezie of Nigeria was third in 45.65 seconds.
The News Agency of Nigeria (NAN) reports that the championships which began on Wednesday will end on Sunday.
Young Nigerian sprinter, Rosemary Chukwuma, said on Saturday that her aim was to win more medals for the country and surpass Blessing Okagbare's record.
She told the News Agency of Nigeria (NAN) at the ongoing Africa Senior Athletics Championships in Asaba that the aim of every athlete was to exceed past records.
Chukwuma was part of the country's 4×100 women's team that won gold at the ongoing championships.
She had earlier won gold at the 100m and 200m at the 2018 Africa Youth Games in Algeria.
The 17-year-old Chukwuma hit the limelight after winning the sprint double at the 2017 National U-18 Championships held in Abuja.
The youngster also won the 200m event at the 2017 National Youth Games (NYG) held in Ilorin.
She added that "I want to win more medals for Nigeria like Blessing Okagbare and even surpass her record because she has done so well for Nigeria as an athlete.
"I know with hard work and the right support, my target will be achieved in future.
"It is the dream of every athlete to win medals for their country at international competitions and that is my target as a young athlete."
The 2018 Commonwealth 4×100 bronze medalist thanked the Sports and the Athletics Federation of Nigeria (AFN) for their support and urged them not to relent in their efforts to encourage and promote athletes.
(NAN)
An estimated 78 million babies - or three in five - are not breastfed within the first hour of life, putting them at higher risk of death and disease and making them less likely to continue breastfeeding, say UNICEF and WHO in a new report. Most of these babies are born in low- and middle-income countries.
The report notes that newborns who breastfeed in the first hour of life are significantly more likely to survive. Even a delay of a few hours after birth could pose life-threatening consequences. Skin-to-skin contact along with suckling at the breast stimulate the mother's production of breastmilk, including colostrum, also called the baby's 'first vaccine', which is extremely rich in nutrients and antibodies.
"When it comes to the start of breastfeeding, timing is everything. In many countries, it can even be a matter of life or death," says Henrietta H. Fore, UNICEF Executive Director. "Yet each year, millions of newborns miss out on the benefits of early breastfeeding and the reasons - all too often - are things we can change. Mothers simply don't receive enough support to breastfeed within those crucial minutes after birth, even from medical personnel at health facilities."
Breastfeeding rates within the first hour after birth are highest in Eastern and Southern Africa (65%) and lowest in East Asia and the Pacific (32%), the report says. Nearly 9 in 10 babies born in Burundi, Sri Lanka and Vanuatu are breastfed within the first hour. By contrast, only two in 10 babies born in Azerbaijan, Chad and Montenegro do so.*
"Breastfeeding gives children the best possible start in life," says Dr Tedros Adhanom Ghebreyesus, WHO Director-General. "We must urgently scale up support to mothers - be it from family members, health care workers, employers and governments, so they can give their children the start they deserve."
Capture the Moment, which analyzes data from 76 countries, finds that despite the importance of early initiation of breastfeeding, too many newborns are left waiting too long for different reasons, including:
Feeding newborns food or drinks, including formula: Common practices, such as discarding colostrum, an elder feeding the baby honey or health professionals giving the newborn a specific liquid, such as sugar water or infant formula, delay a newborn's first critical contact with his or her mother.
The rise in elective C-sections: In Egypt, caesarean section rates more than doubled between 2005 and 2014, increasing from 20% to 52%. During the same period, rates of early initiation of breastfeeding decreased from 40% to 27%. A study across 51 countries notes that early initiation rates are significantly lower among newborns delivered by caesarean section. In Egypt, only 19% of babies born by C-section were breastfed in the first hour after birth, compared to 39% of babies born by natural delivery.
Gaps in the quality of care provided to mothers and newborns: The presence of a skilled birth attendant does not seem to affect rates of early breastfeeding, according to the report. Across 58 countries between 2005 and 2017, deliveries at health institutions grew by 18 percentage points, while early initiation rates increased by 6 percentage points. In many cases, babies are separated from their mothers immediately after birth and guidance from health workers is limited. In Serbia, the rates increased by 43 percentage points from 2010 to 2014 due to efforts to improve the care mothers received at birth.
Earlier studies, cited in the report, show that newborns who began breastfeeding between two and 23 hours after birth had a 33% greater risk of dying compared with those who began breastfeeding within one hour of birth. Among newborns who started breastfeeding a day or more after birth, the risk was more than twice as high.
The report urges governments, donors and other decision-makers to adopt strong legal measures to restrict the marketing of infant formula and other breastmilk substitutes.
The WHO and UNICEF-led Global Breastfeeding Collective also released the 2018 Global Breastfeeding Scorecard, which tracks progress for breastfeeding policies and programmes. In it, they encourage countries to advance policies and programmes that help all mothers to start breastfeeding in the first hour of their child's life and to continue as long as they want.
* Among countries with recent data (2013-2018).
By Kingsley Adegboye
Majority of the global population now living in cities and their numbers growing daily, which have made cities inclusive, sustainable, resilient and safe as currently observed, is critical to achieving the 2030 Agenda and the Sustainable Development Goals SDGs, a high level UN meeting has noted.
The event was led by the UN Sustainable Development Group, UNSDG, last week at the High-level Political Forum, focused on how the cities of the world are accelerating progress towards the SDGs, as well as showcasing how SDGs' implementation in cities can contribute to transformation towards sustainable and resilient societies.
The chairperson of the meeting, UN Deputy Secretary-General and UNSDG Chair, Amina Mohammed, revealed that "Cities are economic powerhouses with an estimated global GDP share of 88 per cent by 2025.
"However, cities are also locus of complex and interconnected challenges, producing more than 50 per cent of the world's greenhouse gas emissions and using 80 per cent of the world's energy. We need to get urbanisation right to achieve the 2030 Agenda," she stated.
The event provided a unique opportunity for member-states, city authorities and non-state actors to come together to showcase their own innovative work, and to illustrate how the UN system can support these efforts.
Bahrain's Housing Minister, Mr. Basim Bin Yacob AlHamer; the Mayor of Bangangté, Cameroon, Ms. Célestine Ketcha Courtès, New York City's Commissioner for International Affairs, Ms. Penny Abeywardena, the President of United Cities and Local Governments, Mr. Parks Tau, and the Chair of the international women's grassroots network Huairou Commission, Ms. Violet Shivutse, discussed how cities and local actors are championing the sustainable urbanisation agenda.
UNDP Administrator and UNSDG Vice-Chair, Achim Steiner, highlighted inequality within cities on issues like income, health, and education but said cities had enormous potentials in addressing climate change where they were already leading by example.
He called on the international community to unleash the power of cities to help solve global challenges. Executive Director of UN-Habitat, Maimunah Mohd Sharif, told the meeting that cities are "in the front lines of nearly every global challenge we currently face, and they need to be at the centre of our strategy to solve them. Looking ahead requires new approaches - the "urban development of yesterday will not suffice," she added.
In Kenya, floods and landslides killed around 100 people and displaced nearly 300,000 between March and May 2018. Smallholder farmers along the Upper Tana River basin are now investing in bamboo trees to curb floods.
Many of the Kenyan communities affected by floods and landslides this year were already struggling to recover from the 2017 drought - a result a failed rainy season in 2016 and unusually high temperatures.
"The rainfall patterns have completely shifted. We are receiving more torrential rains of high intensity, accompanied by flooding," Catherine Muthuri, a research scientist at the World Agroforestry Center in Nairobi, told DW.
Degraded soils vulnerable to erosion reduce soil fertility in farmlands and decrease yields, thus intensifying hunger and poverty. Additionally, floods wash away massive amounts of sediment into the rivers.
Smallholder farmers along the Upper Tana River basin in central Kenya have turned to bamboo trees in a bid to reduce sediments flowing into rivers, repair the riparian areas alongside the rivers and stabilize land that is prone to landslides.
"We are promoting bamboo trees in flood and landslide-prone areas to help stabilize the soils. We aim to help restore and repair the riparian [areas] already destroyed by floods, and reduce sedimentation flowing into the rivers," said Anthony Kariuki, general manager of the Nairobi Water Fund.
Protecting soil and water
The Upper Tana River basin covers approximately 17,000 square kilometers (4,200,785 acres) and is of critical importance to the Kenyan economy. Home to 5.3 million people, its water provides half of the country's hydropower output. It supplies 95 percent of Nairobi city's water, according to the Nairobi Water Fund. Kariuki clarified that a bamboo-rooting system helps retains water in the ground, binds the soils and helps filter out sediments, thereby reducing the amount of sediments that flow into the rivers downstream.
"Bamboo covers the soil through its canopy, reducing evaporation, hence rehabilitating highly degraded areas faster. Depending on the species it forms a canopy (shelter) within the first four years compared to other trees that can take about 15 to 30 years," Peter Kung'u, who is in charge of bamboo propagation at the Kenya Forestry Research Institute (KEFRI), told DW.
The International Network for Bamboo and Rattan (INBAR) highlights bamboo as a core development resource that can help create a wealth of practical solutions while reducing the negative effects that changing climate patterns have on millions of rural communities.
INBAR says bamboo is critical in building climate resilient communities and can help the poor control flooding while protecting the environment, biodiversity and the ecosystem.
A 'woody grass'
Of the more than 1,400 different species of bamboo trees found globally, about 14 species are found in Africa, according to Kung'u. While three are found in mainland Africa, 11 species are located on the island of Madagascar. Bamboo has existed for hundreds of years in Asia, Latin America and parts of Africa.
Known as "the wonder grass," bamboo is a fast growing woody grass naturally found in diverse climates. Plants usually grow three to five feet (0.9 to 1.5 meters) high annually. Their stems range from one mm to 30 cm (11.8 inches) which is why they are sometimes called "bamboo trees." After harvesting, new shoots appear from the roots every year. In four to five years, these shoots grow to harvestable size.
"Bamboo plays a valuable environmental role. Its complex root system acts as an efficient water filter, removing nutrients and dangerous poisons such as heavy metals before they get into the food chain," Kung'u said.
"Additionally, its ability to grow faster than many hardwoods makes bamboo ideal for absorbing greenhouse gases [such as carbon dioxide], compacting desertification and global warming," he added.
Carbon dioxide (CO2) is an important heat-trapping gas, released through human activities such as deforestation, and the burning of fossil fuels.
In 2015, the Paris Agreement formally recognized the key role played by landscapes and resilient forests in reducing the global average temperature to less than two degrees Celsius above pre-industrial levels.
Farmers need to see the benefits
While research scientist Muthuri agrees that bamboo is one of the plant species that can help tackle climate change, she underlines the need to combine it with other crops.
"Bamboo is attractive to rehabilitate areas that are deforested. We have a wide range of species, adaptable to every place, but it's not a one fit situation," Muthuri warns. "They take time to establish but once established they take very little time to grow."
Muthuri sees bamboo's potential along river banks and farm borders as a buffer and water filter "but it's not an attractive species for the farmlands unless [there is an] economic incentive for the farmers."
Smallholder farmers along the Upper Tana Basin have planted about 65,000 bamboo seedlings since last year across the watershed, according to Kariuki.
The Nairobi Water Fund is training them in bamboo-farming practices and linking them to markets "as an incentive to improve their economic livelihoods through selling bamboo products such as firewood, charcoal, animal feeds, building and fencing materials."
This comes after Kenya issued a logging ban for its forests earlier this year. It has also embarked on evicting communities illegally settled in its indigenous forests.
By Berhane Hailemariam
The government will upgrade additional 136 health posts
The government is investing 360 million Br to construct 100 health posts across nine regional states and in one city administration.
The Ministry of Health will undertake the project with financing from the government's budget and pledges from development partners. The ministry will also invest 7.41 million Br on 136 existing health posts by upgrading, equipping and providing medicine supplies.
Under the new project 100 new posts will be built, replacing an equal number out of the existing 17,187 health posts spread throughout the country. The posts designated for replacement were constructed poorly and provide inadequate facilities and services, according to ministry officials. Another 136 posts will be upgraded, equipped and supplied with medicine, while the remaining old posts are planned to be rebuilt by regional health bureaus over the next ten years.
The pilot project is part of the second generation health extension programme launched in 2015, which includes: upgrades of health extension packages by adding mental health and non-communicable diseases, such as diabetics and hypertension, to the list of 16 other services; upgrading health extension workers' skills from level three to level four nurses; two-year courses for workers on health extension packages and a Certificate of Competence; and the replacement of the rest of the posts located in different parts of the country by new facilities.
This second generation program aims to increase health-related awareness in the community, makes provisions for quality and equitable health care services, treats patients for non-communicable diseases and provides emergency medical services according to Temesgen Ayehu, director of the Health Extension Programme and Primary Healthcare at the ministry.
"Locations of the new health posts are based on formula made by the parliamentary body, House of Federation," said Temesgen.
The largest shares will go to Oromia Regional State with 34 posts, Amhara Regional State with 22, and Southern Nations, Nationalities, and Peoples' Region (SNNPR) will receive 20. In addition, Ethiopia Somali Regional State will get 10, Tigray six, Afar Regional States three, and Benishangul Gumuz two. Harari, Gambella, Afar Regional States and Dire Dawa city will each get one.
Each of the new 100 health posts is expected to cost the government about 3.6 million Br. The buildings were designed by in-house architects of the ministry and will include maternity wards, vaccination and outpatient rooms, restrooms, storage facilities and living quarters for health extension workers.
In addition, 54,480 Br will be allocated for upgrading, procurement of medical equipment and supplies and worker training for each of the 136 existing posts.
Currently, there are close to 40,000 health extension workers in rural areas of the country. The tuition fee for each worker will be 8,316 Br a year and is covered by the regional health bureaus.
"The design of the new posts will enable them to provide delivery and post-delivery services for women," said Netsanet Sorri, senior architect of the Ministry, "this was previously offered at the health centre levels only."
The first generation health extension programme was launched in 2003 in rural areas and was later expanded to urban and pastoral areas. It focused on hygiene, sanitation, family health, disease prevention and health education.
The health extension programme has played a significant role in the health status of women and children in the past decades, according to a report by the Demographic Health Survey, where child mortality was reduced to 88 per 1,000 from 123 per 1,000. The contraceptive acceptance rate has increased from 15pc in 2005 to 29pc by 2011, according to the survey.
Ansha Nega (PhD), a lecturer and researcher at Addis Abeba University, School of Public Health for the last 16 years, also recognises the positive outcomes of the health extension programme. Hence, she believes the project has lacked some additional packages.
"The package should be more inclusive, integrating the unseen rural as well as urban communities," she said.
Community-Based Rehabilitation, a basic rehabilitation service for disabled persons, occupational safety, employee workplace health and safety packages for the informal sector has to be included in the extension packages, according to Ansha.
column
By Abdulmena Mohammed (
This email address is being protected from spambots. You need JavaScript enabled to view it.
)abdulmena Mohammed (
This email address is being protected from spambots. You need JavaScript enabled to view it.
), a Financial Expert With 15 Years of Experience.
Ever since 2005, the role of the state in the economy has grown in an effort to fend off market failures. This was not just the wrong panacea, but given corruption and unprofessionalism, the endeavour has been glaringly unsuccessful, writes Abdulmena Mohammed (This email address is being protected from spambots. You need JavaScript enabled to view it.), a financial expert with 15 years of experience.
Defending the new fiscal year's federal budget before parliament, Prime Minister Abiy Ahmed (PhD) revealed that there would not be any new projects by state-owned enterprises (SOEs) until the corporate governance and financial status of existing projects are reviewed. This is a serious step next to the recent announcement to fully or partially privatise major SOEs in the service sector.
The government has not officially admitted a policy shift. We can, however, infer from the above measures that the government is pausing for thought as the developmental state model that Ethiopia has pursued over the past decade seems to run out of steam. The weak performance of many of the SOEs, chiefly those established in the past decade, proves this fact.
Examining what led us into this situation is crucial to come up with ways of addressing them.
The past 27 years can be marked into two distinct periods from the vantage point of the government's role in the economy. Between 1994 and 2005, it was engaged in massive privatisation, unwilling to set up new SOEs, preoccupied with agricultural development and infrastructure expansion. Many of the SOEs had been managed by professionals.
What is remarkably different after the 2005-contested election was the change in the role of the state in the economic sphere. To derive legitimacy from economic growth, the ruling party promulgated the developmental state model as its guiding ideology. The model is based on the premise that as there are serious market failures in developing economies, state intervention is crucial to rectifying them. Market failure exists because of capital intensive, high risk, low return and long-term investment ventures that put off private investors.
The trouble with Ethiopian policymakers is that they have the incorrect perception that state intervention is the panacea for every market failure.
One policy instrument of the developmental state model (DSM) is the creation of SOEs. The government established a large number of corporations with subsidiaries in metals, engineering, chemical, sugar, retail, agricultural inputs and industrial parks.
The intervention went as far as engaging in retail business with the intention of modernising the retail sector and reducing inflation. In 2015, the Ministry of Public Enterprises (MoPE) was established to bring many of them under one umbrella.
What is breath taking has been the pace of creation of SOEs. Without prudent studies regarding the availability of finance, markets, technical and managerial capacity and foreign currencies, the government moved forward with the establishment of SOEs.
Despite the model helping to bring considerable economic growth, its application has resulted in multi-faceted problems. Many of the SOEs, created using this economic underpinning, are riddled with corruption, waste and inefficiencies. They are socked with debts, and their financial viability is questionable.
For instance, Alle Bejimla, an enterprise established with much hoopla, has gone into obscurity without achieving any of its targets. Corruption cases swirled around it and neglect and under-capitalisation dragged down its growth.
Sugar and fertiliser projects are likewise stuck in the mire due to repeated project extensions and enormous debt build-ups. Metals & Engineering Corporation (MeTEC), the military-industrial complex of SOEs, created with the great hope of enhancing technological capabilities, has been repeatedly blamed for corruption, huge waste and delayed projects.
The loss-making Ethiopian Electric Power is saddled with enormous debt and is exposed to multiple financial risks due to the massive expansion of its operations. Ethio-Djibouti Railway, constructed for over four billion dollars, and chiefly financed by Chinese loans, is expected to bring in 100 million dollars a year from freight and passenger transport. Its intake after management fees of 57 million dollars a year hardly covers the interest cost of the project.
Aggressive state intervention in the economy required huge financial resources from the government coffers and the banking sector. Commercial Bank of Ethiopia (CBE) expanded at an unprecedented scale to mobilise funds, and private banks followed suit to remain competitive and to comply with the National Bank of Ethiopia's (NBE) rules.
Deposits of the banking sector have grown by eight fold in a decade. Despite the share of private bank branches doubling from 33.4pc, their share of deposits have remained pretty much the same, at 35pc. The book for loans, advances and corporate bonds in the sector also grew by 11 fold.
What is striking is that the share of loans, advances and corporate bonds of public enterprises soared from 18.2pc in 2007/08 to 52pc almost a decade later. A huge chunk of private bank deposits has also been channelled to the Development Bank of Ethiopia (DBE), so that it would lend them at generous terms mainly to the agricultural and manufacturing sectors.
The proliferation and bloating of SOEs has increased the credit exposure of state banks. At the end of 2017, 44pc of the total credit of the state banks was given to a single borrower. Close to half of the loans disbursed by state banks in the second quarter of the past fiscal year went to a single borrower as well. Imprudent lending for agricultural and industrial development by DBE has caused soaring non-performing loans (NPL).
The level of indebtedness of SOEs is staggering. By the end of September of last year, they owed 251 billion Br and 269 billion Br to foreign and domestic lenders, respectively. The expansion of SOEs has also created a huge appetite for foreign countries to export their capital goods, spare parts and other services.
Repayment of capital and interest on foreign loans also caused enormous strain on the precarious balance of payment. The total debt servicing of government guaranteed and non-guaranteed debts of state-owned enterprise soared by 120pc to 987.3 million dollars in the four years leading up to 2016/17.
When the number of entities owned by the state increases at an alarming rate, they required qualified human resources. Unfortunately, the government drew human resources for running them chiefly from the vast sea of party members, who were lightly screened for their capability and professionalism. In employment, when party membership and loyalty become everything, and meritocracy is side-lined, accountability surely gets compromised.
In the political environment of a single-party monopoly, which lacks accountability and transparency, launching a highly interventionist economic policy with unrealistic ambitions and poor deliberation resulted in the massive accumulation of wealth in the hands of the state. It opened the floodgate to corruption, waste, inefficiencies and enormous debt build-ups. It overstretched resources and brought a lack of focus.
Privatization is a good step if it is undertaken in an orderly, transparent and accountable manner. If it is preceded by the liberalisation of the monopolised industries and establishment of effective regulatory frameworks, it will be fruitful.
Abiy's administration needs to come up with detailed ideas of what the role of the state in the economy should be from the perspective of creating SOEs. This requires answering where, how and when to intervene.
State intervention should only be considered when there is a genuine market failure and options such as incentivising the private sector, and public-private partnerships (PPs) have not borne fruit. SOEs thrive when there are clear targets, accountable and transparent systems, rewards are aligned with performance and professionalism is fostered.
The idea of state intervention is not a license to stifle the private sector. It is a means to rectify genuine market failures. Once these are corrected, the private sector can and should take over.
By Correspondent
Nairobi — Hemingways Collection has announced an eco-awareness programme targeted at locals and tourists that seeks to encourage the disposal of plastic waste along the Kenyan coast in a sustainable manner.
As part of its commitment to preserving the Kenyan coastline and ecosystem within it, the hotel has partnered with a local non-governmental organization 'EcoWorld Watamu,' which employs underprivileged locals to collect plastic debris along the beach each week and reuse and recycle it for better purposes.
All plastic waste from Hemingways Watamu is directed to EcoWorld where it is separated according to weight and colour, before being shredded or melted, and recycled.
The recycled waste is used in creating artworks, furniture, fence posts, and trinkets - generating income and removing debris from the ocean.
Hemingways Watamu Operations Manager Melinda Rees, says collaboration with the local community is an important step in raising environmental awareness adding that the hotel has begun to replace palm leaf roofs on some structures with recycled plastic roofing in addition to banning the use of plastic straws in the establishment.
Ms Rees noted that luxury that makes the world a better place is a trend that is on the increase with many travellers keen on the importance of sustainability.
"Guests can now spend a day learning about the Watamu Marine Association and EcoWorld Watamu, with an educational day joining in on the recycling process and learning about the impact that plastic waste is having on this fragile environment." Hemingways Collection Group Operations Director Mr. Ross Evans explained.
The hotel has created provision for guests to also have the opportunity to contribute to the effort on a more informal basis by picking up one of the hotel's recycled plastic bags and collecting plastic waste as they take in their daily walk along Watamu beach Mr Evans further explained
The Watamu coastline is at the heart of the hotel's community and offers guests a chance to view the Watamu big five Dolphins, Whales, Sea Turtles, Whale Shark and Shark. Protecting it ensures that populations of marine life such as the Humpback whale are sustained.
Three among 11 Nigerian secondary school students have qualified to participate in this year's World Adolescent Robotics competition, which holds this month in China.
The China Association of Science and Technology has reached out to the three students who will be representing Nigeria at the competition.
The students, Tawakalitu Giwa, Oluwaseun Omotayo and Ayomide Adetunji, were members of Team Nigeria to the First Global Robotic Olympics in Washington DC, in the United States(US) in 2017 and they were sponsored by Aramex and Doculand Nigeria.
Their performance at the Washington competition earned them the opportunity to be invited by the China Association to participate in this year's competition.
The students were picked based on their outstanding performance at the First Global Robotic Olympics where Nigeria placed 25th out of the 163 teams from 157 countries, emerging third out of the 41 African countries in attendance. The three students left Nigeria for China recently.
Similarly, five secondary school students will be representing Nigeria at the next First Global Robotic Olympics coming up in Mexico City this August, while another three students will be representing Nigeria at the Pan African Robotic Competition holding in Senegal this week.
Founded by philanthropic inventor, Dean Kamen to inspire a passion for science and technology leadership and innovation among the world's more than two billion youths, FIRST Global provides the framework for an Olympics-style robotics event that drives home the importance of obtaining the Science, Technology, Engineering, and Mathematics (STEM) skills needed by future leaders to overcome the greatest challenges facing the world today and tomorrow.
National Coordinator, of the programme and CEO, Roboglobal Educational Consulting, Mrs. Remi Willoughby, said: "Without any doubt Nigeria is slowly but gradually establishing herself on the map of technology developed nations. This may not be presently evident; however, it is an indication that progress is being made."
According to her, "we have the right talents to compete successfully on the global stage and move Nigeria to a technology advanced nation, but we need the right support and encouragement and to do this, we need to quickly address the evident deficit in science, technology, engineering and mathematics in our educational system."
press release
Remarks by President Cyril Ramaphosa at the Science, Technology and Innovation Dialogue, CSIR International Convention Centre, Pretoria
Your Excellency, President Xi,
Ministers and Deputy Ministers,
Ambassadors,
Scientists from China and South Africa,
Distinguished guests,
Ladies and gentlemen,
It is a great privilege to address this groundbreaking dialogue between scientists and innovators from China and South Africa.
I wish to express our sincere appreciation to the Chinese Ministry of Science and Technology under the leadership of Minister Wang and the South African Department of Science and Technology under the leadership of Minister Kubayi-Ngubane for organising this event as part of the State Visit of President Xi Jinping.
This event demonstrates South Africa and China's shared commitment to invest in and leverage science, technology and innovation as instruments for growth and development.
It is further proof of the strong bilateral cooperation in this domain and should serve as a platform for enhanced cooperation.
Science, technology and innovation is an integral part of South Africa's National Development Plan, both as a means to bolster economic growth and competitiveness, and advance social development.
Fostering a vibrant knowledge economy and a culture of entrepreneurship is at the heart of Government's agenda.
Our efforts are focused on developing and supporting a dynamic national system of innovation by strengthening relations between public research and technology organisations, universities, industry and civil society.
These efforts include developing South Africa's human capital, addressing demographic imbalances, increasing research output, and using knowledge for economic and social development.
Democratic South Africa has much to be proud of in the domain of science and technology.
Through funding more than 200 research chairs and 15 centres of excellence at South African universities, we have significantly increased South Africa's research output.
The big policy challenge remains to ensure an effective translation of research outputs into new products and services.
Investment in science and technology to beneficiate South Africa's raw materials has, for example, led to the development of an ambitious hydrogen fuel cell technology programme.
Scientific advice to improve natural resource management and decision-making is benefitting from the South African National Space Agency's Earth observation programmes.
South Africa is at the cutting edge of drug and vaccine development for infectious diseases such as HIV, malaria and tuberculosis.
While discussion of the Fourth Industrial Revolution has been focused on manufacturing and the implications for global supply chains, it is important to have a holistic perspective of the impact of these disruptive new technologies on all aspects of human endeavour and well-being.
South Africa is determined to respond effectively to the Fourth Industrial Revolution.
The danger is that an inappropriate response would reinforce South Africa's dependence on primary resources and on imported technology.
South Africa already has some of the components necessary to play a role, especially in its universities and innovative companies.
Disruptive technologies will open up new industries and will change existing industries, processes and services.
Focused investment in well-funded programmes is essential for success - hard choices must be made in where and how to invest.
The development of skills and expertise underpins all preparation for and participation in the Fourth Industrial Revolution.
International cooperation will be crucial.
It is an imperative for all nations seeking to progress in science, technology and innovation.
The frontiers of human knowledge are expanded through joint investments, the pooling of resources, and the sharing of experience and expertise.
Major societal challenges such climate change, disease and food security will only be effectively met through strong international cooperation in science and technology.
South Africa's hosting of the global Square Kilometre Array radio telescope is an excellent example of successful international cooperation in science.
A project of the scale of the SKA, which will be the flagship frontier science project of the 21st century, cannot be undertaken by any nation alone.
In addition to providing a better understanding of our universe, the SKA will drive innovation in crucial technology areas such as high performance computing and high-speed data transmission networks.
We wish to acknowledge China's crucial contributions to the SKA project as a valued partner.
I also wish to express my appreciation to President Xi Jinping for China's commitment to cooperation in science, technology and innovation.
This evidenced in many ways, including the two Action Plans to establish joint research centres, in crucial economic sectors such as mining and forestry, and to promote the exchange of young scientists between the two countries.
There is great potential to further develop cooperation between the two countries, for example, in fostering partnerships related to the establishment of science parks, which in turn can facilitate the investment by China's leading technology intensive enterprises in South Africa.
We also wish to thank China for its commitment to African development and the inclusion of a science, technology and innovation component in the Forum on China-Africa Cooperation (FOCAC).
I wish this Dialogue well in its deliberations and look forward to the outcomes of the various discussions.
These outcomes will serve to inform the South African Government's policy thinking notably with regard to the Fourth Industrial Revolution and its strategic cooperation with China.
There are several important intangible benefits of international cooperation in science, specifically the impact on building networks, friendship and solidarity across differences of culture, language and nationality.
I am certain that this Dialogue will achieve all of these benefits and more.
I thank you.
Issued by: The Presidency
A robot platform known as the "Monster" is one of the technologies that the Council for Scientific and Industrial Research (CSIR) hopes will improve safety in mines.
This is according to the CSIR, which on Tuesday showcased the technologies that would aid the country's mining sector at the Mandela Mining Precinct in Johannesburg.
Principal researcher at CSIR Dr Shaniel Davrajh said robotic technology in mines would be able to reach areas not easily accessible during an incident.
"A robot equipped with safety inspection sensors will enter the mine during a safety period. It becomes very difficult and dangerous for humans to enter into the mine after an incident," Davrajh said.
Davrajh said the Monster also has the ability to assess and identify risks in underground mines.
Other technology that was showcased was a ground penetrating radar (GPR). The radar is used for rock mass stability investigations.
40% of fatalities caused by fall of ground
Geophysicist Dr Michael Van Schoor said the GPR would provide valuable information regarding immediate hanging wall integrity.
He added that there was a need for reliable rock mass stability determination in mining.
"Managing health and safety risk in a mine requires real-time monitoring and quantification of the underground hazards and the exposure of personnel and equipment to such hazards," Van Schoor said.
He said 40% of mining fatalities were caused by the fall of ground, a statistic which could be reduced by GPR technology.
Glass rock technology was also showcased. According to the council, the technology will allow miners to see through rock faces where reefs are located.
Van Schoor said most of the technologies were still early experimental prototypes that would first need to be proven effective and then commercialised before being eventually taken underground.
CSIR Mining technologies: Ground Penetrating Radar (GPR) technology (Sesona Ngqakamba, News24)
Mining companies 'positive'
"Some of the technologies like the GPR are very much more mature. In fact some mines are already using GPR technologies," Van Schoor told News24 during the exhibition.
He added that the organisation was working on improving the technologies every day. "Because it's not that easy to use these technologies, some mines will buy it and use it on a needs basis. But we encourage mines to implement these under routine basis. In order to do that we have to modify them," Van Schoor added.
He said the council would probably, for the next decade, work towards finding more solutions that would help the mining industry.
"There are different programmes for different technologies. Some focus on safety and others on production improvements," Van Schoor said.
He added that mining companies were positive towards the technologies that would improve safety.
CSIR Mining Technologies: The robot platform, also called the "Monster" presentation. (Sesona Ngqakamba, News24)
Spate of mining deaths
"Many years ago, mines were a bit careful to just bring any technology to the mine, which is understandable, because you cannot just take anything underground, it must be proven, safe and must add value to them," he said.
Van Schoor added that mining companies were, however, now more excited about and interested in most of the technologies.
The CSIR believes that the technologies it has developed can play a major role in mitigating fatalities in mines.
In the latest spate of mineworker deaths, six workers died after a fire broke out at the Palabora Mining Company mine in eastern Limpopo this month.
Meanwhile, the death toll at Sibanye-Stillwater's operations this year alone stands at more than 20 - close to half of the fatalities in the entire mining industry.
News24
By Joseph Thompson | @josephthompson | Aid:Tech
One person is forcibly displaced every two seconds as a result of conflict or persecution.
According to the UNHCR, as of today, there are over 68 million people displaced, over 25 million of whom are refugees - people who have been forced to flee home, and sometimes their country, as a result of war, violence or persecution.
The refugee crisis has almost always been a topic high on the humanitarian and development agenda, especially in the context of how support can best be provided in the short and medium term in a decent and dignified manner.
Ensuring refugees access to critical services is key. But how can accessibility be improved, especially in the areas of healthcare, education and financing? When forcibly displaced from their homes, many refugees lose exactly this access to vital, everyday support.
As they cross borders into new jurisdictions without formal identification, the lack of legal identity results in millions of refugees being denied or delayed from accessing services that many of us in the developed world often take for granted. However, leveraging blockchain technology to deliver digital identities can deliver the much-needed solution to the refugee identification crisis.
Blockchain For Good
Blockchain can be thought of as an incorruptible ledger that stores transactions which are replicated across multiple computers on a decentralized network (this could be hundreds, thousands or even millions of computers). Each computer plays a role in making the ledger tamper-proof, thus increasing the strength of the network. This digital ledger maintains security and traceability, while cutting out unnecessary intermediaries.
Organisations working hard to improve the lives of refugees can utilise blockchain-enabled digital identity solutions as a means of understanding how resources are distributed, as well as to cut down on identity fraud and data mismanagement, while allowing organisations to reduce their burden around costs and resources.
Digital identities function as the basis for refugees accessing entitlements such as aid, welfare, remittances, donations, and healthcare. With every activity immutably recorded, a blockchain solution provides transparency and traceability to the process of recordkeeping. As data builds on the blockchain, information accumulates and the technology effectively provides a de facto foundation where information can be structured, reviewed and utilised. When refugees use their digital identity to receive aid and support, they are also capturing data of their activities - building a social and economic history.
Possibilities Beyond the Crisis
Blockchain aids in the resettlement of refugees, providing greater security and transparency in the immigration process, and allowing them to focus on life after conflict. With a permanent, cross-border identity record, blockchain can be used for work permits and asylum application processing. The technology could also greatly increase a refugee's ability to work and give them the ability to legally access basic services, including banking, healthcare and welfare.
Blockchain ensures a refugee's identity is not stolen, forged or duplicated by hosting their personal information on a decentralized ecosystem. Stored on "blocks" that are continuously verified and secured through cryptography, blockchain is critical in protecting a refugee's data from being exploited. The documentation of these refugees could make a huge difference to their lives especially as it might alter the public's perception of them.
While no technology should be considered a silver bullet that solves all ailments, there is little doubt that blockchain has the capacity to affect significant, positive change for the future of refugees and humanity. Blockchain will not only emerge as the integral infrastructure capable of revolutionising assistance during a refugee crisis, but also as the mechanism that has the potential to eradicate it.
Joseph Thompson is the CEO and Co-Founder of AID:Tech, the world's first company ever to deliver international aid using blockchain technology.
Any views expressed in this article are those of the author and not of Thomson Reuters Foundation.
The constant refrain from early stage African start-ups is that there is no funding for them. Nigerian-based Ventures Platform is part-VC and part-accelerator, offering support to those most in need. Russell Southwood talked to Ventures Platform Founding Partner Kola Aina,
The latest video clip interviews from Smart Monkey TV can be found at the bottom of this e-letter
The idea for launching Ventures Platform came out Kola Aina's time building his own software company:"We were working with medium sized companies and Government. I realized you couldn't rely on Government to sort out everything. I had this thesis that if entrepreneurs were empowered to solve problems, they would stand a better chance of doing so".
It describes itself as "a start-up to enable start-ups." It does funding of tech-enabled start-ups across different business verticals. The businesses have to be scalable across several countries. They want start-ups that are beyond ideas at the Minimum Viable Product (MVP) stage:"If you need funding to scale faster, we're biased towards scale. We're also looking into how we can partner with SMEs.
It provides capital with mentorship and support:"We have a mentor network and we connect founders to this network. We're interested in how (for example) a healthtech start-up can go from 100 users to 10,000 users through growth hacking skills and communicating to customers. Our team consists of people who have experience. The start-ups send us quarterly reports. We also help them get talent from our deep networks".
Ventures Platform also operates Ventures Park, a physical space in Abuja that operates as a hub and hires space within it. At present, it's a hub for 150-200 entrepreneurs:"The physical space is there to help build a community so there's everyone from Uber to the guy who's just had an idea working in the space".
It has invested in 24 companies with sums of between US$20,000-100,000 through sourcing capital through local investors and institutions. Start-ups it has invested in so far include: Kangpe (health advice from doctors), Mobile Forms (crowdsourced data), PayConnect (mobile loans), Paystack (fintech), Proteach (home tutor platform), Wesabi (handyman platform), Accounteer (online accounting), Gerocare (subscription-based home healthcare for the elderly), ThriveAgric (supplying inputs to smallholder farmers), Printivo (design and print) and Wifi.com.ng.
A good example of a start-up it has helped to the next stage is Piggybank.ng, an online savings platform. At the end of May this year, it announced that it had raised US$1.1 million in seed funding from High Net Worth Individuals, led by Olumide Soyombo, Founder of LeadPath Nigeria, and with participation from international and Pan-African investors Village Capital and Ventures Platform:"It went through our accelerator programme. You could see the market potential of the product. There were clearly opportunities with the middle class and below".
"What we're looking for in start-ups is good founding teams, companies where we genuinely like the founding team. They need to have complementary skills including, technical, business and operational. We're always looking for entrepreneurs who have skin in the game. Most important of all: is this the best thing to solve this problem? Is it an imaginative solution? We're not carried away with digital products. We're still building the first layer of the digital economy: credit, identity, data and medical devices will all come before e-commerce".
Over its first eighteen months it raised all its own funds but it is now looking to "raise a large part of the funding and increasing the size of our cheques so we can back all the way to Series A".
And will Ventures Platform invest outside of Nigeria?:"We've already made an investment in Cameroon in Viva, a content distribution company with offline hardware. We're looking at Ghana, Cameroon, Cote d'Ivoire, Kenya and the rest of francophone Africa. I truly believe that entrepreneurship will impact the continent and this is why we do what do".
Innovation: Africa (iA), a non-profit organisation, and Bayport Management Ltd, a multinational financial services provider with a strong presence in Tanzania, recently announced that they have formed a partnership to help Tanzanians improve their living conditions through access to clean water and lighting.
iA has already implemented 18 solar systems in Tanzania, 16 of them powering schools and medical clinics in the Bagamoyo and Chalinze regions. Now, with the support of Bayport's network in Dodoma, iA's work in the country will be extended.
Bayport Tanzania, through the provision of a vehicle and other logistical support have enabled iA to commence a project in the Dodoma region of Tanzania to install a solar system at the Bumbuta Health Center, as well as a pump system to supply Iyoli village with clean water.
"The partnership with iA is a good fit for us," says Stuart Stone, joint CEO of Bayport. "Both our organisations are employing technology and innovation to give people in emerging markets access to the means to improve their lives and build a more secure future."
In June this year, iA re-located its Tanzania office to Dodoma region to better meet the high demand for clean water and solar energy. iA plans to complete five water projects and two solar projects in Dodoma over the next few months.
A global partnership made in Africa
The collaboration between the two companies will help to improve health and better education, having a positive impact on the lives of people across Tanzania through the use of solar energy and water technologies.
"Bayport's support enables us to offer solutions to remote villages in Tanzania, which allow communities to uplift themselves from extreme poverty and provide the tools to be independent," says Sivan Ya'ari, Founder and CEO of Innovation: Africa. "We are extremely grateful to partner with Bayport and look forward to the evolution of this fruitful collaboration."
iA is a US-based organisation with a mission to bring Israeli solar, water and agricultural technologies to rural African villages. Its goal is to reach 1000 villages, impacting six million people, over the next seven years. To date, it has completed over 200 solar installations bringing light, access to clean water, improved education, refrigeration for vaccines and medicines, and proper nutrition and food security to over a million people in remote villages in Uganda, Malawi, Tanzania, Ethiopia, South Africa, the Democratic Republic of Congo, Senegal and Cameroon.
Bayport is a market-leading provider of unsecured credit, insurance and retail banking services to customers in emerging markets. It currently serves more than 600,000 customers in seven African countries and two in Latin America. The communities Bayport serves overlap with iA's areas of operation in Uganda, Tanzania and South Africa.