News
The exchange follows threats from Iran's Revolutionary Guards to avenge the assault on a military parade. Iran-US ties have worsened after President Donald Trump renewed sanctions on Tehran over its nuclear program.
A deadly attack on an Iranian military parade demonstrates the country is internally vulnerable. Analysts say the regime is likely to respond with a tougher line at home and in the wider region.
The party founded by independence activist Andy Chan is the first political party to be outlawed in the city's history. Police had sought a ban on the outfit in July, citing "national security" concerns.
An emotional Tiger Woods was followed and cheered on by a jubilant crowd at the 18th hole at Atlanta's East Lake Golf Course. The 42-year-old golfer played like his old self and racked up his 80th PGA Tour title.
By Tonye Bakare
Nigeria did not designate marauding Fulani herdsmen as terrorists despite being responsible for hundreds of death and destruction of properties because their activities were criminal and not terror-related, the minister of information said on Wednesday.
Lai Mohammed told BBC's Focus on Africa that the criticism of Nigeria's designation of the Indigenous People of Biafra (IPOB) as a terrorist organisation was flawed, noting that both the separatist group and the deadly herdsmen have different agendas.
Mohammed insisted that the herdsmen's "acts of criminality should not be confused with terrorism acts" even though they were named the fourth deadliest group in the world, according to the 2014 Global Terrorism Index.
But President General of the Ohaneze Ndigbo, John Nwodo, who was earlier interviewed on the programme, said that the labelling of IPOB as a terrorist group was "extremely unfair and lopsided."
Nwodo argued that Fulani herdsmen deserved the terrorist label, not IPOB.
"In Nigeria, we have Fulani herdsmen... and terrorism tracking organisations have ranked them as the third or fourth deadliest terrorist organisation, that kind of organisation which has ravaged farmlands in Nigeria, killed quite a number of people, has not been classified as a terrorist organisation," he said.
SB Morgen Intelligence in its report on security in the country in 2016 said pastoral conflicts were the deadliest threats Nigeria faced in 2016 - cattle rustlers and Fulani herdsmen accounted for 470 and 1,425 fatalities respectively. Cattle rustlers were responsible for 7 per cent of the attacks and Fulani herdsmen 29 per cent. However, an average of 39 victims were recorded in each cattle rustling attack while Fulani herdsmen attacks have an average of 30.
The targets and victims of cattle rustlers and Fulani herdsmen were usually farmers and residents of attacked communities.
But unlike the herdsmen, IPOB is demanding an independence for the Igbo people in Nigeria's southeast. Its push for an independent Biafra became heightened since 2015, especially after the arrest and release of its leader Nnamdi Kanu by the government.
Kanu said his group was non-violent and would only use peaceful means to achieve its goal.
"We have chosen the track of peaceful agitation, non-violence, persuasion, logic, reason, argument," he told AFP in an interview in May.
"We are going to deploy all of that to make sure we get Biafra."
Mohammed, however, said IPOB's non-violent claims were just a facade to cover up its terrorist intentions.
"For instance, Nnamdi Kanu, the IPOB leader was caught on tape, saying that they want Biafra and not peacefully, but by force.
"He declared that if they do not get Biafra, Somalia will be a paradise with the kind of mayhem they will unleash on Nigeria.
"The group openly embraced arms and ammunition and the leader set up Biafra National Guard, Biafra Secret Service and openly attacked army formations".
He said further: "When an organisation decides to not just attack the Army but set up its own parallel government; when an organisation openly solicits for arms all over the world; when an organisation starts issuing out its own passports and currency and does not recognise the democratically elected government, then it becomes a different thing."
By Benson Matheka
Embakasi East MP Babu Owino, who was re-arrested moments after his release from custody on Wednesday, has been charged afresh.
Mr Owino, who was first arrested on Monday for allegedly hurling insults at President Kenyatta, was arraigned in a Kibera court on Thursday.
ATTACK
He was accused of attacking and causing grievous harm to Mr Joshua Otiende, a voter.
He faced a separate count of preventing the voter from casting his ballot contrary to Elections Act.
The offences were allegedly committed at Soweto Social Hall polling station on August 8, the day Kenya held it General Election.
Mr Owino denied both charges and applied to be freed on bail, a request the prosecution opposed.
The MP was presented in court in morning but the prosecutor asked the court to defer his plea to 11am.
She said she had instructions that her senior would come to prosecute the case.
Lawyers James Orengo, Otiende Amollo and Nelson Havi represented Mr Owino.
Police had beefed up security around the court premises after Mr Owino's supporters staged demos denouncing his arrest and prosecution.
They chanted "tunataka Babu, hatuogopi tear gas (we want Babu, we don't fear tear gas)" as police watched.
Nairobi Women Representative Esther Passaris engaged the anti-riot police, pleading with them not to teargas the protesters.
Photo: camer.be
Riots in Bamenda (file photo).
analysis
By Richard Moncrieff
Improving decentralisation countrywide would appeal to Anglophone protesters, but without seeming to give them special treatment.
On 22 September, massive protests across Cameroon's Anglophone regions brought an estimated 30-80,000 people onto the streets. These were far larger than those which sparked the crisis at the end of 2016. In clashes with security forces, three to six protesters reportedly died - the first deaths in the crisis since January.
The demonstration came in the context of an already-deteriorating situation marked by the use of homemade bombs by militants, the failure to open schools for a second year due to ongoing strikes, and mounting incidents of arson.
The violence followed incidents in Western capitals throughout the previous month. On 1 August, a meeting in Washington between a senior delegation from the Cameroonian government and the US-based diaspora descended into farce, interrupted by angry exchanges. In Belgium, the delegation's meeting was interrupted by violent scuffles. In South Africa, activists who had been denied access broke into the meeting, which was then cut short. The same happened in Canada, where the flag of Ambazonia, the putative homeland of Anglophone secessionists, was raised inside the High Commission. And in the UK, the invite list was reduced to a select and vetted group.
The resurgence of violence demonstrates that the roots of this crisis run deep, as detailed in the recent report from International Crisis Group, and that the measures taken by the government so far have failed to address grievances. By jailing the legitimate representatives of the Anglophone movement back in January, the government may have even played into the hands of the more radical elements.
As 1 October approaches, the anniversary of reunification of Anglophone and Francophone Cameroon, some militants are preparing to declare independence. If serious measures are not taken and a willingness to start genuine dialogue not forthcoming, protests are sure to erupt again, and could be worse this time.
Anglophone grievances
Cameroon's Anglophones make up 20% of the population. Most live in former British territories in the North-West and South-West regions. Their anger was sparked off in 2016 by the government's refusal to respond to Anglophone lawyers who were aggrieved at the nomination of magistrates who neither spoke English well enough nor were trained in British common law.
After demonstrations were met with sometimes brutal force, teachers and students joined the growing movement, adding similar concerns about a way of life being progressively taken over by Francophone practices. At least nine people have now died in subsequent violence, and militants have frequently used sabotage and arson.
After negotiations broke down in January of this year, the government imprisoned the most prominent Anglophone activists alongside many others caught up in protests. They also cut off the internet in Anglophone areas for three months, causing huge damage to the economy.
Broken promises
Anglophones feel marginalised and often humiliated in their own country. Many look back to the independence era. In February 1961, Anglophone Cameroonians, then under British rule, voted in a controversial UN-organised referendum to re-join francophone Cameroon. For the previous 40 years, they had been ruled by the British following the defeat of Germany, the first colonial power of all of Cameroon, in the First World War.
The constitutional conference which followed in July 1961 was hopelessly one-sided. A weak Anglophone negotiating team sparred with a Francophone side which had already gained independence and had strong support from its former colonial power, France. The result was a series of vague promises that Cameroon would be an "equal federation" in which the English language and customs derived from British rule would carry equal weight at the federal level.
The reality was anything but. First, in October 1961, only weeks after Anglophone Cameroon joined the federation, President Ahmadou Ahidjo (a Francophone who enjoyed very close ties to France) reorganised the country from two federal states to six regions. With the regions' powers unclear, this move deliberately introduced confusion into local governance that has remained to this day.
Ahidjo then named federal inspectors in each region, who enjoyed more power than locally elected politicians. In 1965, he banned opposition parties, forcing all political aspirants, including Anglophones, into his orbit. At the same time, he chipped away at customs and institutions the Anglophones had inherited: their currency was discarded; membership of the British Commonwealth was not considered; imperial weights and measures were dispensed with. In 1971, through a national referendum, Ahidjo abolished federalism altogether, crushing the now fading Anglophone hope that they could enjoy a partnership of equals.
For three decades, Anglophones, like many of their Francophone compatriots, cowed by the brutal civil war that had raged in Francophone Cameroon in the 1960s, more or less accepted their lot. But in the 1990s, political freedoms blossomed again, and Anglophones were encouraged by the fact that the most important opposition party to emerge at the time, the Social Democratic Front, had one foot, if not two, firmly planted in the Anglophone region.
But as President Paul Biya, in power since 1984, slowly crushed hopes of pluralism and freedom, Anglophone frustrations grew again. Movements calling for a return to federalism, and even outright secession, proliferated. For many years these groups were largely based in the diaspora, hence the anger seen in Western capitals. But the movement of 2016 and 2017 has more domestic roots, based on widespread anger on the ground.
Decentralisation as the start of a sustainable solution
After repressing the movement at the start of the year, the government has made some concessions, most notably restoring the internet in April and allowing the release of some (but not all) detained activists in August. But Yaoundé continues to treat the Anglophone movement as subversive and illegitimate. Militants were imprisoned in January for publicly discussing federalism, a discussion which should be perfectly allowable. The government refuses to acknowledge widespread feelings of marginalisation and humiliation.
To reach a sustainable solution, especially important with national elections looming next autumn, the government must start by acknowledging the well-founded grievances of Cameroon's Anglophone regions. For trust to be re-built and maintained, concrete actions need to be taken.
Decentralisation is the most promising and is set out in the new constitution of 1996 and in laws of 2004. Since then, mayors and local councils have been elected, and the law stipulates that they should have their own budget and be responsible for local public services. But even these vague legal texts - for example the percentage of locally raised taxes to be devolved to local government is not specified - are not respected in practice.
Regional councils, led by elected regional presidents, are foreseen in the constitution, but have not been created 21 years on. Shortly after creating local councils, the government created its own delegates nominated by the president and accountable only to him. In day to day matters, the delegate has far more power than their elected counterparts, even those from the ruling party.
The problem of partial decentralisation is a frustration in all parts of the country. Improving it countrywide would have the distinct advantage of appealing to the Anglophones without seeming to give them special treatment. Regional councils should be created, or else a national debate started on whether they are needed. Local councils should have the powers over public services foreseen in the law and autonomy over their budgets.
Improved decentralisation would, if handled properly, reassure Anglophones that they have control over their own legal and educational system, rather than feeling that any gain they make is subject to the whims of central government.
Of course administrators in Yaoundé, and President Biya himself, who has created one of the world's most centralised decision-making machineries, would lose some of their discretion. But the up side would be significant: a reinvigorated sense of national purpose and cohesiveness and less risk of renewed violence in Anglophone areas.
By Sandra Petersmann (/Sst)
Under the Trump administration, the US has significantly amped up military engagement in Somalia. Special forces are fighting alongside Somali soldiers to defeat terror organization al-Shabab. Sandra Petersmann reports.
Foreign soldiers, gunshots, explosions, air strikes - when refugees from Bariire talk about what they've experienced, they are unable to name exact dates. Days and events blur together as emotions run high.
They are afraid - of both sides, they say. Marian is now a widow and mother to seven children who have lost their father. When fighting in Bariire stopped, Marian found her husband's body - bloody and riddled with bullets - dumped on a field. She can't say who shot him or when he was killed.
Marian and others who fled the fighting are now sitting on the dusty streets of a refugee camp in Somalia's capital Mogadishu. The farmers fled their homes in Bariire, a town in the embattled region of Lower Shabelle in Somalia's south, some 60 kilometers (37 miles) from Mogadishu.
Not long ago, Bariire was considered a stronghold of the Islamist al-Shabab militia that's joined al-Qaeda in the fight for a caliphate.
But on August 20, African Union (AU) troops and Somali soldiers managed to retake Bariire's city center. The AU has deployed some 22,000 soldiers in Somalia to fight against al-Shabab. Unconfirmed eyewitness reports say US soldiers also helped recapture the city.
What happened in Bariire?
A few days later, on August 25, there was another military operation - a raid on a farm in the early morning hours. Ten civilians lost their lives - among them were three boys aged eight to ten years.
The Somalian government initially denied civilians had been killed, but later corrected this statement. Relatives took the dead bodies all the way to Mogadishu in protest. Army chief General Ahmed Mohamed Jimale Irfid said they initially mistook the killed farmers for al-Shabab fighters due to it being dark in the early morning hours.
The US Africa Command based in Stuttgart, Germany, immediately issued a response on August 25.
"We are aware of the civilian casualty allegations near Bariire, Somalia. We take any allegations of civilian casualties seriously, and per standard, we are conducting an assessment into the situation to determine the facts on the ground," the statement read.
"We can confirm that the Somali National Army was conducting an operation in the area with US forces in a supporting role."
Since then, no other details have been shared with the public. According to Somalian media reports, the clan of the killed farmers has received compensation payments.
Rebuilding a failed state
Somalia has been riven by war since 1991. The state disintegrated, with the country's most powerful clans filling the void.
The country on the Horn of Africa now wants to build new federal structures with international help.
Since December of last year, there is a new parliament; since February of this year the country has a new president.
In both rounds of voting, the big Somalian clans were also vying for power - a lot of cash was handed out.
Still, the result can be considered a massive improvement, according to Michael Keating, Special Representative of the UN Secretary General for Somalia.
Marred by corruption and intimidation, but still legitimate
"It was an electoral process which was also marked by corrupt practices and intimidation. But the amazing thing is that the result was received as legitimate both by both the Somali population as well as the international community," Keating told DW.
Especially President Mohamed Abdullahi Mohamed, who holds both Somalian and US citizenship, enjoys people's trust. He is a refugee himself who returned to the country and now lobbies for additional military support, investment and direct financial aid for his government. Right off the Somalian coast are oil reserves waiting to be tapped.
"The peace and stability in Mogadishu and Somalia is the peace and stability for the whole world. Somalia is a test case where we can show to the world that you can defeat terrorism," Information Minister Abdirahman Omar Osman told DW. He moved back to Somalia from London.
These days, many people from the Somalian diaspora are daring to return to their home country.
This spirit of optimism is palpable in the Somalian capital - countless construction sites and new streets, cafés and shops attest to that. Foreign diplomats, advisers and volunteers are pouring into the country. New embassies are being built.
But most foreigners still barricade themselves behind high protective walls that have been put up around the airport. Car bombs, suicide attackers and abductions are still part of Somalian daily life.
"The challenge is: how do we work together to help the Somalis sort out their own problems on their own terms and not try and impose our own solutions because we are in a hurry, or because we need certain things done," said Keating. "You have to be very respectful of Somali culture and politics."
Lessons learnt from Bariire?
But the unresolved case of the ten civilians who were killed in Bariire shows just how complicated the process of building a nation truly is. The region of Lower Shabelle isn't just a stronghold of al-Shabab, but also home to rival clans with access to weapons. The drought at the Horn of Africa has exacerbated conflicts over water and land. It's hard to distinguish between civilians and extremists.
Who was the source of information that led to military operations in the early morning hours in Bariire on August 25? Who checked the information? The US has only "a few dozen soldiers" in the country, according to their own account - that means they rely on Somalian sources for military reconnaissance.
Security sources say it's possible that one clan accused the other of fighting for al-Shabab. Chances are US forces, alongside Somali soldiers, have been dragged into a local conflict in Bariire.
Al-Shabab exploits fears
In March, US President Donald Trump gave the US military more power to carry out anti-terror operations in Somalia. Since then, there have been at least 13 missions with US participation - three ground strikes and 10 airstrikes.
According to Keating, military pressure needs to be exerted. But "global experience suggests you can't defeat an insurgency purely by military means," he said, adding that justice and creating opportunities were just as important. Somalia, he said, was full of unresolved conflicts.
A former al-Shabab member from Lower Shabelle, who has since left the group, told DW the extremists were exploiting local conflicts to attack the state. "The people here don't trust the government," he said. "In the areas controlled by al-Shabab, people fear the military will loot and rape - and al-Shabab has become skilled at tapping into those fears."
Military operations such as the one in Bariire could help drive new recruits into the arms of al-Shabab.
Photo: Kudakwashe Hunda/The Herald
From left, Minister of Finance Patrick Chinamasa and Reserve Bank Governor John Mangudya (file photo).
Zimbabwean police will arrest dealers trading foreign currency on the streets and seize whatever banknotes they have on them, President Robert Mugabe's government has announced.
Finance Minister Patrick Chinamasa said the authorities will freeze the accounts of those doing illicit forex transactions through the banks.
Black market
"We are taking measures to make sure police are empowered to arrest such people, to seize whatever currencies are involved in the transactions," Chinamasa said, in comments carried by state ZTV late on Wednesday.
"We are going to go further where we establish that the transactions were done through banking accounts the regulations will empower the freezing of those accounts," he added.
A black market trade in scarce foreign currency has resurfaced. Zimbabwean bond notes, released 10 months ago at a value equal to the US dollar, were said to be trading at 1.60 to the US early this week.
Desperate account holders have to queue for hours at banks to get as little as $20 in bond notes per day. But numerous images have circulated on social media recently showing large wads of notes apparently in the possession of street traders.
Fuel stocks
The foreign currency woes have prompted panic buying of fuel and basic commodities, amid fears the country could see a return to empty shops and dry fuel pumps last seen in 2007-2008.
Energy Minister Samuel Undenge has tried to reassure the public. He told state ZTV on Wednesday that the country has a month's supply of petrol and two months' supply of diesel in stock.
At least $40m is being spent per month to shore up supplies, he added.
News24
By Kuda Chideme
Finance Minister Patrick Chinamasa says government will tighten control over use of social media, which authorities blame for fuelling shortages of basic commodities and bank notes in the country.
The southern African nation, which has been experiencing foreign currency shortages for the past 18 months, saw long winding queues -- reminiscent of the 2008 crisis -- resurfacing at the weekend as people stocked up on food stuffs and service stations across the country ran dry.
On Tuesday, manufacturers of cooking oil warned that they would no longer able to import raw materials as a result of the foreign currency shortages.
Government maintained that the economy is in a sound state and blamed 'faceless saboteurs causing panic on social media.'
In a joint address to the media late Wednesday, Chinamasa, along with Industry and Information ministers Mike Bimha and Chris Mushowe said 'the shortages came as a surprise.'
"It was a bombshell. What happened was not in sync with the prevailing situation in the economy across all sectors ... the developments in the economy are very positive, there is positive growth in the economy... all economic indicators are in the right direction. The trajectory is on a growth path... ," said Chinamasa.
"The cause was social media, which means that it is a security issue. There is a political agenda, a regime change agenda. We are going to seriously look at what happened with a view to take corrective measures in the security arena. We need to understand social media and the forces behind it... ... .they have given us a timely warning about their intentions and clearly we will take the necessary measures to counter those nefarious activities."
In an earlier press conference, Energy Minister Samuel Undenge accused the media of engaging in "unfounded negative publicity meant to discredit government."
"Motorists must not be influenced by negative publicity, mainly through social media, some of which is simply intended to tarnish the image of government," said Undenge.
Undege added that the Reserve Bank of Zimbabwe (RBZ) has increased foreign
currency allocations towards fuel procurement from $5 million per week to $10 million in response to the current shortages.
He said the country was holding more than two months supply of petrol in bond.
analysis
By Sean Gossel, University of Cape Town and Timothy London
Accounting and consulting firm, KPMG South Africa, is reeling after it was exposed to have played a part in the Gupta inspired state capture activity. The fallout has been remarkable. Some major firms have fired KPMG as an auditor and more Johannesburg Stock Exchange listed companies are expected to follow suit.
KPMG offers tax, advisory and auditing services and is one of the Big Four auditors, along with Deloitte, Ernst & Young, and PricewaterhouseCoopers (PwC). Despite their integration into the economy, all four of these audit firms have experienced significant lapses of judgement.
The KPMG case provides a potential example of how shareholders can attack the soft underbelly of the private sector state capture enablers. Globally, the number of shareholder challenges has increased dramatically from 520 episodes in 2013 to 758 in 2016. Around two thirds of these challenges were successful, double the rate of just a decade ago.
South Africa's shareholder activism is following international trends. This is partly function of the fact that that over 50% of the market capitalisation of the Johannesburg Stock Exchange is owned by foreigners.
Shareholder activists are using their powers as company owners to examine company financial reports, monitor executive remuneration, enforce good corporate governance, and push for increased sustainability and transparency.
KPMG has a client base of about 70 listed companies in South Africa. This means that pressure from shareholder activists is likely to pile up. Some companies have already cancelled their use of KPMG services and others have stated that they are reconsidering their relationship. But most of KPMG's clients have either remained silent. Others said they're waiting for the outcome of reviews by the country's regulator, the Board for Auditors, as well as KPMG International.
The directors of companies that have chosen not to take a stand fail to realise one critical thing. In a world of shareholder activism, they may soon face serious questions from their own shareholders about their inaction and ongoing association with KPMG.
Key drivers
A key driver of shareholder activism in South Africa has been the introduction of minorities' rights in the new Companies Act.
Minority shareholders with as little as 10% holdings can call an annual general meeting. This means that it's become easier for shareholders to take legal action against directors and officers, including having directors removed.
The King codes of corporate governance have also played a significant role. They emphasise ethical leadership, sustainability and good corporate citizenship.
The codes have entrenched the idea that boards of directors must act in the best interests of the company and that their responsibilities extend to shareholders and other stakeholders. Companies are expected to establish sound governance structures, create "an ethical culture" and ensure that they're "seen to be a responsible corporate citizen".
A key factor underpinning these governance principles is the creation of more transparency. By putting more information in the hands of shareholders and the public, these measures create greater potential to hold boards to account for behaviour that fails to meet minimum standards.
KPMG's Complicity
Alongside other names such as consultants McKinsey, the IT giant SAP, heavy machinery manufacturer Liebherr, and Shanghai Zhenhua Heavy Industries, KPMG has been implicated in alleged large-scale corruption involving the Gupta family. The firm stands accused of:
allegedly overlooking numerous conflicts of interest while auditing 36 Gupta-linked companies until dumping the Guptas in 2016 bywithdrawing their auditing services. A local auditing firm, SizweNtsalubaGobodo, replaced KPMG but seems to have also felt the pressure and has withdrawn its services.
allegedly providing tax advice to ensure that the public funds extracted from the South African fiscus were placed in Dubai to avoid tax payments. KPMG may have thus also become a possible enabler of illicit capital flows in the process.
compiling a report for South African Revenue Services about an alleged rogue spy unit within the tax authority. The report was used as part of a campaign against former Finance Minister Pravin Gordhan, and other senior government officials. By its own admission, KPMG appears to have ignored both sector-wide best practice as well as its own standards of due diligence.
On a wider scale, KPMG seems to have given little consideration to the risks and damage that its activities would do to South Africa's institutional integrity and governance frameworks.
Pressure has been gathering. Eight senior executives of the South African office, including the CEO, Trevor Hoole, have resigned. The firm has withdrawn all of its findings' recommendations and conclusions contained in the notorious "rogue unit" report. It has also instituted an international review of all work done for the Gupta family.
It's unlikely that these actions will be enough to forestall litigation and possible collapse of KPMG South Africa.
Shareholder Tinderbox
Shareholder activism in South Africa has historically mostly been between institutional investors or individual activists and investee companies. But this may well begin to change. Mounting frustration at the slow pace of investigations into allegations of state capture by state institutions such as the Hawks and National Prosecuting Authority is forcing investors to become more active. Shareholders could start directing their attention to fighting corruption through the private sector.
But are South African shareholders prepared to step up to ensure good governance in the face of governance failures elsewhere in the system? There's a great deal to lose if they don't.
If shareholders don't take a proactive role, South Africa is in far more danger than simply losing its top spot on the World Economic Forum's Global Competitiveness Report for auditing and reporting standards.
Once trust is lost in both the public and private sectors' ability to root out or prevent corruption, the country could see further capital flight, greater tax avoidance, and a more pervasive sense that the rule of law is negotiable.
As revelations of systemic failures in governance pile up, the economy may very well depend on shareholders taking up the burden of providing the necessary levels of accountability. KPMG may be teaching South Africa an important lesson. Shareholders can also be anti-corruption activists. Anyone who is connected to the South African economy, must dearly hope that shareholders are up to the task.
Disclosure statement
Sean Gossel receives funding from the University of Cape Town.
Timothy London works for the Allan Gray Centre for Values Based Leadership which receives funding from the Allan Gray Orbis Foundation. The Centre is a part of the Graduate School of Business at the University of Cape Town.
analysis
By Timothy Walker
Today South Africa celebrates World Maritime Day, with the theme of 'connecting ships, ports and people'. Maritime trade is Africa's lifeblood, and for this day to have meaning for the continent, its people and industry must benefit from the ever-increasing global maritime connectivity and growth.
African Union (AU) policies recognise the need to overcome historical marginalisation and better connect the expected growth of African ships, ports and people. These include the 2050 Africa's Integrated Maritime Strategy (2050 AIM Strategy) and the AU's Agenda 2063. Countries such as South Africa are also introducing a Comprehensive Maritime Transport Policy, and road maps to become well-connected maritime nations.
Present connections have left Africa largely marginalised and dependent, so the continent is missing out on controlling its vital maritime trade. African populations and economies will grow - creating new markets and greater demand for resources, services and development. Better connections are needed as there will be increased numbers of African-built, -crewed, -owned, -flagged and -operated ships, carrying both intra-African and international trade into and out of African ports. These must have positive economic impacts on the port states and surrounding communities.
People are arguably the most important part of the maritime connection
The current picture of African-owned or -operated ships at sea can seem discouraging. The 2050 AIM Strategy says African-owned shipping accounts for only about 1.2% of world shipping and about 0.9% by gross tonnage.
Few African countries operate large shipping registries. So ships carrying trade are often owned elsewhere and African countries, even when their flags are being used, cannot effectively control how they operate. Increasing the number of ships flying your flag is seen as one way of being more in control, but the risk is that some countries operate 'flags of convenience' or open registries. By lowering the regulatory costs associated with flying that flag, these countries offer, for a fee, the use of their flag to shipowners worldwide, providing them with affordable and easy shipping options.
While this means goods and services can be supplied cheaply as there might be fewer costly regulations, ships are often unregulated in environmentally harmful ways or without good regard to crew welfare.
Whatever the flag or nationalities of owners and crew, more ships will struggle to be accommodated in most African ports. Yet African ports are currently handling only 6% of worldwide water-borne cargo traffic and about 3% of global container traffic.
Present maritime connections have left Africa largely marginalised and dependent
Many of Africa's biggest ports were founded or developed by colonial powers, as sites to export slaves and/or natural resources to the rest of the world - they were never intended to support present-day priorities. Many of these ports can't get much bigger as surrounding communities and cities have limited the space to expand, and several have morphed into megacities.
Challenges facing ports are being met mostly through efforts to enhance their management and efficiency. But other more spectacular solutions are also being sought. Megaports can handle the envisioned volumes of trade needed to uplift African populations, but some are being built far from existing transport infrastructure. So the end project may be more oriented towards the efficient export of resources rather than national development plans.
The Port of Lamu in Kenya is an example of such a megaport. Kenya is developing this area to be the centre for the trade of goods from landlocked Horn of Africa countries, especially oil from South Sudan. It also wants to construct a transport corridor that goes through the country to the South Sudan-Ethiopia border. This has had a number of setbacks, such as the deterioration of security in the region, the ongoing conflict in South Sudan and historically low international oil prices affecting potential revenue and benefits.
Ports are needed to increase shipping, but not at the expense of ensuring good inland infrastructure, such as roads and railways that end at port facilities. Better inland and regional connectivity can prevent future ports from being merely nodes for exporting resources in ways that don't benefit surrounding communities.
Maritime policies must prioritise the training and education of more African seafarers
And while ships may increase in number, and port facilities expand, the same isn't happening for African seafarers and maritime professionals such as shipowners and entrepreneurs. People are the third, but arguably most important, part of the maritime connection.
It is ironic that maritime labour shortages are seen as driving the development of remotely piloted, crewless and autonomous ships - especially considering that few people have been enabled to pursue maritime as a livelihood.
Maritime policies must prioritise the training and education of more African seafarers. One way of enabling this is to increase the number of available training berths for cadets. This can occur if a state has more ships flying its flag, but ensuring that these training opportunities are created must be a policy priority.
Gender equality must also be considered, as women make up only a small percentage of seafarer numbers. This needs to change as building good capacity relies on recruiting from the entire population - not half of it.
World Maritime Day is more than a celebration of the maritime networks and connections that we rely on and that bind us together. It represents an opportunity to reflect on how to make these connections better and fairer for Africa.
And as that is the clear destination, it is time to set course and weigh anchor.
Timothy Walker, Researcher, Peace Operations and Peacebuilding Programme, ISS Pretoria
Springbok backline coach Franco Smith believes it's an incorrect perception that the side's back three struggles both defensively and in dealing with the high ball.
It's been well-documented that right wing Raymond Rhule - since dropped from the side - slipped nine tackles in the 57-0 loss to the All Blacks in Albany two weekends ago.
But there has been concern over the ability of Courtnall Skosan in the air, too, and with Australia expected to kick on the Springbok back three in Bloemfontein this weekend, Smith was asked on Tuesday to respond to the criticism that the Bok back three is an area of defensive weakness.
"That's a perception. If you look at the detail, and we work with it every day, then that's a perception that is actually wrong," Smith said.
"If you see how much the ball has been dropped by other teams and our predecessors, you will see that it's not much different to what we've been doing.
"In fact, I think we've been working really hard at it and generally there is a big improvement.
"You can't judge a guy if he drops one ball and points come off it. The other three that he handled well must also be noticed as well."
The Bok back three has been unchanged up until now in 2017 with wings Rhule and Skosan, and fullback Andries Coetzee all making their debuts in the first Test against France back in June.
"What must also be noted is that we still sit with one of the most inexperienced back threes in rugby at this stage on the international scene and we've just got to work through this period," Smith added.
"It's seven games we've been together.
"Coach Allister (Coetzee) decided that for us to be competitive there are certain things that must happen. We were spoilt for selection back then."
Smith was referring to the decision from Coetzee and SA Rugby to back more local players, with the rule that no player who is overseas-based and capped less than 30 times at international level can be selected for the Boks.
"We need more players in every role with enough experience and then we need to have the best guy out there," Smith offered, adding that he wanted the Wallabies to test the Boks aerially.
"We know that if we get that ball in the air, we're going to play rugby. We hope they give us a lot of high balls so we can play off it."
Rhule will almost certainly be replaced by Dillyn Leyds on Saturday, and the hope is that the 25-year-old's experience will see him dominate the aerial battle.
Kick-off on Saturday is at 17:00.
Follow Sport24's @LloydBurnard for live updates from Bloemfontein...
Source: Sport24
The team that wins the Rugby World Cup in Japan in 2019 will have to be clinical when attacking from open play, says Springbok backline coach Franco Smith .
In the past, defence has been seen as critical in winning a World Cup and the scores in the majority of the tournament finals over the years confirm that.
But with the game continuing to evolve, sides are looking to launch attacks from anywhere and everywhere and Smith believes that perfecting the art of attack from open play will be hugely important in 2019.
"I think the team that gels the best at the World Cup in general attack is going to score the tries ... not the best drives or the best lineout," he said from Bloemfontein, where the Boks are preparing for Saturday's Rugby Championship clash against the Wallabies.
"It's going to be who keeps the ball and who gets over the line. To me that is what makes a good team ... when teams start to understand who is going to carry and who is going to pass, how deep we must stand ... there are a lot of factors.
"I believe winning the World Cup in 2019 will be about the team whose general attack is best developed. Because 90 percent of the game consists of general attack from anywhere."
It is a philosophy that the Boks have been looking to implement since the beginning of the year, Smith says.
The emphasis remains ball-in-hand rugby, but Smith knows that it will not happen overnight.
"We will really need to develop as a group in that," he said.
"I know it takes a bit of time, and obviously at Test level we don't have that time, or that luxury. So every moment's training, or even in the games ahead we need to gel together as a team and get our shape as quickly as possible."
Defence, though, would still be key for the Boks in Japan.
"If you look at the scoreboards lately across the world, it looks like scoring tries has become the main emphasis. The rules of the game at this stage lean slightly towards that," Smith said.
"I still believe that the team with the best defence will give himself the chance to win the game, but they will not score tries."
Two weekends ago, the Boks were kept scoreless against the All Blacks in Albany in a performance that did little to suggest they were on the right track attack-wise.
On Saturday against the Wallabies, only tries will do.
Follow Sport24's @LloydBurnard for live updates from Bloemfontein...
Source: Sport24
Passionate about the game, newly appointed Nelson Mandela Bay Stars chief executive Sean Morris will be aiming to add his own brand of expertise as the franchise strive to make an impact on the inaugural T20 Global League.
Initiated this year in South Africa as an answer to the Indian Premier League (IPL) and Australia's Big Bash, the T20 Global League is poised to change the face of the game in the country.
With high quality international representation and leading South African players among the eight franchises, cricket authorities are confident the new competition will capture the fans' imagination.
And Morris, with a rich cricketing background, will be doing his utmost to ensure Nelson Mandela Bay fans are provided with an experience that will transform them into permanent members of the greater Eastern Cape franchise family.
Born in England, the 49-year-old Morris played professionally for Hampshire in domestic cricket, scoring 101 not out when the county played Kepler Wessels' touring South Africans in 1994.
After his retirement from the game in 1997, he became involved in sports marketing, working for the Dunlop-Slazenger cricket brand. He later became chief executive of the Professional Cricket Association in England, followed by a two-year stint as CEO of the Rajasthan Royals in the IPL.
Although he has only visited Port Elizabeth once previously, Morris has a strong connection with South Africa, having played league cricket in Cape Town for five years in the 1990s, soon after the country was invited back into the international fold.
He is now looking forward to ensuring the Nelson Mandela Bay Stars are placed firmly on the map, with a growing excitement about working alongside legends such as ex-Proteas wicketkeeper-batsman Mark Boucher and Zimbabwe fast bowler Heath Streak.
"The thing that particularly attracted me was the appointment as coach of Mark Boucher, whom I know through a number of very close friends," said Morris.
"Working with Mark will be very interesting for me, while Heath Streak is a former team-mate of mine and we worked together only 18 months ago.
"So when you look at the cricket management team, I immediately knew that's grade A - sorted."
Morris said his vision for the franchise was that it was all built around the fan.
"The model is built on the media and sponsorship, but you are only as valuable as your fan base. So, as an investor, your top priority is to grow your fan-base."
He added that the T20 Global League franchise was a huge opportunity for the Nelson Mandela Bay region to promote itself to a massive world audience.
"There is fantastic potential here," said Morris, who jetted into the city over the weekend.
"I guess it's just about the level of confidence. There is a feeling here that we could do something amazing, but are we going to do it?
"It's more than just rocking up for seven games of cricket," he said. "If we get this right, we can get into a position where we can help youngsters, help EP cricket and get the community behind the team.
"We have the potential to do that and we have to find a way of delivering that."
Source: Sport24
Having romped to an impressive K2 title in 2015, Andy Birkett and Greg Louw will return to Cradock for the 2017 Fish River Canoe Marathon eyeing another shot at taking home the title from October 6-7.
The laid back pair of KwaZulu-Natal's Birkett and Cradock's own Louw formed a strong partnership during the 2015 season that saw them race the ICF Canoe Marathon World Championships together and then race at the Fish where they beat the strong K2 duo of Hank McGregor and Jasper Mocké for the title.
Birkett has been in fine form this year winning the Drak Challenge in January, the Dusi Canoe Marathon in February and then grabbing a silver and a bronze at the recent World Marathon Championships in his home town of Pietermaritzburg.
For Louw, who isn't a full-time professional, getting in the training can be difficult however he knows that stretch of river so well that he just makes sure that he is fit enough to compete.
"I am a financial planner these days so I definitely don't have as much time to train as I used to but I try and get in at least one paddle a day," he said.
"Although I don't paddle as much as I would like I still get in some good weekend training sessions which sort of makes up for the lost time.
"Andy (Birkett) is probably one of the fittest people that I know so there is never a doubt that he is going to be in tip-top shape when we get on the water."
The 2015 champions have a strong bond as a combination and their friendship off the water is something that enhances their relationship on the water.
"We have done so much paddling together that we don't really need to do too much preparation.
"It would obviously be better if we could train in the build-up but we live so far away from each other that we will just have to make sure the boat is set up correctly and that not too much has changed in two years!" Louw added.
Having hosted the recent ICF Canoe Marathon World Championships, South Africa has become the preferred post-Worlds holiday destination for a number of the international paddlers, meaning the international entry might be slightly higher.
Louw has seen a number of internationals at the Fish in the past but he believes that this year might be a bit different.
"The international guys in the past have come short quite badly on the Fish due to the big water.
"There are a number of international guys entered for this year's race but the difference is that a number of them have entered with experienced South African paddlers.
"They always posed a threat but I think this year they are going to be a real threat to us!
"With these strong pairs we can normally narrow it down to about ten boats that can dominate the race," a circumspect Louw mentioned.
Despite the fast nature of the race and the pressure on maintaining concentration throughout, Louw does see the importance of making sure you don't empty the tank too early on both days.
"The race at the front is always so quick and close so you have to make sure that you don't make any mistakes because one small mistake can cost you the race.
"With that said, it is equally important that you make sure you conserve yourself because those last ten kilometres can really dish out the hurt if you have gone too hard, too early!" he added.
The 2017 Fish River Canoe Marathon takes place from Grassridge Dam to Cradock Sports Complex on Friday, 6 and Saturday, October 7.
Source: Sport24
28 September 2017

From the section

Europe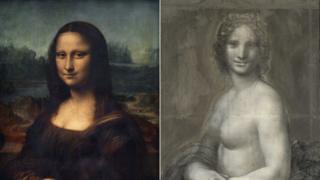 A charcoal drawing housed in another art collection for more than 150 years may have been a sketch for the Mona Lisa, a French art expert says.
The charcoal portrait of a nude woman, known as the Monna Vanna, was previously attributed only to Leonardo da Vinci's studio.
But experts have found enough clues to suggest the artist worked on both.
After tests at the Louvre Museum in Paris, curators believe the sketch is "at least in part" by Leonardo.
It has been held since 1862 in the collection of Renaissance art at the Conde Museum at the Palace of Chantilly, north of the French capital.
Leonardo da Vinci (1452-1519) was one of the great painters of the Italian Renaissance, and his Mona Lisa oil painting (also known as La Gioconda) remains one of the world's most recognisable and valuable works of art.
It is believed to have been a commission from cloth merchant and Florentine official Francesco del Giocondo for a portrait of his wife, Lisa Gherardini.
Hidden portrait 'found under Mona Lisa'
'Earlier Mona Lisa' goes on display
'New' da Vinci sketch valued at $15.8m
Poland buys famed artworks at discount
But was Leonardo right-handed?
"The drawing has a quality in the way the face and hands are rendered that is truly remarkable," curator Mathieu Deldicque told AFP news agency.
"It is not a pale copy. We are looking at something which was worked on in parallel with the Mona Lisa at the end of Leonardo's life.
"It is almost certainly a preparatory work for an oil painting."
Louvre conservation expert Bruno Mottin confirmed it dated from Leonardo's lifetime at the turn of the 15th Century and was of a "very high quality".
The Chantilly Estate posted a photo of the work being done on the sketch.
Among clues proffered by Mr Deldicque:
The hands and body are almost identical
The portraits are almost the same size
Small holes pierced around the figure suggest it may have been used to trace its form on to a canvas
However, Mr Mottin pointed out that hatching on the top of the drawing near the head had been done by a right-handed person while Leonardo drew with his left hand.
"We must remain prudent," he told AFP, as work continued.
"It is job that is going to take some time," he said. "It is a very difficult drawing to work on because it is particularly fragile."
Rohingya crisis: UN chief warns of 'humanitarian nightmare'
28 September 2017

From the section

Asia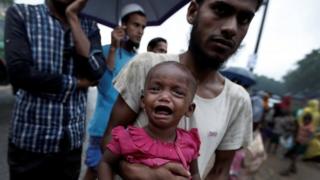 Violence in Myanmar has spiralled into the "the world's fastest-developing refugee emergency" and a "humanitarian nightmare", the UN chief has warned.
Secretary General Antonio Guterres called on Myanmar to end its military operation, which has sparked the exodus of over 500,000 Rohingya since August.
He also demanded "unfettered access" to the region to deliver humanitarian aid.
Earlier, at least 14 Rohingya, all women and children, drowned after their boat capsized off Bangladesh's coast.
Survivors say the boat overturned after apparently hitting a submerged object near the coastal city of Cox's Bazar.
In the past 48 hours, about 2,000 Rohingya have arrived in Bangladesh by boat, fleeing violence in Myanmar's Rakhine state.
In Thursday's briefing to the UN Security Council, Mr Guterres said: "The situation has spiralled into the world's fastest developing refugee emergency, a humanitarian and human rights nightmare."
"We have received bone-chilling accounts from those who fled - mainly women, children and the elderly.
"These testimonials point to excessive violence and serious violations of human rights, including indiscriminate firing of weapons, the use of landmines against civilians and sexual violence."
Mr Guterres also warned that "the failure to address the systematic violence could result in a spill over into central Rakhine where an additional 250,000 Muslims could potentially face displacement".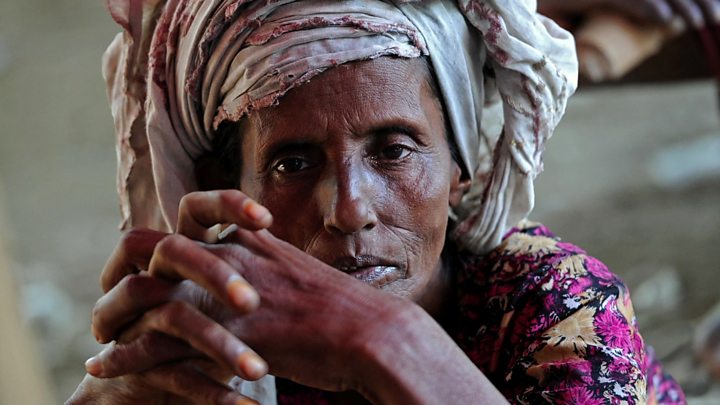 UN aid personnel were forced to leave Rakhine when the military began a crackdown on Rohingya militants behind attacks on security personnel in August.
Fleeing Rohingya - the majority of whom are Muslim - accuse Myanmar's military, backed by Buddhist mobs, of trying to drive them out with a campaign of beatings, killings and village burnings.
Images and reports from journalists confirm many villages have been razed.
But the military say they are targeting only militants.
'New Baghdadi tape' posted by Islamic State group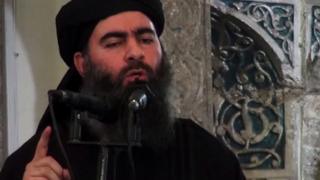 Islamic State militants have released what appears to be an audio recording of their leader, Abu Bakr al-Baghdadi.
A speaker who sounds like the IS leader seems to refer to recent North Korean threats against Japan and the US.
He also talks of battles for IS strongholds like Mosul, which was regained by Iraqi forces in July.
Baghdadi, who has a $25m (£19m) US bounty on his head, has not been seen in public since July 2014, leading to much speculation about his fate.
The last time he appeared was to preach at the Great Mosque of al-Nuri in Mosul after IS overran the city and a "caliphate" was proclaimed.
Asked about the audio, a spokesman for US forces fighting IS, Ryan Dillon, said "without verifiable evidence of his death, we have continued to assume that he is alive".
A defence department spokesman told the BBC: "We are aware of the audio tape purported to be of Abu Bakr Al-Baghdadi and are taking steps to examine it. While we have no reason to doubt its authenticity, we do not have verification at this point."
The militant Sunni Muslim group IS, which earned notoriety for its brutal violence towards civilians and prisoners, has been steadily pushed back in Iraq and Syria this year.
The 46-minute recording was posted by a website with links to the group and is the first such speech to appear since November.
As well as Mosul, the speaker refers to battles in Raqqa and Hama in Syria, and Sirte in Libya, saying the bloodshed would not be in vain. He also talks of Russian-brokered peace talks on Syria. Much of the tape consists of religious references.
Baghdadi may be hiding in territory still controlled by IS along the Iraqi-Syrian border.
Less than a handful people would know his whereabouts, Hassan Hassan of the Tahrir Institute for Middle East Policy wrote in a recent article for BBC News.
That makes it hard for the US, which has dedicated special forces constantly on the look-out for him.
In June, Russia reported that it was "highly likely" Baghdadi had been killed in a Russian air force strike on Raqqa on 28 May, and an Iranian official asserted he was "definitely dead" shortly afterwards.
However, claims of his death had been made before and the reports were treated with scepticism by US officials.
---
Analysis: A morale boost for IS
By Frank Gardner, BBC security correspondent
So the IS leader al-Baghdadi is still alive, or at least it appears he was still alive at least as recently as August.
This concurs with the views of western intelligence agencies and Iraq's government, which were always sceptical of Russian claims to have killed him an air strike.
His apparent survival to date will give some small morale boost to the beleaguered IS fighters still clinging on in Raqqa, but it is unlikely to make any strategic difference.
Like the al-Qaeda leader Dr Ayman al-Zawahiri, the IS leader is so circumscribed by the need to keep his location secret that he communicates rarely, and is unlikely to be in a position to personally direct any ongoing operations - other than to give them his blessing.
Veep star Julia Louis-Dreyfus reveals breast cancer diagnosis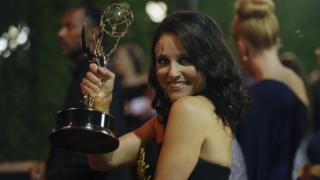 Julia Louis-Dreyfus, the award-winning star of US TV comedy series Veep, has announced she has breast cancer, in a message posted on social media.
"1 in 8 women get breast cancer," she wrote. "Today I'm the one."
"The good news", she added, was she had a "glorious group" of family and friends supporting her and "fantastic" insurance through her union.
The actress, 56, has also featured in Saturday Night Live, The New Adventures of Old Christine and Seinfeld.
Earlier this month, Louis-Dreyfus picked up a record-breaking sixth Emmy Award for Outstanding Lead Actress in a row for her role in HBO series Veep.
In Veep, her character begins as an ineffectual US vice-president whose attempts to expand her role are continually thwarted.
Louis-Dreyfus' announcement was met with an outpouring of support from other actors and celebrities.
Her Veep co-star Tony Hale retweeted the announcement, appending the message: "We love this woman."
Christina Applegate, who had a double mastectomy in 2008 following her own breast cancer diagnosis, told Louis-Dreyfus to contact her if she wanted to talk.
HBO, the network behind Veep, also issued a statement, saying: "We have every confidence she will get through this with her usual tenacity and undaunted spirit, and look forward to her return to health and to HBO for the final season of Veep."
'Universal healthcare'
The US actors' union SAG-AFTRA provides health insurance as a membership benefit, which union members earn credits toward as they work on accredited productions.
"The bad news is that not all women are so lucky," Louis-Dreyfus said in her statement, "so let's fight all cancers and make universal health care a reality".
Her call for universal health care - at a time when US President Donald Trump is pushing through healthcare reforms - is not the first time she has made targeted political comments.
Accepting the award for outstanding performance for a female actor in a comedy series at the SAG Awards earlier this year, she referenced Mr Trump's controversial travel ban, saying: "I am the daughter of an immigrant. My father fled religious persecution in Nazi-occupied France."
"I'm an American patriot, and I love this country... this immigrant ban is a blemish and it's un-American."
---
Breast cancer: The facts
Breast cancer is the most common cancer in women in the world.
The rates of breast cancer vary from country to country - about one in eight women will get breast cancer during their lifetime in the US and the UK.
About 55,000 people are diagnosed with the condition in the UK every year - about 150 people a day. It is far more common among women, affecting just one in every 870 men.
Medical experts recommend women be aware of what their breasts normally look and feel like, so they can be aware of any abnormal changes.
Possible signs of breast cancer include:
Changes in the outline or shape of the breast, especially those caused by arm movements or by lifting the breast
Changes in the look or feel of the skin, such as puckering or dimpling
Any new lumps, thickening or bumpy areas in one breast or armpit, with or without pain, that differs from the same part of the other breast and armpit
Discharge from the nipple (may be bloodstained)
Moist, red areas on the nipple that don't heal easily
Any change in nipple position, such as being pulled in or pointing differently
A rash on or around the nipple
Recovery chances are good if the cancer is discovered in its early stages. Breast screening programmes use a mammogram - a type of X-ray - to sweep for small cancers in their infancy.
Sources: World Health Organization, NHS, Cancer Research UK
---