News
By Alex Monye
Former Super Eagles coach, Christian Chukwu, has stated that the fact France won the Russia 2018 World Cup with more blacks in the team is an indication that Africa has the potential to win the Mundial in the nearest future.
Speaking with The Guardian yesterday, Chukwu noted that the bane of Africa and Nigeria football is over reliance on government for funding of the sport on the continent.
The former Harambee Stars of Kenya manager said that if structures and quality organisation had been put in place for the domestic league and academies in the past, Nigerian football would have been competing with the best nations in the world at the moment.
Chukwu, who wondered why soccer was not taken as a serious business in the country, said that the continuous control of football administration by politicians has demeaned the growth of football in Nigeria.
He, however, advised the warring parties in the Nigeria Football Federation (NFF) to sue for peace, and start building back the growth of the nation's football.
Chukwu also urged stakeholders of the game to fashion out modalities that would eradicate the bad system of football administration in the country and bring out ideas that would help Nigeria catch up with the big nations names in the world of football.
"France parading mostly African players and winning the tournament in Russia is an indication that Africa can win the World Cup.
The problem is that we lack organisation in our entire system of running football in the continent.
"In other climes where things are taken seriously, soccer is taken as big business.
Communities, companies and individuals fund football very well so as to bring out the best in their leagues and academies.
They also use professionals who understand the knowledge of the game."
Chukwu added: "The Nigerian football has been bedevilled by politicians, as funds for the growth of the game is provided by government. Then, how do you think football would grow."
press release
Launched in 2012, the fund I&P Afrique Entrepreneurs 1 (IPAE 1) closed its investment phase in 2017 with two investments in Malian companies, bringing to 29 the total number of African SMEs in portfolio. The publication of the sixth ESG & Impact annual reporting is the opportunity to review the main impacts of the fund and of the portfolio companies, while the successor fund IPAE 2 makes its first investments.
Measuring and maximizing the impacts of a portfolio engaged on social and environmental issues
IPAE 1's portfolio counts 29 companies, characterized by a great diversity of sectors (Agribusiness, Construction, Microfinance, Education, etc.) and a strong presence in Least Developed Countries and fragile countries.
Each year I&P collects around 100 indicators from portfolio companies to measure their impacts in lights of the fund's key objectives: fostering African entrepreneurship, creating decent jobs, providing basic goods and services for local populations and promoting sustainable growth. I&P also gives increasing visibility to gender issues, with the overall objective of fostering female entrepreneurship and promoting gender parity at all levels of the company. (Read more)
I&P's ESG & Impact team also analyses annually companies' progress on key social and environmental issues, including health insurance policy, employee working conditions and carbon footprint reduction.
KEY FIGURES OF THE REPORTING
About 80% of our partner companies are led by Africans
1 company out of 5 is managed by an African woman
More than 4,500 jobs have been created or maintained since 2012 and over 30,000 persons are impacted in the household (average household of 6.5 people according to Global Data Lab)
We observe 41% direct employment growth on average since IPAE's investment
93% of our companies provide health assurance, and 50% of them have implemented or upgraded their system since IPAE's investment
An impact fund dedicated to African SMEs and recently certified B Corp™
2017 was marked by a major event for I&P and all the funds under management: the B Corp™ certification, an independent label gathering mission-driven businesses globally that meet the highest standards of social and environmental performance, transparency and accountability.
"The annual publication of the ESG and Impact Reporting meets this requirement for transparency and accountability, which is absolutely necessary to ensure the credibility of the emerging impact investing market" says Jean-Michel Severino, CEO of Investisseurs & Partenaires. "Ensuring high ESG performance and creating positive social and environmental impacts are not merely an option for us: they are the surest route to high financial performance and are the core of the principles that drive our overall mandate".
ABOUT INVESTISSEURS & PARTENAIRES
Investisseurs & Partenaires is an impact investment group dedicated to African Small and Medium Enterprises. Since its creation in 2002, I&P has invested in more than 80 companies, located in 15 African countries and operating in various sectors of activity (health, transport, microfinance…). These enterprises create local added value and long-term employment, and generate important social, environmental and governance impact.
I&P provides capital, technical and strategic support to meet the growth needs of its portfolio companies. The team develops long term partnerships with entrepreneurs, sharing management expertise and knowledge that is useful for improving business strategy, structuring, and success. I&P manages four pan-African funds – IPDEV 1, IPDEV 2, IPAE 1 and IPAE 2, which represent a total of €125 million – and sponsors five African impact funds – Comoé Capital (Côte d'Ivoire), Miarakap (Madagascar), Sinergi Burkina, Sinergi Niger and Teranga Capital (Senegal).
Created by Patrice Hoppenot in 2002 and headed by Jean-Michel Severino since 2011, the I&P team comprises about forty collaborators in Paris and in its seven African offices in Burkina Faso, Cameroon, Côte d'Ivoire, Ghana, Madagascar, Niger and Senegal.
To read more on our activities, please find us on www.ietp.com
Contacts
Emilie Debled – PR and Business Development Director
+33 (0)1 58 18 57 11 – This email address is being protected from spambots. You need JavaScript enabled to view it.
Elodie Nocquet –ESG & Impact Director
+33 (0)1 58 18 57 16 – This email address is being protected from spambots. You need JavaScript enabled to view it.
By Eldon Opiyo
An open access database on education research conducted by Africa-based researchers has been launched to raise the visibility and impact of such research.
The database, which has about 2,000 education research including theses and working papers on 49 African countries, resulted from the collaboration between the Research for Equitable Access and Learning (REAL) Centre at the UK-based University of Cambridge and the Education Sub-Saharan Africa , a charity with a mission to transform educational outcomes on the continent.
The database is searchable by country, research methods and keywords such as access to education, early childhood education, higher education, school feeding and literacy.
"There are some existing inventories and databases for specific contexts but no central location to access [education] publications by African-based researchers, which has contributed to a lack of visibility and use of this research," says Rafael Mitchel, a researcher at the REAL Centre. "We hope that the database will facilitate greater use of research written by those in African universities and research institutions to ensure it is drawn upon and cited, and to be used to influence policy and practice. "This should also help to ensure that research by African-based researchers is taken into account in global debates. There is a lot of important work done by researchers in the region that is currently overlooked and undervalued."
Wisdom Harrison K. Hordzi, the Ghana coordinator of the Educational Research Network for West and Central Africa, agrees and tells SciDev.Net, "The database will help researchers and others to know what education research has already been conducted on Sub-Saharan Africa and identify gaps for more research."
Hordzi adds that the database could make people appreciate the contribution of African education researchers.
"People think that education researchers in Africa are not doing anything. The database will help others know that at least we are doing something," explains Hordzi, a senior lecturer at the Ghana-based University of Education, Winneba.
According to Mitchel, it will help researchers and others to identify where future research is likely to be most urgent.
"Our preliminary analysis indicates that a large amount of research is on higher education, around 30 per cent of the publications. Yet, in Sub-Saharan Africa, less than one per cent of the poorest reach higher education," she says.
Only around three per cent is on early childhood education, which suggests that limited evidence is available that can inform policymakers on how to address disadvantage in education from the early years, Mitchel explains.
The database was launched last month (15 June) at an event hosted by the French Development Agency in France.
The creation of the database started in May 2017. The first phase was completed by May 2018, with the launch of the database the following month but the process is ongoing as more research can and will be integrated, according to Mitchel.
It is being funded by ESSA - Education Sub Saharan Africa. To finance the two research positions at the REAL Centre, University of Cambridge, ESSA has raised funds from individual donors. The Jacobs Foundation, Zurich also joined this endeavour as a partner, providing funding for the second year of mapping project.
Mitchel tells SciDev.Net that the database - the first of its kind in Africa - could provide greater opportunities for research funding in areas of priority to Africa researchers and research funders. Beatrice Muganda, director, higher education programme at the Kenya-based Partnership for African Social and Governance Research, says there is a dearth of literature on Africa written by Africans on issues affecting them.
"Scholars, researchers and students are persistently searching for relevant case studies and empirical evidence that speaks adequately to the local context," Muganda tells SciDev.Net. "Any effort made to address this gap is laudable."
But Muganda says that although the database could help researchers, open access repositories are hardly the right platforms for helping policymakers to access research.
She calls on researchers to make education research findings accessible to policymakers through active outreach initiatives.
This piece was produced by SciDev.Net's Sub-Saharan Africa English desk.
opinion
By Topher Hegngi
France's World Cup 2018 winning team featured no less than 15 players with African roots.
Moscow, Russia - Luzhniki Stadium: With a 4-2 win on Sunday, July 15th, France stepped over Croatia onto the podium for their 2nd ever World Cup title. The historical win marks their first major tournament win since 2000 when they won the European Championship, just two years after their legendary and inaugural World Cup win in 1998. And just like in '98, France's current batch of champions features a generous amount of immigrants. That first wave of the Golden Age graced the world with multinational French talents such as Marcel Desailly, Patrick Viera, and even Zinedine Zidane. For France, '98 marked an unveiling of sorts of a talent pool so rich that for the tournament, then coach Aime Jacquet only selected three Parisians in his World Cup roster. The previous '84 Euro-winning team had just one. The youth of Africa had created a new formula for the French.
Where was this infamous talent pool located? You'd have to go back to the late 1940s-50s when France was rebuilding the country after the destruction of WWII. By 1965, almost 3 million of France's population were immigrants. By 1975, after a second wave of immigrants came to France from West Africa and the Caribbean, due to an economic shift and a country-wide labour shortage, 35% of France's immigrants were African. These immigrants would often relocate on the outskirts of major cities such as Paris, Lyon, and Marseille, and in recent decades, these cities have become home to the children and grandchildren of these African immigrants. These cities are separated from Paris only by a single highway that circles around the city like a cage.
Thierry Henry, a youth product of Clairefontaine thrived in World Cup '98 for France...
Timing, they say, is everything, but rarely a coincidence. During this same period of time, France were experiencing by far their least successful era in international football. Through 1960-1975, their men's national team failed to qualify for two separate World Cup tournaments and a European Championship. In 1975, with the "How the f!@# do we get better?!" question creating pressure amidst the FFF (French Football Federation), then president Fernand Sastre created Clairefontaine, an academy for the country's youth elite. At the time, Clairefontaine was regarded as arguably the finest footballing academy on the globe, as it produced some of the most gifted French players of the budding French Golden Age like Thierry Henry, Nicolas Anelka, and William Gallas. The rest is, what you call, history.
Today, France's championship-winning World Cup team featured 15 players African roots, including the young man of the hour Kylian Mbappe, who was born to a Cameroonian father and an Algerian mother. Defender Samuel Umtiti was born in Yaoundé, Cameroon, before emigrating with his family when he was two years old. Fellow defenseman Adil Rami, was born in Corsica to Moroccan parents and is the only player in the squad with North African descent. Midfield general N'Golo Kanté is also of Malian heritage. It has been wonderful for the world to get to see the entire team of heroes as well as their African sports icons embraced for bringing honor to the nation they have chosen to represent.
Mbappe finished the tournament with 4 goals and World Cup's best young player honors.
During the 2010 World Cup, the team encountered many discipline issues. Instead of an investigation into the dysfunction that had led to such a situation, the criticism was focused on questioning the players' loyalty to their country since they had roots abroad.
I hope that this national pride continues. It was not too long ago, when in 2011, the French Football Federation and then France manager, Laurent Blanc, faced accusations that they had secretly discussed limiting the number of places for players from ethnic minorities at their headquarters in Clairefontaine that would have seen players as young as 12 passed over in order to make room for their white counterparts." In 2000, a poll indicated that around 36 percent of the French population thought that there were "too many players of foreign origin in the French football team." Though the newfound celebration of their multi-racial national team is a positive, it is even more essential that this respect extends to the non-sports playing immigrants in the country who are still dealing with racial and ethnic discriminations based on the color of their skin or the countries they may be migrating from.
Steven Nzonzi, a French midfielder for Sevilla, is born to a Congolese father.
A fan of the game myself, it has been rather enjoyable to watch the world celebrate the Boys from the Banlieue. Like you, I have read the articles, Facebook posts, and Twitter comments celebrating the French team as the last standing African team in the tournament. As a Cameroonian, these statements have been relatable. A lot of us share a sense of pride when we see moments of African excellence such as this. And while I congratulate France for adding a second World Cup star to their jersey, this is not a hate piece against the country, but rather a challenge to the African football federations. While even the harshest critic would admit that luck was not on the side of the five African nations representing the continent in the 2018 World Cup, the reality has still been a bitter pill to swallow for most. Out of these countries, none made it past the group stage of the tournament. This marks the first time since 1982 where an African team hasn't progressed to the Round of 16 in World Cup competition. AFCON 2019 will represent a chance for the continent to celebrate its culture, and the teams, especially the ones who missed out on Russia, an opportunity at redemption. The question that will be looming over many heads at CAF and the Ghana's, Nigeria's, and Cameroon's of the world is how can we not only retain but continue to improve the youth talent pool in our African countries?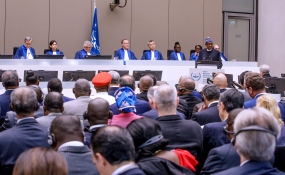 Photo: MBuhari/Twitter
President Muhammadu Buhari is the only President invited to grace the 20th anniversary of the adoption of the ICC Rome Statute.
By Johnbosco Agbakwuru
President Muhammadu Buhari has solicited the intervention of the International Criminal Court, ICC, to press it upon member countries not to obstruct the repatriation of illicit funds warehoused in their countries.
President Buhari who made the appeal on Tuesday while delivering a keynote address at the solemn hearing to commemorate the 20th anniversary of the Rome Statute of the ICC, in The Hague, Netherland also assured the international community of a free, fair and peaceful 2019 elections in the country.
According to him, "A strong and effective ICC can also act as a catalyst for other justice efforts, expanding the reach of accountability. These could include serious cases of corruption by state actors that severely compromise the development efforts of countries and throw citizens into greater poverty.
"These could also include cases of illicit financial flows where countries are complicit and obstruct repatriation of stolen assets. As the African Union Champion on Anti-corruption, these are issues dear to my heart."
While congratulating his countryman, the President of ICC, Judge Chile Eboe-Osuji and the judges of the court, he called on the States Parties to support ICC, with jurisdiction over serious cases of corruption and illicit financial flows by state actors.
He said, "As we know, the International Criminal Court was established twenty years ago as a global court, inspired by the Nuremberg trials of World War II war criminals, to hold people accountable for crimes against humanity, war crimes, crimes of genocide and aggression.
"In addition to preventing impunity, promoting adherence and respect for the rule of law and fundamental freedoms worldwide and to punishing those in leadership positions responsible for the most appalling crimes and atrocities, the ICC has given hope for justice to so many, by demanding strict adherence to the rules of international humanitarian law.
More on This
"With the alarming proliferation of the most serious crimes around the world, the ICC, and all that it stands for, is now needed more than ever, in ways that were unforeseeable to its founders. The ICC may have been created at a time of optimism that it would not need to be utilized frequently, but, unfortunately, the increase in international crimes has only increased the Court's relevance.
"Indeed, while limits on the ICC's jurisdiction mean that it cannot presently act with regard to some of the dire crises of the day in states that are not parties, by acting where it can, the ICC reinforces the demand for justice far beyond its own cases.
"A strong and effective ICC has the potential to send a powerful message about the international community's commitment to accountability, a message that will be heard by both victims and perpetrators. Equally, a strong and effective ICC demonstrates the international community's commitment to the rule of law.
"The Rome Statute created more than a court; it created the outline for a system of justice for horrific crimes rooted first in national courts doing their job, and where they fail to do so, the ICC stepping in only as "the court of the last resort"
"The ICC also needs increased cooperation and financial resources from its member states. State parties should express their commitment to increasing efforts in these areas, including pledging concrete assistance.
"The twenty years of the Court's existence have witnessed several challenges, some of which had threatened the very existence of the Court itself. Most notable were the withdrawals and threats of withdrawals of membership of the Court by some States, as well as accusations of bias in the exercise of the jurisdiction of the Court. Thankfully, the Court has addressed these challenges in a dignified and commendable way.
"Nonetheless, the Court needs to take on board all constructive criticisms and allay lingering fears and concern through targeted messaging, awareness raising and possible modification of some legal provisions. If properly articulated, communication and awareness raising would surely engender trust and encourage greater cooperation of Member States with the Court and even encourage non - Member States to decide to become Members. It must avoid even a hint of bias or political motivations.
"The goals and responsibilities of the Court are no doubt very challenging and daunting but with the cooperation of all, coupled with the high calibre of Judges and staff of the Court, the challenges are not insurmountable. I, therefore, urge all States not to politicize the decisions of the Court but to always bear in mind the rationale for the establishment of the Court in the first place.
"I urge all States that have not yet done so to, as a matter of deliberate State policy, accede to the Rome Statute of the International Criminal Court so that it can become a universal treaty.
"Nigeria has cooperated with, and supported the Court at all times. This, we have demonstrated by our full and transparent cooperation on matters on which we are being investigated and also in our several Country statements at the sessions of the Court. Our cooperation with the Court is borne out of our strong belief in the respect for the rule of law and human rights, and in our firm commitment to the sanctity of fundamental freedoms at international and domestic levels, as ingrained in the objectives for establishing the Court.
"Let me intimate you that Nigeria is preparing to conduct general elections in 2019. Contrary to the tragic incidents that characterized the 2011 general elections in Nigeria which necessitated preliminary investigations by the International Criminal Court, I assure you that all hands are on deck to prevent any recurrence of such tragic incidents. We shall do everything possible to ensure that Nigeria witnesses the conduct of free, fair and peaceful elections in 2019.
Photo: Ashraf Hendricks/GroundUp
Activists erected a shack at the official residence of Western Cape Premier Helen Zille in the early hours of the morning on Mandela Day.
By Ashraf Hendricks
At 3:30am on Wednesday morning, about 15 protesters built a shack outside Leeuwenhof, the official residence of the Premier of the Western Cape Helen Zille.
The activists arrived with building materials in a bakkie and within ten minutes a shack with two portable toilets was erected.
Mihlali Xalisile of the Housing Assembly Youth Collective said that because it was Mandela Day "we thought we should come and donate this shack to Helen Zille and a portable toilet".
Activist Monwabisi Dasi said they'd appreciate it if Helen Zille would spend her 67 minutes for Mandela Day "inside of it [the shack] using the same services we have to use everyday".
"We are sick and tired of living in these shacks," said Xalisile.
"This has been the experience of our parents and grandparents, dying in overcrowded backyards and informal settlements," read a media statement from the collective.
In a statement the youth collective demanded decent jobs and houses for all including those over the age of 18. In order to apply for an RDP house one has to be over the age of 21 and a South African citizen.
The protesters left at 6am, leaving the shack on the side of the street as a "gift" for the Premier.
The premier had not commented on the protest by the time of publication. She released a statement that she would be spending Mandela Day by taking part "in the annual LEAP Science & Maths Schools Mandela Day programme".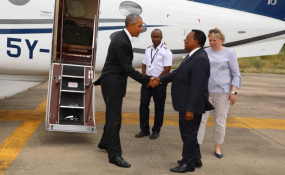 Photo: https://twitter.com/Mercy_Simba/media
Former US President Barack Obama shakes hands with Tanzania Foreign Minister Augustine Mahiga at the Kilimanjaro International Airport on Sunday, July 15, 2018.
Dar es Salaam — The coming of prominent leaders like former US President Barrack Obama and the President of the Switzerland, Mr Alain Berset, is a blessing to Tanzania's tourism, the country's chief tourism promoter has said.
The Tanzania Tourism Board (TTB) said yesterday that the coming of the two leaders had seen Tanzania shining prominently on the global tourism map, saying there was a need to publicise the trips further.
Mr Obama left Tanzania for Kenya on Sunday, July 15, after having spent several days in the Serengeti National Park. Mr Berset arrived in Tanzania on July 10, 2018 and is scheduled to leave after 15 days.
TTB managing director Devota Mdachi told journalists that in Dar es Salaam yesterday that world prominent people did not want their private visits to Tanzania's tourist attractions to be publicised and their requests were honoured by the government and the TTB.
"Tourists now know that Tanzania is not only safe, but that it has great tourist attractions, something they cannot find anywhere else on this planet," she said.
She was responding to a question by journalists who wanted to know why the arrival and the 8-day stay of President Obama in Serengeti National Park were kept a secret. "That was the family's request. We respect the wish of such personalities. We did not publicise the visit of the President of the Switzerland, Mr Alain Berset because that, too, was a private family visit to our attractions," she said.
The DG named other prominent world figures who had visited Tanzania's attractions as world-class footballer David Beckham, American film actor Will Smith and their families. "These personalities come here to rest and do not want their enjoyment and rest encroached upon --- and we ensure strictly that."
Ms Mdachi gave illustrative comparative figures to show the increasing number of tourist arrivals from the US and Switzerland.
opinion
By Bruce Whitehouse
It is hard to see how anything good, or different, will come from Mali's election on 29 July.
News from Mali just keeps getting worse.
More than five years after French soldiers ousted jihadi fighters from northern Mali and nominally restored central government sovereignty there, the country has grown ever more unsafe and fractious. The peace accord, signed amid great fanfare in 2015, has yet to be meaningfully implemented. A tally of incidents since 2015, recorded by Malilink, shows an alarming rise in violent acts and deaths by national and foreign militaries, jihadi groups, secular militias and criminals.
Most disturbing are recent ethnically-motivated killings carried out by Malian troops and "self-defence militias" in the Mopti region, which is at growing risk of "mass atrocities" according to the US Holocaust Memorial's early warning project.
In light of these unprecedented threats to Mali's security and integrity, the stakes would appear to be high for the country's presidential election, the first round of which is scheduled for 29 July. Here are three predictions.
1) Voter turnout will be dismal
Low voter participation would conform to precedent, with Malians consistently being West Africa's least likely voters since the 1990s. I have argued elsewhere that Mali's weak electoral participation is a clear sign of democratic distress. Turnout for presidential elections across West Africa averages 62%, but is only at 37% in Mali, where it peaked at 45% in 2013. The ongoing spike in violence will likely mean 2018's turnout is below that level, especially in the centre and north.
Then there's the problem of Mali's darkening public mood. The latest Afrobarometer survey, conducted in February 2017, shows Malians increasingly dissatisfied with their government. Most respondents expressed little faith in the state's capacity to reduce criminality, manage the economy, create jobs, or fight corruption. Nearly half feared becoming the victims of political intimidation or electoral violence.
Although most Malians continue to see democracy as the best form of government, most also view their own government as a poor democratic example. This was true prior to the events of 2012 and is even more so today.
2) The incumbent will win
With no sitting president ever having lost an election in Mali, President Ibrahim Boubacar Keita ("IBK") will almost certainly be elected to a second five-year term. While widely disliked, he enjoys the advantages of incumbency - such as control of state media, access to funds, and patronage networks - while low voter turnout will work in his favour.
Although he inspires little public confidence, it is doubtful that someone else in the field of two dozen candidates will prove any more inspiring. IBK's established rivals - such as Soumaïla Cissé, Dramane Dembélé, and Cheick Modibo Diarra - all ran against him in 2013 and lost. The remainder are outsiders or unknowns.
A recent profile in a French magazine dubs IBK Mali's "do-nothing king", a bright but vain figure who sleeps in late, keeps dubious company, and makes fine speeches while assiduously avoiding decisive action. He is portrayed as aloof from his government's corruption and administrative paralysis, to say nothing of the spiralling violence in the country's north and centre. Without French troops propping things up, an adviser to Mali's constitutional court warns the author that "everything will fall apart within two weeks".
Yet IBK keeps fiddling away like Nero as Rome burns around him. He might even garner a majority of first-round votes, thus rendering a run-off unnecessary.
3) It won't matter anyway
With so many grave dangers facing the Malian nation, how could anyone say the election won't matter? Well, prediction three is a corollary of the first two. Malians are increasingly alienated from the political elite, which has stubbornly resisted reform efforts since the country's political crisis began in 2012. The most crucial questions - such as how to curb violence, reimagine the state, and foster national reconciliation - aren't up for real discussion and IBK has shown zero interest in putting them on his agenda. As a unnamed Burkinabè presidential adviser put it a French diplomat in 2012: "Mali can collapse, and as long as Bamako remains, they will all squabble over scraps of power in Bamako."
Mali's present situation offers little cause for optimism and some analysts openly question its long-term viability. "There might not be any realistic scenario under which Malians could have a state that universally delivers basic public services and organizes collective action," wrote Catriona Craven-Matthews and Pierre Englebert earlier this year. "A condition of permanent receivership with internationally provided life support might be Mali's most likely foreseeable scenario." In 2013, this would have seen like unwarranted pessimism; these days, it's hard to be too cynical about the postcolonial Malian state.
It would be wonderful if none of these predictions - not to mention the "permanent receivership" scenario described above - came true. In the months before Mali's previous presidential election in 2013, dedicated civil society activists tried to make voting count for something and many believed that Malian leaders, having peered into the abyss, might be more accountable to the public and rescue the country from impending doom.
Today's outlook is quite different. As a recent editorial in Bamako's Le Républicain opined: "2018 is nothing like 2013, when no candidate needed 20 artistes [pop singers], the involvement of state services like the CMDT [state cotton company] and the mobilization of all the country's regions to fill a Bamako stadium. In short, the five-year term that's ending has been a missed opportunity for the people; let's hope that 2018 doesn't produce a definitive rupture."
This feeling is understandable. But then again, with the political status quo offering only public alienation, corruption, state dysfunction, and violence, a definitive rupture might not be so bad.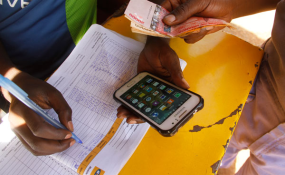 Photo: Daily Monitor
ICT and National Guidance Minister Frank Tumwebaze told a press briefing in Kampala on Tuesday that the decision meant that Uganda's drive towards achieving a cashless economy remained on track.
By Dicta Asiimwe
President Yoweri Museveni's government has agreed to drop three of four levies it had imposed on mobile money transactions -- depositing, sending, receiving and withdrawing cash.
Uganda's Cabinet, despite having been previously divided on the charges, on Monday agreed to remove some of the fees and revised the 1 per cent tax on withdrawals to 0.5 per cent.
The government has however retained the daily Ush200 ($0.05) Over The Top tax on social media services.
"Cabinet sitting on Monday approved the amendment of the Excise Duty Act, 2015 and directed the Minister of Finance, Planning and Economic Development in consultation with the Attorney General to prepare an Excise Duty (Amendment) Bill, 2018 to be laid before Parliament on Thursday July 19, 2018.
"The amendment includes the reduction of the tax payable on the value of mobile money transactions from 1 per cent to 0.5 per cent on withdrawals only," the ICT and National Guidance Minister Frank Tumwebaze told a press briefing in Kampala on Tuesday.
He said the decision meant that Uganda's drive towards achieving a cashless economy remains on track.
"If I send mobile money and transact digitally to pay utility bills, school fees or use my e-wallet to pay for any other service, there will be no tax," he said.
The mobile money and social media taxes, which came to effect on July 1 as the government seeks to widen its tax base, elicited a public outrage.
By Nume Ekeghe
The President of Dangote Group, Alhaji Aliko Dangote has retained his position as the Africa's richest man with a $12.4 billion networth.
Also, listed by Forbes is the Chairman of Conoil and Globacom, Chief Mike Adenuga, whose networth is $4.4 billion.
These figures were released on Forbes website yesterday.
The report showed that despite losing $1.7 billion in few months, Dangote has remained a strong brand, retaining his position as Africa's richest man.
Adenuga was also said to have lost $1.1 billion within the period.
According to Forbes, the founder of Amazon.com Inc, Mr.Jeff Bezos is the richest man in modern history.
Bezos's fortunes jumped from $112billion in March this year to $151.4 billion as at yesterday.
The Amazon.com Inc. founder's net worth cracked $150 billion in New York on Monday, according to the Bloomberg Billionaires Index.
That's about $55 billion more than Microsoft Corp. co-founder, Bill Gates, the world's second-richest person.
Bezos, 54, also has topped Gates in inflation-adjusted terms.
The $100 billion mark that Gates hit briefly in 1999 at the height of the dot-com boom would be worth about $149 billion in today.
That makes the Amazon chief executive officer richer than anyone else on earth since at least 1982, when Forbes published its inaugural wealth ranking.
Bezos crossed the threshold as Amazon was preparing to kick off its 36-hour summer sales event, Prime Day, which got off to a rocky start as glitches struck the firm's website and mobile app.
Shares of the company, which had climbed to a record $1,841.95 earlier Monday, pared gains on the news, closing up 0.5 per cent at $1,822.49.
Bezos's stay above $150 billion may be short-lived.
By Abbas Jimoh
The Environmental Rights Action/Friends of the Earth Nigeria (ERA/FoEN) has berated the federal government's plan to resume oil exploration in Ogoniland even when the cleanup of the Ogoni environment is yet to take off as recommended by the United Nations Environment Programme (UNEP) and accepted by the Federal Governemnt.
The spokesman of the organisation, Mr. Philip Jakpor, said in a statement on Tuesday that their position was due to reports that Ogoni elders petitioned the Vice President Yemi Osinbajo earlier this month, alleging that the delay in commencement of the Ogoni clean-up was because the Petroleum Minister was tying the clean-up process to resumption of oil exploration in Ogoniland.
According to him, the petition was said to have been signed by Rivers State Senator, Bennett Birabi, Dr. Desmond Nbete, Mr. Ledum Mitee, Mr. Baritor L. Kpagih, Prof. Johnson Nna, Chief Monday Abueh and five others.
He said that in the letter, the petitioners expressed concern that "two years after the much publicised flag-off ceremony for the clean-up of Ogoniland as recommended by the UNEP by the Vice President, the Minister of State for Petroleum Resources is now tying the expected commencement of the clean-up and remediation process to resumption of oil and gas activities in our land by his preferred company.'
Jakpor said the news is not surprising, as it had over the course of the last three years alerted that the cleanup process was mired in needless controversy and lack of clarity.
He also quoted the Executive Director of ERA/FoEN, Godwin Uyi Ojo as saying that: "It is very disturbing that the quest to shore up oil revenue has taken front seat in the Ogoni cleanup exercise while the cleanup proper which will restore the dignity of the people is now subject to needless back and forth."
Ojo said ERA/FoEN is in solidarity with the Ogoni people and Gbo Kabaari Ogoni that the clean-up of their violated environment should not be tied to resumption of oil exploration, even as he added that, "the Ogoni people are getting frustrated at the government's perceived lack of sincerity with the UNEP-recommended exercise"
"Resumption of oil exploration is a distraction and secondary for now because the critical cleanup has taken the backseat. What the Ogoni people require and demand as a right is the immediate commencement of the cleanup," Ojo said.
By Timileyin Omilana
The Nigerian government will unveil the name and logo of the new national airline on Wednesday.
The unveiling will be done at Farnborough Air Show in London.
The conference is the meeting place for aircraft manufacturers, engine manufacturers, aircraft leasing companies, aviation consultants and marketers.
The Minister of State for Aviation, Sen. Hadi Sirika said he would explore every opportunity available at the air show to attract more prospective investors into the Nigerian aviation environment.
Sirika explained that the show would provide an opportunity to establish a Maintenance Repair and Overhaul (MRO) facility in Nigeria, the concession of some airports in the country and other components of the Aviation Roadmap of the Nigerian government.
The Minister also added that by December 19, the first five aircraft of the airline would be delivered.
The minister had earlier tweeted: "Negotiating Aircraft orders with Airbus at Farnborough ahead of National Carrier unveiling on Wednesday.
By Sheefeni Nikodemus
Brave Warriors head coach Ricardo Mannetti admitted on Tuesday that he was feeling the heat as he announced preparatory plans for September's 2019 Africa Cup of Nations crunch qualifier against Zambia.
Following a dismal Cosafa Cup campaign in June, which included a 4-1 walloping by host South Africa in the semis of the Plate section, and having lost the opening Group K qualifier 1-0 to Guinea Bissau last year, Mannetti said he is under pressure to qualify the team to next year's Afcon finals.
On Tuesday he assembled a squad of 29 home-based players to begin preparing for the "colossal do or die" qualifier at home to the Chipolopolo on 8 September.
With Namibia's top-flight league only set for resumption in late September, Mannetti again had to find means to ensure that his Warriors are fit to face the 2012 Afcon winners, whose season runs from February to November.
Last year, Namibia qualified for the 2018 African Nations Championships (Chan) in similar circumstances when the Namibia Premier League was dormant for nearly two years, and Mannetti will hope for another backs-against-the-wall effort from his charges to secure passage to a third appearance at the continental showpiece.
"Cosafa definitely showed us that Zambia is not an easy opponent, and we need to make sure we beat them here at home. This means we have to train hard to match the opponent. We will go very hard. We will have a six-week programme that is complex," Mannetti explained.
Despite naming six under-23 prospects in the training squad, the gaffer said he will lean towards the old guard when he makes the final 23-man selection, which will include several foreign-based professionals.
The six youngsters who shone on a recent tour of China are included for the experience, which the returning quartet of Muna Katupose, Petrus Shitembi, Hendrik Somaeb and Larry Horaeb have in abundance.
"We are not going to experiment much. That is why I have decided to go for the tried and tested, players who know how to qualify, and who equal my mentality. Any coach in such a situation will do so," said the 43-year-old Cosafa Cup-winning coach, who is in the last period of a three-year contract that stipulates qualification for 2019 Afcon as the primary objective.
Mannetti singled out Katupose's return as crucial, having missed out on Chan in January through injury after his goals ensured qualification for that tournament. The veteran striker is also revered for scoring the goal that secured Namibia's place at Afcon 2008.
"Muna is a pressure player. He has been there and done that. So, why would I not want such a character in the team? We are under pressure, so players who can handle such pressure are the ones who can get us to qualify for Afcon," explained Mannetti. Namibia and Zambia have already met twice this year. The first encounter ended in a 1-1 draw at Chan in a dead-rubber group match with both sides already through to the quarter-finals in Morocco. Zambia won the second showdown, edging their neighbours 4-3 in a penalty shoot after their Cosafa Cup quarter-final ended goalless.
Vengeance and redemption will be the motivating factor for the Brave Warriors at Sam Nujoma Stadium in Windhoek when they meet again.
"This game, after the Chan, is most probably our biggest because we lost our first match against Guinea Bissau. We all know what my contract says. Reaching the 2019 Afcon is my mandate. It's the last tick. We won the Cosafa Cup, Cosafa Plate, and went to Chan, so this for us is a must-win game if we are going to realise that tick," Mannetti continued.
The final squad, including foreign-based reinforcements, will be named about two weeks before the match..
The training squad comprises Edward Maova (Civics), Abel Paulus (Life Fighters, u23), Ratanda Mbazuvara (African Stars), Donovan Kanjaa (Young African), Ferdinand Karongee (Tigers), Tusha Erasmus Ikeinge (Khomas Nampol), Larry Horaeb (unattached), Edmund Kambanda (Unam) and Emilio Martin (Black Africa).
Also in are Petrus Kamati (Pescanova, u23), Vitapi Ngaruka (Black Africa), Lubeni Haukongo (Eleven Arrows, u23), Ikuaterua Hoveka (Young African), Immanuel Heita (Black Africa), Dynamo Fredericks (Black Africa), Hiha Katjivena (Tura Magic, u23), Gustav Isaak (Tigers) and Aprosius Petrus (Eleven Arrows, u23).
Ronald Ketjijere (African Stars), Benyamen Nenkavu (Tigers), Petrus Shitembi (Tura Magic), Absalom Iimbondi (Tigers), Marcell Papama (Unam), Itamunua Keimuine (Tura Magic), Panduleni Nekundi (African Stars), Hendrick Somaeb (Unattached), Pinehas Willem (Eleven Arrows), Muna Katupose (Unam), Mcartney Nawaseb (Black Africa, u23) complete the training squad.
By Grace Chingoma
CAPS United have been linked with former Kaizer Chiefs forward Mitchel Katsvairo and ex-Dynamos striker Takunda Sadiki.
Katsvairo is looking for a club to revive his career while Sadiki was at Mutare City during the first half of the season. The duo are training with the Green Machine.
"The coach hasn't said anything regarding the two. Katsvairo started training today and Sadiki has been training but nothing has been said from the technical team," club chief executive, Cuthbert Chitima, told The Herald.
"We wait for recommendations, if there are any that will come, from the technical team." CAPS United face champions FC Platinum at Mandava this weekend.
Chitembwe says he is unfazed his troops haven't scored a goal in 180 minutes. The former champions appear to have lost some of their rhythm since the resumption of the league having stumbled in goalless draws against Harare City and Bulawayo Chiefs.
They last posted a victory in Gweru on June 18, beating Chapungu 2-0 at Ascot. This weekend, the Green Machine have a tricky date against champions FC Platinum at Mandava.
CAPS United have only lost once at Mandava against the champions after they crashed to a 1-2 defeat in 2014.
Last year, the two teams settled for a 1-1 draw. "As a coach you are not a statistician, but a coach. We want to score and at some point we will score, we know what's lying ahead of us," said Chitembwe.
The Harare giants have since parted ways with midfielder Oscar Machapa, goalkeeper Munyaradzi Diya and truant midfielder Denver Mukamba.
Fixtures
Saturday: Harare City v Chapungu (Rufaro, 3pm, ZTV), Bulawayo Chiefs v Bulawayo City (Luveve), FC Platinum v CAPS United (Mandava), Black Rhinos v Yadah (National Sports Stadium), Nichrut v Shabanie (Ascot).
Sunday: Dynamos v Ngezi Platinum (Rufaro, 3pm, ZTV), Herentals v ZPC Kariba (National Sports Stadium), Triangle v Highlanders (Gibbo), Mutare City Rovers v Chicken Inn (Vengere).
By Petros Kausiyo
Dynamos have ended weeks of speculation and named long-serving benefactor Solomon Sanyamandwe as their new club president.
The Glamour Boys have been without a president since Kenny Mubaiwa quit in a huff on June 7.
Sanyamandwe had resigned from his post as Dynamos vice-president at the start of the year citing some frustrations.
It emerged that after a series of meetings during which the board considered a number of names that had been eyeing the president's post, the Dynamos founding fathers decided to settle for Sanyamandwe.
Dynamos board chairman Bernard Marriot told The Herald yesterday that Sanyamandwe would now work with the recently-appointed new executive at the club and would, crucially, also be an ex-officio member of the board of directors.
He will now combine efforts with the executive chaired by banker Isiah Mupfurutsa in trying to restore some glamour at the former champions.
"At the end of June we sat as a board and considered the need to find a new president. We met again on Sunday to finalise the matter and we considered Solomon's contributions to the club and felt that he can take the club to dizzy heights," said Marriot.
"We had a number of people who were eyeing the post of president but as a board we settled for Solomon.
We also resolved that from now on the president will be an ex-officio member of the board and he will be the link between the executive and the board.
"This will help end some of the blame games that have happened in the past between the board and the executive.
"The board has also been doing a lot of consultations and considerations on strategies to strengthen the Dynamos brand and we will soon announce some sub-committees and personnel who will help us in that endeavour.
"On the supporters side we resolved to have some order and we have Benjamin Munzira heading the national supporters body that is tasked with mobilising all the chapters across the country".
Marriot said his board had also since formally written to their former president Mubaiwa and paid tribute to his service to the club, noting that Dynamos had won four successive league championships under his leadership.
"I must also say the board wrote to Mr Mubaiwa on 13 June to thank him for the invaluable services he rendered to the club since 2002 up to this year.
"The board also took note of the fact that he invested a lot of personal resources into the club's campaign, which campaign saw the club winning four league championships," Marriot said.
Sanyamandwe, whose romance with Dynamos has been spread over two decades, said yesterday he was honoured at being tasked to lead the country's biggest club. "I am humbled by this appointment and I would like to pledge to work hard together with the executive team to restore the Dynamos glory.
"We might not win the league title this year but we would want to use the remainder of this season to lay a firm groundwork to win the 2019 championship and we are aware that we have to plan for that now.
"We believe that Dynamos should be a vehicle through our sponsors NetOne must also be visible.
"It is also our belief collectively as the aboard and the executive that Dynamos should not only lead the log standings but should play a leading role in helping to chart a new direction our football should take."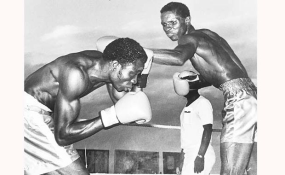 Photo: The Herald
Legendary Zimbabwean boxer Langton 'Schoolboy' Tinago (right) prepares to fire a big right onto the head of Nigeria's Safin Oke Badan during their showdown in 1981.
Zimbabwe's sporting fraternity was plunged into mourning yesterday following the death of boxing icon Langton "Schoolboy" Tinago.
Tinago, a three-time Commonwealth champion and acknowledged as the greatest boxer to come out of this country, died yesterday in Gweru at the age of 69.
The legendary boxer died at Gweru Provincial Hospital in the early hours of yesterday after having been taken ill on Sunday evening.
He was suspected to have suffered from pneumonia.
He is survived by his wife, seven children and several grandchildren.
Mourners are gathered at his mother's residence at No. 42 Nkenyani Road, Mambo, Gweru.
Burial arrangements for the boxer who got his name into the Guinness Book of Records are yet to be advised, but indications are that he will be buried in Gweru and not his rural home in Shurugwi.
Family spokesperson, Wellington Pombi, who is his brother, broke the sad news.
"He was taken to hospital on Sunday evening and passed away this morning (yesterday) at the General Hospital," he said.
"It is a shock to the family and his death is a great loss to the whole family, we looked up to him a lot.
"Burial arrangements are yet to be announced. I have talked to the Minister of Sports (Kazembe Kazembe), (Midlands) Minister of State (Owen Ncube), the boxing fraternity, among many other stakeholders and they are saying they want to take part in his burial.
"Remember he is an icon, a national hero and as a family we will give the nation the opportunity to mourn their hero.
"I have received a number of phone calls and it sounds like a lot of people are really concerned and are mourning with us.
"As a family we will be very happy if he is accorded a send-off that is worth his heroic status of being the only sportsperson to achieve the biggest number of accolades at his time.
"His death has really affected our mother, who is 86, if you remember our mum used to be with him wherever he was fighting."
Kazembe said the local sports fraternity had lost a pillar.
"It is a sad loss to Zimbabwe and Africa as a whole to lose a sportsperson of his stature, we needed people like him to help in the resuscitation of sport in the country," said Kazembe.
"Zimbabwe is pushing to get back into the Commonwealth and these are the people we were looking up to, especially his success in the sports fraternity.
"It is unfortunate we have lost him and he will be greatly missed. May his soul rest in peace."
Tinago died a very bitter man after spirited calls for Zimbabweans to help him eke out a living did not get the desired response.
In April this year, the boxer appeared to foretell his death.
"I know Zimbabweans are fond of passing glowing eulogies when someone dies yet they would have never bothered to check on him or her during the days when that person needed them the most," he told The Herald.
Zimbabwe National Boxing Control Board chairman Richard Hondo said the country has lost one of its greatest sports personalities.
"Langton is the greatest boxer to ever emerge from Zimbabwe. I am speaking from my heart when I say Tinago is the greatest boxer to ever come from Zimbabwe since regulated boxing started in Zimbabwe in 1956.
"Since that time, up to now, he has been the greatest one.
"The reason I am saying this is, if we start with the local scene Tinago was the dual national champion at lightweight and welterweight.
"He retired unbeaten on the local scene, that's how much he dominated the local scene," said Hondo.
Some of the boxers he used to battle out against include Joao Mapepa, Jack Schoolboy, John Fighter and Safui Oke-Badan.
The Gweru-based boxer was then under the stable of one of the best boxing trainers in Zimbabwe -- Dave Wellings.
Tinago's first Commonwealth title came soon after independence when he won the lightweight title after beating Nigeria's Hogan Jimoh in his backyard in Lagos.
"Soon after Independence he travelled to Nigeria to challenge for the Commonwealth title which was then held by Jimoh in Lagos and to beat the Nigerian at home was unthinkable those days.
"For Tinago, the downside was that they made him sign a contract which meant Jimoh had to be the first one Tinago had to defend the title first and he had to go back to Nigeria.
"This time it was even earlier, I think he stopped him in five or six rounds.
"He then met an Australian called Graeme Brooke, this fight took place at Granada Studios in Manchester, UK and I personally attended that one because I was away from work on a sabbatical.
"That was second time he became champion in the lightweight against Brooke, then he lost to a British boxer -- Mo Hussain -- six months later," Hondo said.
Tinago went on to fight in super featherweight division against Safui Oke-Badan and won the title to become three-time Commonwealth champion, with two titles coming from the lightweight division.
Boxing Board member Patrick Mkondiwa, who worked with Tinago, said he was a disciplined and humble person.
"Langton Tinago was a very humble person, down to earth, he was a legend in boxing, but he would ask for advice, especially from us administrators.
"He would call if there was something he was working on.
"He is one of the guys who pushed Gweru City Council to get a boxing licence and we used to have some tournaments there. Of course they were few, but he pushed for it, he did his part.
"It's a sad loss considering this guy has a record that is not yet broken at Commonwealth.
"He is someone who was nurturing other upcoming boxers. When you are talking of discipline he was the best," said Mkondiwa.
Hong Kong National Party: Move to ban pro-independence group 'concerns' UK
These are external links and will open in a new window

Copy this link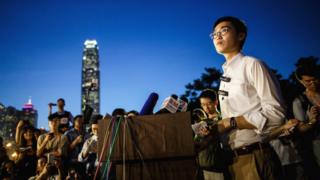 The UK has said it is "concerned" after police in Hong Kong requested a ban on a small political party that campaigns for the territory's independence.
Officials in Hong Kong say a request to outlaw the Hong Kong National Party is being considered on security grounds.
The UK, which handed sovereignty over Hong Kong to China in 1997, says it does not support its independence, but that its freedoms must be respected.
Residents of Hong Kong fear Beijing wants to water down its special status.
Under the so-called "one country, two systems" formula, Hong Kong enjoys a high degree of autonomy and certain rights and freedoms not available in mainland China.
It is the first time that the territory has considered banning a political party since it was returned to China.
in a statement on Tuesday.
It said that individuals' rights to stand for election, free speech and freedom of association "are enshrined in the Basic Law of the Hong Kong Special Administrative Region and the Hong Kong Bill of Rights".
"Hong Kong's high degree of autonomy, and its rights and freedoms, are central to its way of life, and it is important they are fully respected," the statement added.
Hong Kong's Secretary for Security, John Lee, earlier said that a police request to ban the Hong Kong National Party was being considered on grounds that the group could pose a threat to national security.
"In Hong Kong we have freedom of association, but that right is not without restriction," he told reporters on Tuesday.
Mr Lee, who did not elaborate on the details of the proposed ban, said that the party's leader, Andy Chan, had been given 21 days to make a case against the police request.
He added that if it is banned, people who attend meetings or contribute funds to the group will face fines and up to two years in prison.
Meanwhile, high-profile democracy activist Joshua Wong accused the government of following "Beijing's hardline path" and trying to break up any group advocating a high degree of autonomy for the city.
In February, of the 2014 pro-democracy "Umbrella" protests over charges of unlawful assembly.
Trump Putin: US president defends meeting and press conference
These are external links and will open in a new window

Copy this link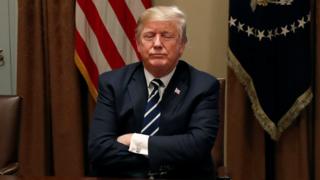 US President Donald Trump has defended his meeting with Russian President Vladimir Putin, amid a backlash over his performance.
On Twitter, Mr Trump condemned "haters" who did not want him getting along with Mr Putin, saying they suffered from "Trump Derangement Syndrome".
Mr Trump said he misspoke at the press conference with Mr Putin.
He had sided with Mr Putin over his own intelligence services on claims of Russian election meddling.
That had sparked outrage from both sides of the political divide.
Posting on Twitter, Mr Trump said people "who wanted to see a boxing match" were bothered by his rapport with Mr Putin.
"They would rather go to war than see this!" he wrote.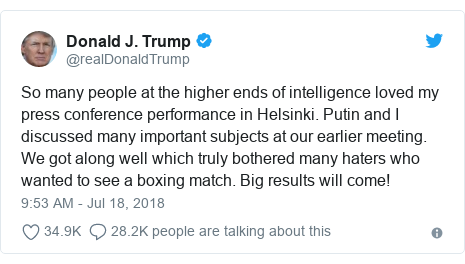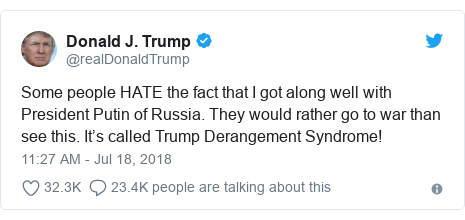 The tweets came a day after Mr Trump said he had missed out a word when appearing to support Mr Putin's claim that there was no Russian involvement in the 2016 US presidential election.
President Trump said he accepted his intelligence services' assessment that Russia had interfered.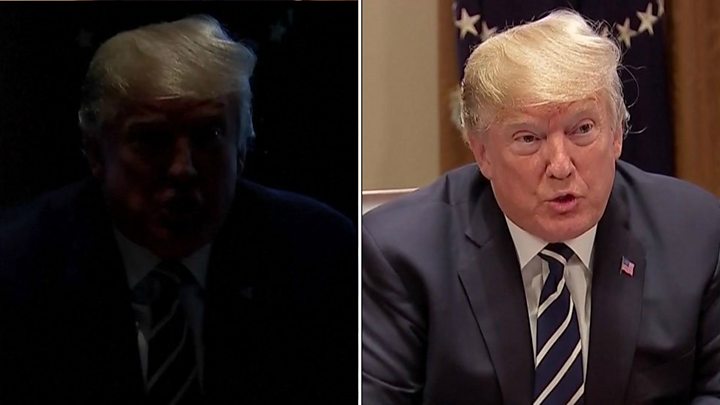 ---
Damage done
Analysis by the BBC's Anthony Zurcher in Washington
Does Donald Trump believe in ominous metaphors? As he affirmed his support for US intelligence agencies, the lights went to black in the White House conference room.
Once order was restored, he said he had been in the dark as to why a storm had swirled around his presidency since his Helsinki summit with Vladimir Putin. It was, he said, because he had misspoken.
That is going to be hard for many of the president's critics to swallow, however. Even if he did mean to say, "I don't see a reason why it wouldn't be Russia", it is a pretty weak way to confront the head of a nation accused of targeting the heart of American democracy.
What is more, the context of the president's comments make a simple slip of the tongue seem less likely.
At the very least, the president gave his supporters some material to rally around.
The damage, however, has been done. Mr Trump can give as many White House statements as he likes, but on the biggest stage - standing beside the Russian president - he fumbled. All the explanations cannot change that.
---
What Trump said then...
The controversy centres on a response he gave to a question at a news conference on Monday following the summit with Mr Putin.
This is an extract from .
REPORTER: President Putin denied having anything to do with the election interference in 2016. Every US intelligence agency has concluded that Russia did. My first question for you, sir, is, who do you believe?
TRUMP: My people came to me... they said they think it's Russia. I have President Putin; he just said it's not Russia. I will say this: I don't see any reason why it would be.
.... what he says now
Mr Trump said he had reviewed the transcript and realised he needed to clarify.
"In a key sentence in my remarks, I said the word 'would' instead of 'wouldn't," he said.
"The sentence should have been: 'I don't see any reason why I wouldn't' or 'why it wouldn't be Russia'. Sort of a double negative."
The US president added: "I accept our intelligence community's conclusion that Russia's meddling in the 2016 election took place. Could be other people also. A lot of people out there."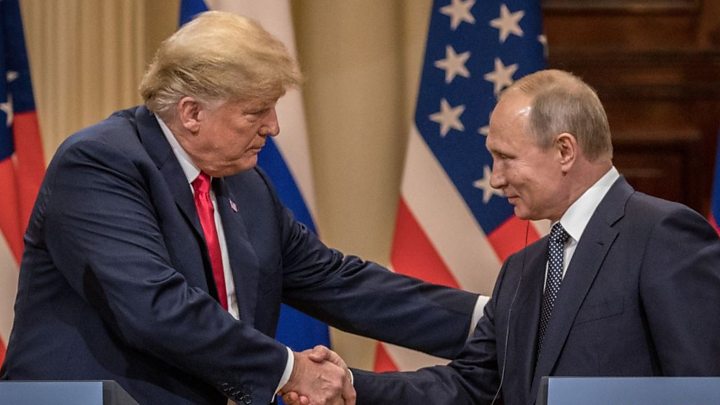 Mr Trump said that the interference had had no impact on the election, in which he defeated Hillary Clinton.
However, he did not respond when reporters asked him if he would condemn Mr Putin.
During the press conference with President Putin - in the same answer as the transcript above - Mr Trump went on to say: "President Putin was extremely strong and powerful in his denial today. And what he did is an incredible offer; he offered to have the people working on the case come and work with their investigators with respect to the 12 people. I think that's an incredible offer."
In another tweet on Wednesday, , adding that "the process is moving along".
"There is no rush, the sanctions remain! Big benefits and exciting future for North Korea at end of process!" the president wrote.
He said that his meeting with Mr Putin was "positive" and "may prove to be, in the long run... an even greater success".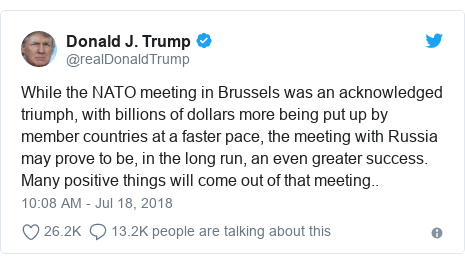 How great has been the outrage?
Chuck Schumer, leader of the opposition Democrats in the Senate, said Mr Trump's retraction of his previous comments was a sign of weakness.
"He made a horrible statement, tried to back off, but couldn't even bring himself to back off," he told the Senate. "It shows the weakness of President Trump that he is afraid to confront Mr Putin directly."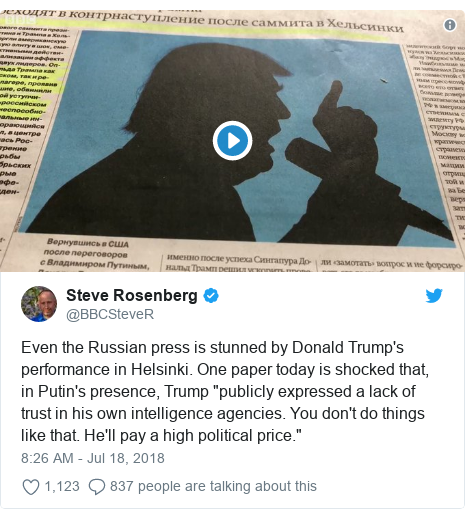 Republicans and Democrats alike were dumbfounded that Mr Trump had sided with Russia over his own intelligence officials after Monday's summit.
The US and Russia have been long-term adversaries and remain far apart on major issues. Some lawmakers were also upset that Mr Trump had refused to offer specific criticisms of Russia and Mr Putin, instead saying both countries were responsible for poor relations.
Even one of his most loyal Republican supporters, Newt Gingrich, said the comments were the "most serious mistake of his presidency".
House Republican Mike Turner accused Mr Trump of having damaged American foreign policy by failing to take Russia to task.
"He's given them a pass and is certainly not holding them accountable for what they're doing," he added.
Google hit with €4.3bn Android fine from EU
These are external links and will open in a new window

Copy this link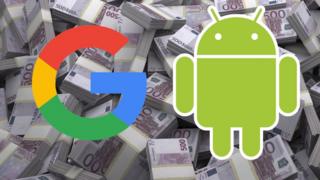 Google has been fined a record €4.34bn ($5bn; £3.9bn) over Android.
The European Commission said the firm to illegally "cement its dominant position" in search.
The firm's parent Alphabet has been given 90 days to change its business practices or face further penalties of up to 5% of its average global daily turnover.
It has said it plans to appeal.
However, it could easily afford the fine if required - its cash reserves .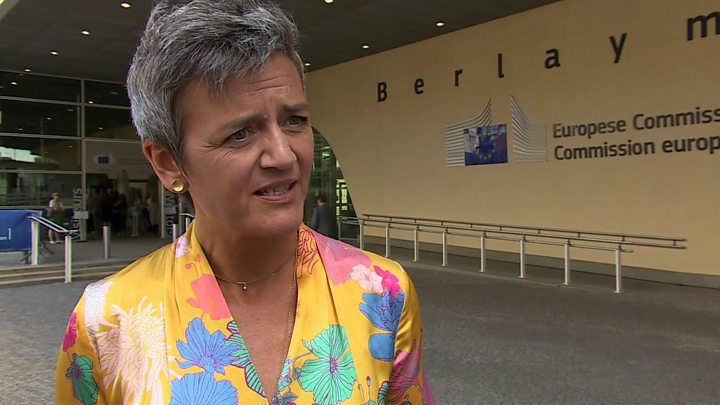 At a press conference in Brussels, Competition Commissioner Margrethe Vestager said consumers needed choice.
And she suggested the ruling could lead manufacturers to sell smart devices using different versions of the Android operating system to Google's, such as Amazon's Fire OS, which she said they had been prevented from doing.
"This will change the market place," she said.
Google's chief executive Sundar Pichai has blogged in response.
"Rapid innovation, wide choice, and falling prices are classic hallmarks of robust competition and Android has enabled all of them," .
"Today's decision rejects the business model that supports Android, which has created more choice for everyone, not less."
Ms Vestager previously fined Google €2.4bn ($2.8bn; £2.1bn) over a separate probe into its shopping comparison service - against.
In addition, her team has a third investigation underway into Google's advert-placing business AdSense.
What is the case against Google?
Ms Vestager alleges that there are three ways that Google has acted illegally:
it required Android handset and tablet manufacturers to pre-install the Google Search app and its own web browser Chrome as a condition for allowing them to offer access to its Play app store
it made payments to large manufacturers and mobile network operators that agreed to exclusively pre-install the Google Search app on their devices
it prevented manufacturers from selling any smart devices powered by alternative "forked" versions of Android by threatening to refuse them permission to pre-install its apps
Ms Vestager acknowledged that Google's version of Android does not prevent device owners downloading alternative web browsers or using other search engines.
But she said that only 1% of users downloaded a competing search app, and 10% a different browser.
"Once you have it, it is working, very few are curious enough to look for another search app or browser," she said.
What does the regulator want Google to do now?
The Competition Commissioner said that Google carried out its abuse at a time when the mobile internet was growing quickly, helping it ensure that its advertising-supported search service repeated the success it had already found on desktop computers.
She cannot turn the clock back, but said the size of the fine had been based on the firm's search-related earnings from Android devices in Europe since 2011.
She has, however, said the firm must now stop all of the practices outlined above and refrain from any measures with a similar goal.
Russia may give one example of how this could be achieved.
After similar complaints by the country's regulator, Google now offers Android users a choice between Google, Yandex and Mail.ru as the default search engine the first time they use the Chrome browser.
Yandex in particular has benefited from this.
Since the change in June 2017, the Moscow-based firm has seen its share of mobile search rise from about 34% to 46%, .
What has the reaction been?
The European Commission first began scrutinising , after a complaint by Fairsearch - a trade group that originally included Microsoft, Nokia and Oracle among its members.
It claims the case has dragged on for so long because Google had used "every trick in its book to delay action".
But the group welcomed the commissioner's intervention.
"This is an important step in disciplining Google's abusive behaviour in relation to Android", said spokesman Thomas Vinje.
"It means that Google should cease its anti-competitive practices regarding smartphones, but also in other areas - smart TVs in particular - where it is foreclosing competition by using the same practices."
A trade body representing mobile operators has also greeted the development.
"This will enable consumers to benefit from a greater choice of mobile services, and allow more players to innovate and offer new services in the market," said the GSMA's chief regulatory officer John Giusti.
How has the EU punished others?
The European Commission had the power to fine Google up to 10% of its annual revenue. , that would have amounted to $11.1bn (£8.5bn).
The €4.3bn figure is, however, a record-sized sum for the commission.
Earlier punishments include:
fines totalling €3.8bn against several truck-makers accused of price collusion, which were imposed in July 2016 and September 2017
the €2.24bn fine against Google for promoting its own shopping comparison service at the top of its search results, which was announced in June 2017
two fines totalling €1.46bn against Microsoft related to the bundling of its Explorer browser with Windows, and failing to keep a pledge to provide users with a choice of other browsers. The two penalties were announced in February 2008 and March 2013
a €1.35bn collective fine against several car glass producers, which had been accused of illegally sharing commercially sensitive information. This was made in November 2008
a €1.06bn fine against Intel, which was accused of offering discounts to computer-makers that avoided rivals' computer chips. It was announced in May 2009
a €997m fine against Qualcomm, which was penalised over claims it had paid Apple to use its chips. This was announced in January 2018
Analysis: Rory Cellan-Jones, Technology correspondent
Depending on your point of view, Margarethe Vestager is either the only global regulator really standing up to arrogant American tech giants - or a busybody trying to hobble innovative businesses because Europe can't build its own.
But today's ruling shows the gulf that has opened up between US and European competition policies.
In the States the focus is on real and obvious harm to consumers in the form of higher prices or less choice. They also seem more sympathetic to the tech giants' argument that they can be easily toppled from their perches by feisty start-ups.
European regulators tend to take a wider view of markets, worrying about a "winner takes it all" world, where a few mighty platforms appear to offer consumers a shiny world of free or very cheap goodies, but in reality are devoted to crushing any competition.
This culture clash isn't going to fade away any time soon.
Cheered on by many who are concerned about Silicon Valley's dominance, Ms Vestager will not abandon her mission to tame the tech giants - and the likes of Google, Apple and Amazon will fiercely resist any regulation that they see as a threat to their lucrative business models.
Spain's new submarine 'too big for its dock'
These are external links and will open in a new window

Copy this link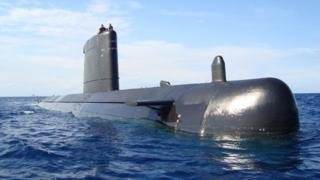 An attempt to deploy a new submarine for Spain's navy has run aground again, after it emerged it cannot fit in its dock, Spanish media report.
The S-80 boat was redesigned at great expense after an earlier mistake meant it had problems floating, and it was lengthened to correct the issue.
that after the changes, the docks at Cartagena can no longer fit the vessel.
The cost for each has almost doubled, the newspaper said.
It estimated that the cost of each S-80 "Plus" submarine would now be close to €1bn (£900m).
The original problem with the submarine dates back to 2013, when it was discovered that it was about 100 tons heavier than it needed to be.
That caused a problem for its buoyancy - so it could submerge, but might not come back up again.
A former Spanish official told the Associated Press at the time that someone had put a decimal point in the wrong place, and "nobody paid attention to review the calculations".
That mistake cost a reported €14m while engineers and consultants figured out that buoyancy could be improved by lengthening the boat.
The original design from state-owned defence company Navantia was for a 71m, 2,200-ton displacement vessel.
Now, the S-80 Plus is an 81m, 3,000-ton boat.
As a result, the base at Cartagena will have to be dredged and reshaped to accommodate the now-floating longer vessel, the El País report said.
Spain's Defence Minister Margarita Robles, speaking on Spanish radio, admitted that "there have been deficiencies in the project".
She insisted that "they are already corrected and that the project is absolutely viable".