News
Jewish communities in Germany are observing Yom Kippur, nearly a year since the attack on a synagogue in Halle. The attack came as no surprise to Germany's Jews. What has changed since then?
Around 90 participants attended the mixed martial arts (MMA) event, which was banned last year for having far-right ties. The fights were set to be held at a motorcycle club in Saxony-Anhalt.
The holiest day in the Jewish calendar is being held under the second nationwide COVID-19 lockdown. The country is recording more than 7,000 new cases a day, raising fears its hospitals could be overwhelmed.
Police have detained four men who are suspected of taking part in an armed hijacking of a helicopter in Belgium. The men reportedly attempted to break out a female inmate from a prison near Brussels.
[Zimbabwe Standard] Losing Zanu PF Gweru Urban candidate and President Emmerson Mnangagwa's nephew, Esau Natare, is fretting over allegations that he is leaking classified secret information to the Nelson Chamisa-led MDC Alliance.
[Zimbabwe Standard] Opposition leader Nelson Chamisa yesterday vowed his party will not surrender the MDC Alliance name to the rival MDC-T led by Thokozani Khupe
[Algerie Presse Service] The constitutional revision, which will be submitted to a popular referendum on 01 November 2020, marks a "qualitative leap" in human rights and makes the "new Algeria" slogan claimed by the popular movement (Hirak) "a constitutionalized reality," affirmed Saturday Chairman of the National Human Rights Council (CNDH) Bouzid Lazhari.
[DW] Prime Minister Komi Selom Klassou and his government have quit in a political reshuffle delayed by the coronavirus pandemic. The country's president, who won re-election in February, is set to appoint a new PM shortly.
[IPS] Mexico City -- The economic recovery after the covid-19 pandemic, renewable energy, the gas situation, regulations and investment; mobility and transport, as well as new technologies and the progress of the Paris Agreement will be discussed at the Madrid Energy Conference from 28 September to 2 October.
[Thomson Reuters Foundation] With climate-smart investments outperforming their rivals, now's the time for companies to step up María Mendiluce is CEO of the We Mean Business coalition.
[Thomson Reuters Foundation] Progress on making the internet accessible has been far too slow, with just over half the world connected today
[Africa Renewal] -- says World Bank Vice President
Days after securing the Super Cup, Bayern Munich were run out of Sinsheim, suffering their first loss of December 2019. With fixtures galore in the coming weeks, the treble winners showed they may struggle to keep up.
The second weekend of the 2020-21 Bundesliga season delivered plenty of drama. Schalke fired their coach and both Bayern Munich and Borussia Dortmund suffered surprising defeats. DW rounds up all the action.
[Zimbabwe Standard] WARRIORS captain Knowledge Musona will have a point to prove after being included in the KAS Eupen side to face his parent club Anderlecht today in a Belgian Pro League match that is set to bring back bitter memories of his difficult spell at the Brussels club.
[Nation] With the race in Geneva down to the wire, Kenya's athletics legends have drummed up support for Sports Cabinet Secretary Amina Mohamed's bid for the World Trade Organisation (WTO) director-general's position.
28 September 2017

From the section

Europe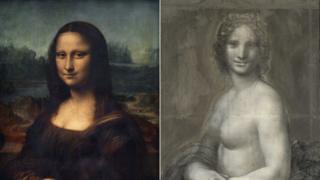 A charcoal drawing housed in another art collection for more than 150 years may have been a sketch for the Mona Lisa, a French art expert says.
The charcoal portrait of a nude woman, known as the Monna Vanna, was previously attributed only to Leonardo da Vinci's studio.
But experts have found enough clues to suggest the artist worked on both.
After tests at the Louvre Museum in Paris, curators believe the sketch is "at least in part" by Leonardo.
It has been held since 1862 in the collection of Renaissance art at the Conde Museum at the Palace of Chantilly, north of the French capital.
Leonardo da Vinci (1452-1519) was one of the great painters of the Italian Renaissance, and his Mona Lisa oil painting (also known as La Gioconda) remains one of the world's most recognisable and valuable works of art.
It is believed to have been a commission from cloth merchant and Florentine official Francesco del Giocondo for a portrait of his wife, Lisa Gherardini.
Hidden portrait 'found under Mona Lisa'
'Earlier Mona Lisa' goes on display
'New' da Vinci sketch valued at $15.8m
Poland buys famed artworks at discount
But was Leonardo right-handed?
"The drawing has a quality in the way the face and hands are rendered that is truly remarkable," curator Mathieu Deldicque told AFP news agency.
"It is not a pale copy. We are looking at something which was worked on in parallel with the Mona Lisa at the end of Leonardo's life.
"It is almost certainly a preparatory work for an oil painting."
Louvre conservation expert Bruno Mottin confirmed it dated from Leonardo's lifetime at the turn of the 15th Century and was of a "very high quality".
The Chantilly Estate posted a photo of the work being done on the sketch.
Among clues proffered by Mr Deldicque:
The hands and body are almost identical
The portraits are almost the same size
Small holes pierced around the figure suggest it may have been used to trace its form on to a canvas
However, Mr Mottin pointed out that hatching on the top of the drawing near the head had been done by a right-handed person while Leonardo drew with his left hand.
"We must remain prudent," he told AFP, as work continued.
"It is job that is going to take some time," he said. "It is a very difficult drawing to work on because it is particularly fragile."
Rohingya crisis: UN chief warns of 'humanitarian nightmare'
28 September 2017

From the section

Asia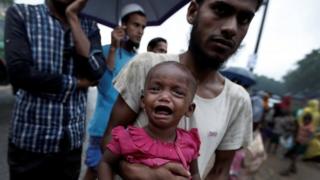 Violence in Myanmar has spiralled into the "the world's fastest-developing refugee emergency" and a "humanitarian nightmare", the UN chief has warned.
Secretary General Antonio Guterres called on Myanmar to end its military operation, which has sparked the exodus of over 500,000 Rohingya since August.
He also demanded "unfettered access" to the region to deliver humanitarian aid.
Earlier, at least 14 Rohingya, all women and children, drowned after their boat capsized off Bangladesh's coast.
Survivors say the boat overturned after apparently hitting a submerged object near the coastal city of Cox's Bazar.
In the past 48 hours, about 2,000 Rohingya have arrived in Bangladesh by boat, fleeing violence in Myanmar's Rakhine state.
In Thursday's briefing to the UN Security Council, Mr Guterres said: "The situation has spiralled into the world's fastest developing refugee emergency, a humanitarian and human rights nightmare."
"We have received bone-chilling accounts from those who fled - mainly women, children and the elderly.
"These testimonials point to excessive violence and serious violations of human rights, including indiscriminate firing of weapons, the use of landmines against civilians and sexual violence."
Mr Guterres also warned that "the failure to address the systematic violence could result in a spill over into central Rakhine where an additional 250,000 Muslims could potentially face displacement".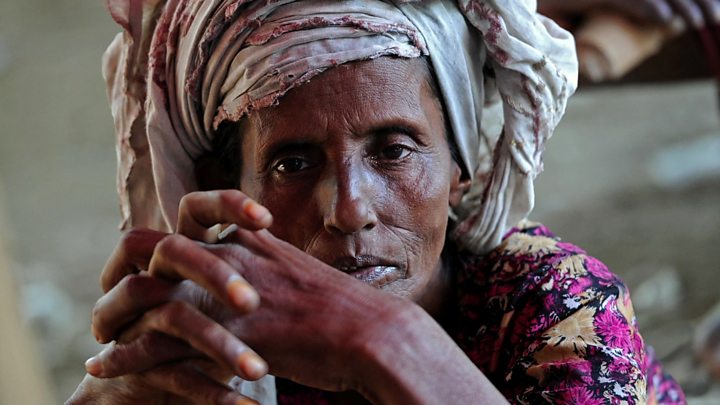 UN aid personnel were forced to leave Rakhine when the military began a crackdown on Rohingya militants behind attacks on security personnel in August.
Fleeing Rohingya - the majority of whom are Muslim - accuse Myanmar's military, backed by Buddhist mobs, of trying to drive them out with a campaign of beatings, killings and village burnings.
Images and reports from journalists confirm many villages have been razed.
But the military say they are targeting only militants.
'New Baghdadi tape' posted by Islamic State group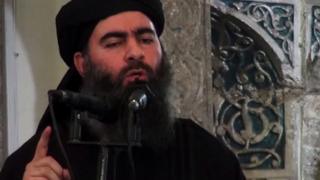 Islamic State militants have released what appears to be an audio recording of their leader, Abu Bakr al-Baghdadi.
A speaker who sounds like the IS leader seems to refer to recent North Korean threats against Japan and the US.
He also talks of battles for IS strongholds like Mosul, which was regained by Iraqi forces in July.
Baghdadi, who has a $25m (£19m) US bounty on his head, has not been seen in public since July 2014, leading to much speculation about his fate.
The last time he appeared was to preach at the Great Mosque of al-Nuri in Mosul after IS overran the city and a "caliphate" was proclaimed.
Asked about the audio, a spokesman for US forces fighting IS, Ryan Dillon, said "without verifiable evidence of his death, we have continued to assume that he is alive".
A defence department spokesman told the BBC: "We are aware of the audio tape purported to be of Abu Bakr Al-Baghdadi and are taking steps to examine it. While we have no reason to doubt its authenticity, we do not have verification at this point."
The militant Sunni Muslim group IS, which earned notoriety for its brutal violence towards civilians and prisoners, has been steadily pushed back in Iraq and Syria this year.
The 46-minute recording was posted by a website with links to the group and is the first such speech to appear since November.
As well as Mosul, the speaker refers to battles in Raqqa and Hama in Syria, and Sirte in Libya, saying the bloodshed would not be in vain. He also talks of Russian-brokered peace talks on Syria. Much of the tape consists of religious references.
Baghdadi may be hiding in territory still controlled by IS along the Iraqi-Syrian border.
Less than a handful people would know his whereabouts, Hassan Hassan of the Tahrir Institute for Middle East Policy wrote in a recent article for BBC News.
That makes it hard for the US, which has dedicated special forces constantly on the look-out for him.
In June, Russia reported that it was "highly likely" Baghdadi had been killed in a Russian air force strike on Raqqa on 28 May, and an Iranian official asserted he was "definitely dead" shortly afterwards.
However, claims of his death had been made before and the reports were treated with scepticism by US officials.
---
Analysis: A morale boost for IS
By Frank Gardner, BBC security correspondent
So the IS leader al-Baghdadi is still alive, or at least it appears he was still alive at least as recently as August.
This concurs with the views of western intelligence agencies and Iraq's government, which were always sceptical of Russian claims to have killed him an air strike.
His apparent survival to date will give some small morale boost to the beleaguered IS fighters still clinging on in Raqqa, but it is unlikely to make any strategic difference.
Like the al-Qaeda leader Dr Ayman al-Zawahiri, the IS leader is so circumscribed by the need to keep his location secret that he communicates rarely, and is unlikely to be in a position to personally direct any ongoing operations - other than to give them his blessing.
Veep star Julia Louis-Dreyfus reveals breast cancer diagnosis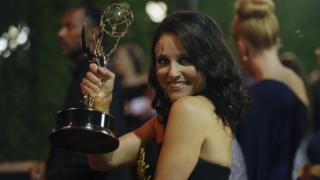 Julia Louis-Dreyfus, the award-winning star of US TV comedy series Veep, has announced she has breast cancer, in a message posted on social media.
"1 in 8 women get breast cancer," she wrote. "Today I'm the one."
"The good news", she added, was she had a "glorious group" of family and friends supporting her and "fantastic" insurance through her union.
The actress, 56, has also featured in Saturday Night Live, The New Adventures of Old Christine and Seinfeld.
Earlier this month, Louis-Dreyfus picked up a record-breaking sixth Emmy Award for Outstanding Lead Actress in a row for her role in HBO series Veep.
In Veep, her character begins as an ineffectual US vice-president whose attempts to expand her role are continually thwarted.
Louis-Dreyfus' announcement was met with an outpouring of support from other actors and celebrities.
Her Veep co-star Tony Hale retweeted the announcement, appending the message: "We love this woman."
Christina Applegate, who had a double mastectomy in 2008 following her own breast cancer diagnosis, told Louis-Dreyfus to contact her if she wanted to talk.
HBO, the network behind Veep, also issued a statement, saying: "We have every confidence she will get through this with her usual tenacity and undaunted spirit, and look forward to her return to health and to HBO for the final season of Veep."
'Universal healthcare'
The US actors' union SAG-AFTRA provides health insurance as a membership benefit, which union members earn credits toward as they work on accredited productions.
"The bad news is that not all women are so lucky," Louis-Dreyfus said in her statement, "so let's fight all cancers and make universal health care a reality".
Her call for universal health care - at a time when US President Donald Trump is pushing through healthcare reforms - is not the first time she has made targeted political comments.
Accepting the award for outstanding performance for a female actor in a comedy series at the SAG Awards earlier this year, she referenced Mr Trump's controversial travel ban, saying: "I am the daughter of an immigrant. My father fled religious persecution in Nazi-occupied France."
"I'm an American patriot, and I love this country... this immigrant ban is a blemish and it's un-American."
---
Breast cancer: The facts
Breast cancer is the most common cancer in women in the world.
The rates of breast cancer vary from country to country - about one in eight women will get breast cancer during their lifetime in the US and the UK.
About 55,000 people are diagnosed with the condition in the UK every year - about 150 people a day. It is far more common among women, affecting just one in every 870 men.
Medical experts recommend women be aware of what their breasts normally look and feel like, so they can be aware of any abnormal changes.
Possible signs of breast cancer include:
Changes in the outline or shape of the breast, especially those caused by arm movements or by lifting the breast
Changes in the look or feel of the skin, such as puckering or dimpling
Any new lumps, thickening or bumpy areas in one breast or armpit, with or without pain, that differs from the same part of the other breast and armpit
Discharge from the nipple (may be bloodstained)
Moist, red areas on the nipple that don't heal easily
Any change in nipple position, such as being pulled in or pointing differently
A rash on or around the nipple
Recovery chances are good if the cancer is discovered in its early stages. Breast screening programmes use a mammogram - a type of X-ray - to sweep for small cancers in their infancy.
Sources: World Health Organization, NHS, Cancer Research UK
---
[Daily Maverick] At a time of unprecedented global uncertainty and insecurity owing to the Covid-19 pandemic, the often-overlooked focus on conservation is still crucial due to the far-reaching economic impacts of sustainable conservation on the environment, animals, and people.
[Ghanaian Times] Speakers at a public lecture, organised as part of the country's Civil Service annual week celebration, have called for public-private sector partnership to be intensified, because such a synergy is an important catalyst for national development.
[Ghanaian Times] The Coalition of Aggrieved Customers of Gold Coast Fund Management (GCFM) have called on government to include them in the first phase of the bailout package.
[The Herald] Eradication of poverty and increased education are among key factors in dealing with early sexual activity among adolescents, Vice President and Minister of Health and Child Care Dr Constantino Chiwenga has said.
[Africa Renewal] Africa's young entrepreneurs can play a significant role helping the continent recover from COVID-19, according to Jason Pau, Senior Advisor for International Programmes, the Jack Ma Foundation, a charity owned by Jack Ma, the Chinese businessman and founder of the e-commerce giant Alibaba.
[Daily Trust] The Minister of State for Petroleum Resources, Timipre Sylva, in an attempt to douse anxiety over increasing pump price of petrol, promised Nigerians that government had in the pipeline a measure to convert Nigerian cars to compressed natural gas (CNG-compliant), as an alternative to petrol.
[Daily Maverick] The many tolls of COVID-19 will be counted and measured. It's likely though, that we'll never get a clear picture of the pandemic's impact on our mental health. Yes, the suicides are being tallied up, but mental health issues manifest in many more ways. Mental healthcare is the poor, neglected orphan of healthcare services. While there's far more focus than there has ever been on the importance of mental health; the majority of people with mental health concerns do not access the care they need to heal and
[CIO] "Open collaboration worldwide is a must." That's the view of Huawei founder and CEO Ren Zhengfei. As he puts it, it's impossible for one company to dominate the information market, and even more difficult for one company to provide everything one individual or enterprise needs.