News
It is the first time that world leaders meeting at the APEC summit have been unable to sign a final joint communique. The gathering in Papua New Guinea was dominated by diplomatic sparring between the US and China.
Sri Lanka is without a government and two prominent politicians are claiming to be prime ministers. Experts say the struggle reflects the geopolitical rivalry between China and India in South Asia.
A slowdown in the German economy in the third quarter has raised recession fears. Economy Minister Peter Altmaier thinks a package of tax cuts and other measures are needed to shore up future economic growth.
Thousands of people in Germany have vouched for refugees in recent years and are now being asked to pay high sums. Were their good intentions misguided?
[Nation] For the first time since the "handshake" in March, President Uhuru Kenyatta and Nasa leader Raila Odinga have embarked on a foreign trip together.
[Citizen] Dar es Salaam -The World Bank said yesterday that it had agreed with the government on a new framework that would see girls who become pregnant while in school continue with their education.
[News24Wire] Patricia de Lille will continue her lifelong fight for a just, fair and caring society by forming an as yet unnamed political party, the former mayor of Cape Town announced on Sunday.
[Vanguard] Socio-Economic Rights and Accountability Project, (SERAP) has sent an open letter to Prof. Mahmood Yakubu, Chairman Independent National Electoral Commission (INEC), requesting him to "promptly, thoroughly and effectively investigate allegation that Senate President Bukola Saraki spent between N200m and N400m in every state, except the six South-West states, to influence the outcome of the 2015 elections for the All Progressives Congress (APC)."
[Citizen] Mtwara -Agriculture minister Japhet Hasunga says at least 2,168 cashew farmers from 35 verified primary societies have so far been paid their cash.
[Guardian] Nigeria's debt profile, expectedly, would notch up by $2.93 billion by the end of this week, with a mix of increased costs, courtesy of the ongoing Eurobond debt offering, which government earmarked for capital projects in the 2018 fiscal plan.This is coming barely seven weeks to the end of the constitutionally approved fiscal calendar, which has over the years been oscillating between April and June of every other year.
[Vanguard] Despite its global leadership position in the production of yam and cassava tubers, shea nuts cocoayam, Sorghum melon seed, kola nut and other agricultural produce, Nigeria is not listed in the world Export market.
[Nation] An ambitious plan by the Jubilee administration to give youth, women and the disabled 30 per cent of all government tenders is yet to be fully realised.
Germany have already been relegated from Nations League group A1, but there is plenty at stake when they face an in-form Netherlands on Monday. Joachim Löw has hinted that Thomas Müller could start and win his 100th cap.
[Nation] Former world half marathon record-holder Peris Jepchirchir wants her record back.
[SAFA] The South African Football Association (SAFA) wishes to apologise to the nation and the football loving public, for the fact that the SABC failed to broadcast the BAFANA BAFANA vs NIGERIA AFCON QUALIFIER this afternoon.
[Nairobi News] Origi has struggled for game time at Liverpool having fallen down the pecking order behind fellow strikers Mohammed Salah, Sadio Mane and Daniel Sturridge.
28 September 2017

From the section

Europe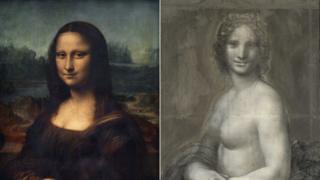 A charcoal drawing housed in another art collection for more than 150 years may have been a sketch for the Mona Lisa, a French art expert says.
The charcoal portrait of a nude woman, known as the Monna Vanna, was previously attributed only to Leonardo da Vinci's studio.
But experts have found enough clues to suggest the artist worked on both.
After tests at the Louvre Museum in Paris, curators believe the sketch is "at least in part" by Leonardo.
It has been held since 1862 in the collection of Renaissance art at the Conde Museum at the Palace of Chantilly, north of the French capital.
Leonardo da Vinci (1452-1519) was one of the great painters of the Italian Renaissance, and his Mona Lisa oil painting (also known as La Gioconda) remains one of the world's most recognisable and valuable works of art.
It is believed to have been a commission from cloth merchant and Florentine official Francesco del Giocondo for a portrait of his wife, Lisa Gherardini.
Hidden portrait 'found under Mona Lisa'
'Earlier Mona Lisa' goes on display
'New' da Vinci sketch valued at $15.8m
Poland buys famed artworks at discount
But was Leonardo right-handed?
"The drawing has a quality in the way the face and hands are rendered that is truly remarkable," curator Mathieu Deldicque told AFP news agency.
"It is not a pale copy. We are looking at something which was worked on in parallel with the Mona Lisa at the end of Leonardo's life.
"It is almost certainly a preparatory work for an oil painting."
Louvre conservation expert Bruno Mottin confirmed it dated from Leonardo's lifetime at the turn of the 15th Century and was of a "very high quality".
The Chantilly Estate posted a photo of the work being done on the sketch.
Among clues proffered by Mr Deldicque:
The hands and body are almost identical
The portraits are almost the same size
Small holes pierced around the figure suggest it may have been used to trace its form on to a canvas
However, Mr Mottin pointed out that hatching on the top of the drawing near the head had been done by a right-handed person while Leonardo drew with his left hand.
"We must remain prudent," he told AFP, as work continued.
"It is job that is going to take some time," he said. "It is a very difficult drawing to work on because it is particularly fragile."
Rohingya crisis: UN chief warns of 'humanitarian nightmare'
28 September 2017

From the section

Asia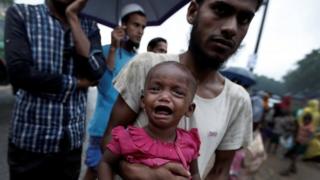 Violence in Myanmar has spiralled into the "the world's fastest-developing refugee emergency" and a "humanitarian nightmare", the UN chief has warned.
Secretary General Antonio Guterres called on Myanmar to end its military operation, which has sparked the exodus of over 500,000 Rohingya since August.
He also demanded "unfettered access" to the region to deliver humanitarian aid.
Earlier, at least 14 Rohingya, all women and children, drowned after their boat capsized off Bangladesh's coast.
Survivors say the boat overturned after apparently hitting a submerged object near the coastal city of Cox's Bazar.
In the past 48 hours, about 2,000 Rohingya have arrived in Bangladesh by boat, fleeing violence in Myanmar's Rakhine state.
In Thursday's briefing to the UN Security Council, Mr Guterres said: "The situation has spiralled into the world's fastest developing refugee emergency, a humanitarian and human rights nightmare."
"We have received bone-chilling accounts from those who fled - mainly women, children and the elderly.
"These testimonials point to excessive violence and serious violations of human rights, including indiscriminate firing of weapons, the use of landmines against civilians and sexual violence."
Mr Guterres also warned that "the failure to address the systematic violence could result in a spill over into central Rakhine where an additional 250,000 Muslims could potentially face displacement".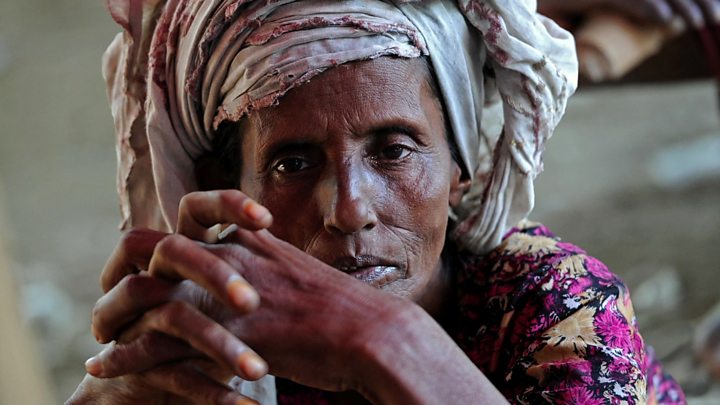 UN aid personnel were forced to leave Rakhine when the military began a crackdown on Rohingya militants behind attacks on security personnel in August.
Fleeing Rohingya - the majority of whom are Muslim - accuse Myanmar's military, backed by Buddhist mobs, of trying to drive them out with a campaign of beatings, killings and village burnings.
Images and reports from journalists confirm many villages have been razed.
But the military say they are targeting only militants.
'New Baghdadi tape' posted by Islamic State group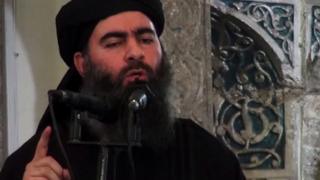 Islamic State militants have released what appears to be an audio recording of their leader, Abu Bakr al-Baghdadi.
A speaker who sounds like the IS leader seems to refer to recent North Korean threats against Japan and the US.
He also talks of battles for IS strongholds like Mosul, which was regained by Iraqi forces in July.
Baghdadi, who has a $25m (£19m) US bounty on his head, has not been seen in public since July 2014, leading to much speculation about his fate.
The last time he appeared was to preach at the Great Mosque of al-Nuri in Mosul after IS overran the city and a "caliphate" was proclaimed.
Asked about the audio, a spokesman for US forces fighting IS, Ryan Dillon, said "without verifiable evidence of his death, we have continued to assume that he is alive".
A defence department spokesman told the BBC: "We are aware of the audio tape purported to be of Abu Bakr Al-Baghdadi and are taking steps to examine it. While we have no reason to doubt its authenticity, we do not have verification at this point."
The militant Sunni Muslim group IS, which earned notoriety for its brutal violence towards civilians and prisoners, has been steadily pushed back in Iraq and Syria this year.
The 46-minute recording was posted by a website with links to the group and is the first such speech to appear since November.
As well as Mosul, the speaker refers to battles in Raqqa and Hama in Syria, and Sirte in Libya, saying the bloodshed would not be in vain. He also talks of Russian-brokered peace talks on Syria. Much of the tape consists of religious references.
Baghdadi may be hiding in territory still controlled by IS along the Iraqi-Syrian border.
Less than a handful people would know his whereabouts, Hassan Hassan of the Tahrir Institute for Middle East Policy wrote in a recent article for BBC News.
That makes it hard for the US, which has dedicated special forces constantly on the look-out for him.
In June, Russia reported that it was "highly likely" Baghdadi had been killed in a Russian air force strike on Raqqa on 28 May, and an Iranian official asserted he was "definitely dead" shortly afterwards.
However, claims of his death had been made before and the reports were treated with scepticism by US officials.
---
Analysis: A morale boost for IS
By Frank Gardner, BBC security correspondent
So the IS leader al-Baghdadi is still alive, or at least it appears he was still alive at least as recently as August.
This concurs with the views of western intelligence agencies and Iraq's government, which were always sceptical of Russian claims to have killed him an air strike.
His apparent survival to date will give some small morale boost to the beleaguered IS fighters still clinging on in Raqqa, but it is unlikely to make any strategic difference.
Like the al-Qaeda leader Dr Ayman al-Zawahiri, the IS leader is so circumscribed by the need to keep his location secret that he communicates rarely, and is unlikely to be in a position to personally direct any ongoing operations - other than to give them his blessing.
Veep star Julia Louis-Dreyfus reveals breast cancer diagnosis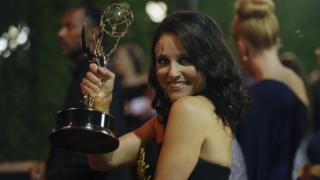 Julia Louis-Dreyfus, the award-winning star of US TV comedy series Veep, has announced she has breast cancer, in a message posted on social media.
"1 in 8 women get breast cancer," she wrote. "Today I'm the one."
"The good news", she added, was she had a "glorious group" of family and friends supporting her and "fantastic" insurance through her union.
The actress, 56, has also featured in Saturday Night Live, The New Adventures of Old Christine and Seinfeld.
Earlier this month, Louis-Dreyfus picked up a record-breaking sixth Emmy Award for Outstanding Lead Actress in a row for her role in HBO series Veep.
In Veep, her character begins as an ineffectual US vice-president whose attempts to expand her role are continually thwarted.
Louis-Dreyfus' announcement was met with an outpouring of support from other actors and celebrities.
Her Veep co-star Tony Hale retweeted the announcement, appending the message: "We love this woman."
Christina Applegate, who had a double mastectomy in 2008 following her own breast cancer diagnosis, told Louis-Dreyfus to contact her if she wanted to talk.
HBO, the network behind Veep, also issued a statement, saying: "We have every confidence she will get through this with her usual tenacity and undaunted spirit, and look forward to her return to health and to HBO for the final season of Veep."
'Universal healthcare'
The US actors' union SAG-AFTRA provides health insurance as a membership benefit, which union members earn credits toward as they work on accredited productions.
"The bad news is that not all women are so lucky," Louis-Dreyfus said in her statement, "so let's fight all cancers and make universal health care a reality".
Her call for universal health care - at a time when US President Donald Trump is pushing through healthcare reforms - is not the first time she has made targeted political comments.
Accepting the award for outstanding performance for a female actor in a comedy series at the SAG Awards earlier this year, she referenced Mr Trump's controversial travel ban, saying: "I am the daughter of an immigrant. My father fled religious persecution in Nazi-occupied France."
"I'm an American patriot, and I love this country... this immigrant ban is a blemish and it's un-American."
---
Breast cancer: The facts
Breast cancer is the most common cancer in women in the world.
The rates of breast cancer vary from country to country - about one in eight women will get breast cancer during their lifetime in the US and the UK.
About 55,000 people are diagnosed with the condition in the UK every year - about 150 people a day. It is far more common among women, affecting just one in every 870 men.
Medical experts recommend women be aware of what their breasts normally look and feel like, so they can be aware of any abnormal changes.
Possible signs of breast cancer include:
Changes in the outline or shape of the breast, especially those caused by arm movements or by lifting the breast
Changes in the look or feel of the skin, such as puckering or dimpling
Any new lumps, thickening or bumpy areas in one breast or armpit, with or without pain, that differs from the same part of the other breast and armpit
Discharge from the nipple (may be bloodstained)
Moist, red areas on the nipple that don't heal easily
Any change in nipple position, such as being pulled in or pointing differently
A rash on or around the nipple
Recovery chances are good if the cancer is discovered in its early stages. Breast screening programmes use a mammogram - a type of X-ray - to sweep for small cancers in their infancy.
Sources: World Health Organization, NHS, Cancer Research UK
---
[Nyasa Times] Visually impaired Farmers in Chikhwawa district can now afford a smile as Malawi council for the handicapped (MACOHA) has constructed a K10.1 million Irrigation System at Ndakwera Resettlement Scheme.
[The Exchange] Nairobi -Kenya has moved a notch higher in efforts to protect its territorial waters with the formation of the Coast Guard Service unit.
[SAnews.gov.za] The South African Social Security Agency (SASSA) in Mpumalanga has reminded social grant beneficiaries to immediately swap their old cards for the new gold cards.
[Government of Mauritius] The Minister of Business, Enterprise and Cooperatives, Mr Soomilduth Bholah, highlighted major achievements which have been realised during the past 105 years by the cooperative movement in Mauritius and expressed his firm determination to continue supporting cooperatives as valuable contributors to the socio-economic empowerment of the country.
[Vanguard] Scientists have warned that that food crisis may be imminent in Nigeria if the country fails to deploy innovation and technology into its food industry to boost productivity and sufficiency.
[Guardian] As part of efforts aimed at increasing the competitiveness of Nigeria's Information and Communications Technology (ICT) sector, the Federal Government is seeking the sum of $500 million technology innovation fund from the African Development Bank (AfDB).
[New Times] The Kigali Innovation City is one of the major projects that Rwanda initiated to drive its ambitions of becoming a knowledge-based economy.
[Business Day] Kosmos Energy has announced the five agric-focused enterprises as winners of the Kosmos Innovation Center (KIC) AgriTech Challenge, a business competition where young entrepreneurs use innovation and information communication technology (ICT) to develop commercial solution to challenges within the agriculture sector.